This Kale Salad with pomegranate is full of bright flavors and not only tastes great but is also so good for you. It is easy to make and keeps well in the fridge.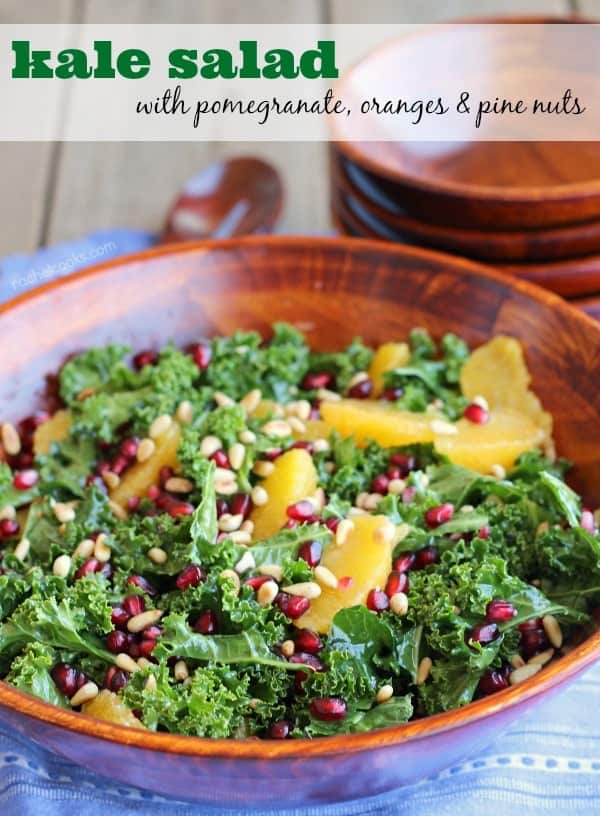 Today is a special day. Today is Bev's SURPRISE virtual baby shower and we're sending TWICE the love her way because she's having TWO babies! If you haven't had your coffee yet today, we're talking twins! I am so, so, so thrilled for Bev. She's going to be an absolutely amazing mom.
Need proof?
She makes mouth-watering food and is probably the most hilarious person I've ever met (although we haven't met in real life — we need to fix that, Bev!). What kid wouldn't love that combination?
Need more proof? Check out the gorgeous space she created for her babes in this post about her nursery.
And if you still need proof, read this post about her journey to get pregnant. But make sure you have tissues ready.
And if you don't love Bev after reading that, well you can just move along then. Today is Bev's day. I've teamed up with a bunch of Bev's blogging buddies (there's a lot of us — Bev, you're very much loved!) to throw this fun surprise shower for her.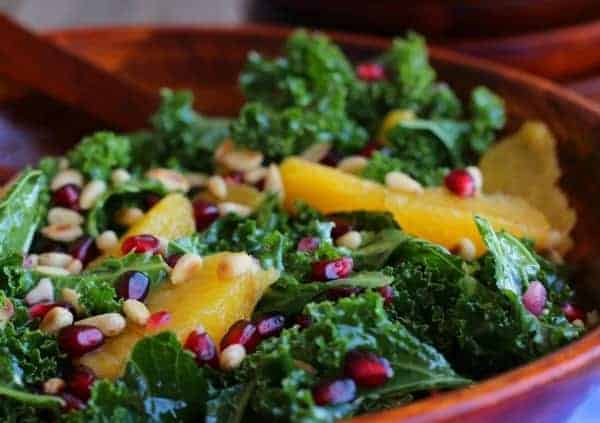 I made kale salad with pomegranate, oranges and pine nuts. It's a perfect winter salad and won't leave you looking for your chunky sweater to hide in. It's filling and flavorful. And it has toasted pine nuts which I would eat by the handful if I had an unlimited budget.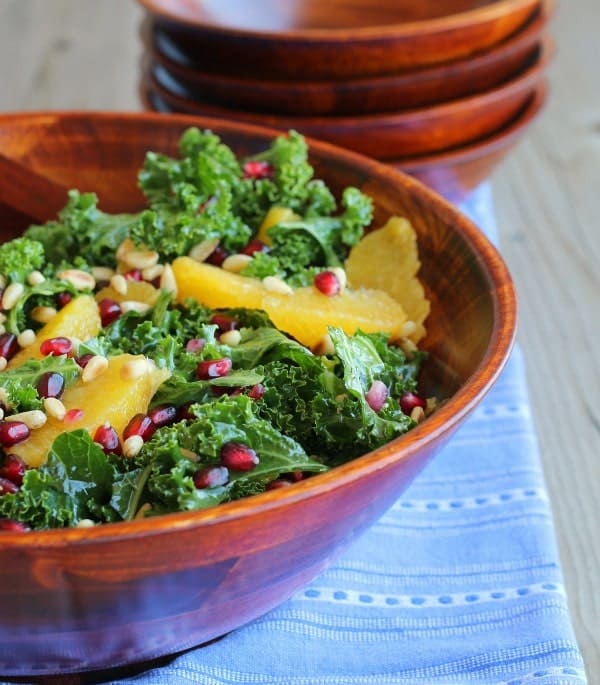 I hope you enjoy every word, every recipe and all the love from your virtual shower, Bev. We all love you and can't wait to meet Natalie and Will. You're going to be really, really good at this mom thing. xoxo
Kale Salad with Pomegranate, Orange, and Pine Nuts
This Kale Salad is full of bright flavors and not only tastes great but is also so good for you. It would be beautiful on your Christmas table.
Ingredients:
For the Salad
1 bunch kale leaves, stems and tough sections removed
1 cup pomegranate arils
2 navel oranges
1/4 cup pine nuts
For the Dressing
reserved juice from the oranges, or about 1/4 cup
2 tablespoons white wine vinegar
6 tablespoons extra virgin olive oil
1 tablespoon honey
salt and pepper to taste
Directions:
Cut or tear kale into bite sized pieces and place in a large zip-top bag. Cut the segments out of the oranges over a bowl to catch the juice. (If you don't know how to do that, here is a great tutorial from Cookin' Canuck.) Once you have the segments cut out, make sure to squeeze the remaining juice out of the membranes. Save all the juice for the dressing. Place orange segments in a large serving bowl.
To the orange juice, add white wine vinegar, olive oil, honey, and salt and pepper to taste. Whisk with a fork or small whisk and pour into the ziptop bag with the kale. Close the bag, squeezing the air out. Massage the kale with the dressing for 1-2 minutes and then pour it into the serving bowl with the orange segments. Add pomegranate arils and toss everything together.
Toast pine nuts in a dry frying pan over medium heat, tossing or stirring continuously until golden brown (it doesn't take long — don't walk away!). Remove them from the pan and put them on a plate to cool. Sprinkle toasted pine nuts over salad just prior to serving.
All images and text ©
.
Love kale salads? Try: