30+ Uses for Leftover Halloween Candy
Have leftover Halloween candy? Here's 30 great ideas for treats to make with your treats.
Am I a bad mom because I don't take my 3-year-old trick or treating? Don't answer that. I'm totally fine with not doing it. A) We don't really let her eat much candy. B) See A. C) See A.
Okay, and truthfully, I think she's a little young still (3). We play dress up frequently, so I don't see the need to spend 30 bucks on a costume she's only going to wear once. Although I did dress her up for her first Halloween. Actually, this was her second Halloween — she was born in September. The first Halloween, I just propped her up by some pumpkins and took some photos.
Should I have dressed N up for his first Halloween? Poor second child. I need to search Pinterest and start getting crafty. I'm not good at being crafty.
Anyways, another reason we don't really do Halloween is because we live in condos so we don't really get trick or treaters. Which is good because goodness knows if I bought a bunch of candy, I'd be eating it all before I could even make all these delicious treats in this round-up.
Enjoy! And if you STILL have left overs, send them my way.
I likes Reese's and Snickers best.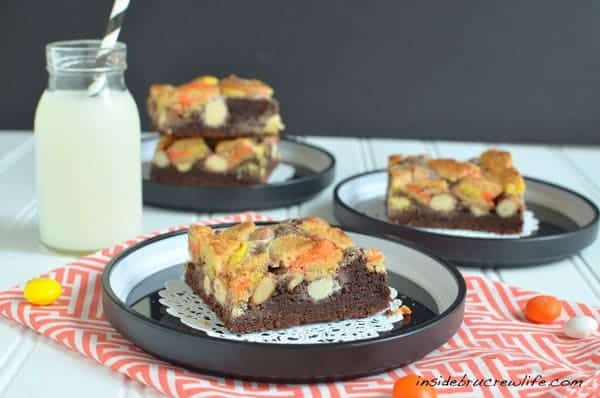 Photo: Inside BruCrew Life
Bars
Candy Corn Gooey Cake Bars {Inside BruCrew Life}
Leftover Halloween Candy Blondies {Just a Taste}
Peanut Butter Snickers Brownies {Two Peas and Their Pod}
Monster Cookie Bars {Handle The Heat}
Reese's Cup Brownies {Table For Two}
Peanut Butter Cookie and Cream Cheese Candy Bars {Picky Palate}
Peanut Butter Blondies {Just a Taste}
Mound's Brownies {In Katrina's Kitchen}
Reese's Krispies {Oh Sweet Basil}
Butterfinger Bars {Averie Cooks}
Kit Kat Smore's Bars {Very Culinary}
Butterfinger Blondies {Dinners, Dishes, and Desserts}
Photo: Taste and Tell
Cakes, Cupcakes, and Pies
Halloween Popcorn Cake {Taste and Tell}
Leftover Halloween Candy Bundt Cake {Girli Chef}
Leftover Halloween Candy Cupcakes {Hoosier Homemade}
Butterfinger Cupcakes {Hoosier Homemade}
Butterfinger Pie {Recipe Girl}
Leftover Candy Hand Pies {Diethood}
Halloween Candy Cheesecake {Pineapple and Coconut}

Other Sweet Treats
Perfect M&M Cookies {Rachel Cooks}
Chocolate Candy Bark {Chocolate and Carrots}
Halloween Fudge Ring {Shugary Sweets}
Leftover Halloween Candy Bites {Blissfully Domestic}
Halloween Trash Candy {Shugary Sweets}
Butterfinger Fudge {Shugary Sweets}
Candy Bar Pudding {Taste and Tell}
Candy Corn Fudge {Taste and Tell}
Candy Covered Chocolate Dipped Pretzels {The Baker Chick}
Payday Caramel Corn {Shugary Sweets}
Pumpkin Dip {Bran Appetit}
Candy Corn Cookie Dough Pretzel Bites {Averie Cooks}
Salty Sweet Hallowen Chex Party Mix {The Law Student's Wife}
Reese's Turkeys {Inside BruCrew Life}
White Chocolate Candy Corn Popcorn {Bakerita}