Stitch Fix Review #2
It's official. I'm addicted to Stitch Fix. Don't tell my husband.
Oh wait, he already knows because I make him tell me what he thinks of each item. Which is basically every man's worst nightmare, right? Talk about a lose-lose situation. But I think he realizes now that he can say that something doesn't look good on me or doesn't flatter me and I won't go crazy and think he's calling me fat. I think we're past that fear.
Right, Ben? He even took these photos for me this time. So they are significantly better than my first Stitch Fix review, which was full of under-lit awkward selfies.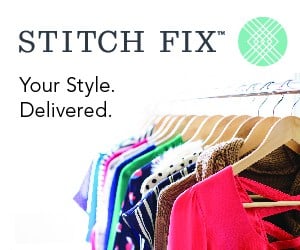 So although this is my 2nd review, this is actually my third box. Just took me a minute to get my act together. If you missed my first review, here's Stitch Fix in a nutshell.
1) Sign up.
2) Fill out style profile.
3) Personal stylist sends you items.
4) You try them on, in your home, with items in your closet.
5) Anything you don't like, you send back in a postage-paid envelope within three days.
6) Keep all five items and receive 25% off — woohoo!
7) Look adorable in your new clothes.
They also send you style cards with suggestions on how to wear the items. For a fashion dummy like me, this part is very important. It helps me determine what the item will look good with and also if I have similar items in my closet. I want to make sure I'm actually going to wear the clothes I purchase.
And best of ALL, they adapt your future boxes based on feedback you give them. For example, I'm indecisive and decided I wanted a pair of jeans back from my first box. Unfortunately, my stylist wrote in her note to me that they no longer had those jeans but she sent me a similar pair to try on and also suggested some ways to style them. So if you have an event coming up where you need a cute cocktail dress, or say you have a high school reunion coming up, make sure to mention that and they'll tailor your box based on your needs that month.
Should we talk about what they sent me this month?
First up is the Fun2Fun Giselle Striped Tab-Sleeve Blouse ($48). In the picture, I have the sleeves at their full length but they can be converted easily into rolled up sleeves with the tabs. Which is one of my favorite looks currently.
I would have kept this one but it was a little snug over my upper body and didn't allow for the movement I need hauling my (not so) little man around.
Next up is the 41Hawthorn Filbert Polka Dot Print 3/4 Sleeve Blouse ($58). Look familiar? It's the same style as the burgundy top I kept from box number two. Just so happens I love the style! This one was a keeper again. I've already worn it twice.
Thirdly we have the Renee C Thisbe Colorblocked Open Draped Cardigan ($58). I loved the way this fit — the sleeves were so long and cozy, which is hard to find for a tall girl like me. I was going back and forth trying to decide to keep this one but Ben didn't love it and the price was a bit high for something I wasn't 100% sold on, so it went back.
The fourth item in the box was the 41Hawthorn Julie Lace Print Scarf ($32). Gorgeous scarf — E loved it too — but couldn't justify spending 32 bucks on it. Sent it back!
The last item in the box was the pair of skinny jeans that I mentioned – the Just Black Adora Skinny Jean ($68). I'm wearing them in all the photos here. Like the cardigan, I kind of went back and forth trying to decide if I wanted to keep them or not. These suckers are TIGHT and I didn't looooove the way they made my butt look, but if I'm being honest with myself, that's more a problem with my rear end rather than the jeans. Ended up keeping them because I don't have skinnies in this color. And they're going to keep me in check because if I literally gain two pounds they won't fit me anymore.
So I have a cute new top, skinny jeans that fit me like a glove, and plans to do lots of squats.
What are you waiting for?!?! Sign up. There's no commitment whatsoever. You can just do one month. But it does get better and better each month as your stylist gets to know you better.
(just because.)
Disclosure: I'm not being paid to write this post but if you click through one of the links here I do get a small referral credit. I'll love you forever–I need fashion help, big time.
PS: Happy Halloween!