Salad with Apples and Cucumber
This salad with apples and cucumbers is quick and easy salad that is fresh and light and perfect for eating along side a bowl of soup or a heavier meal.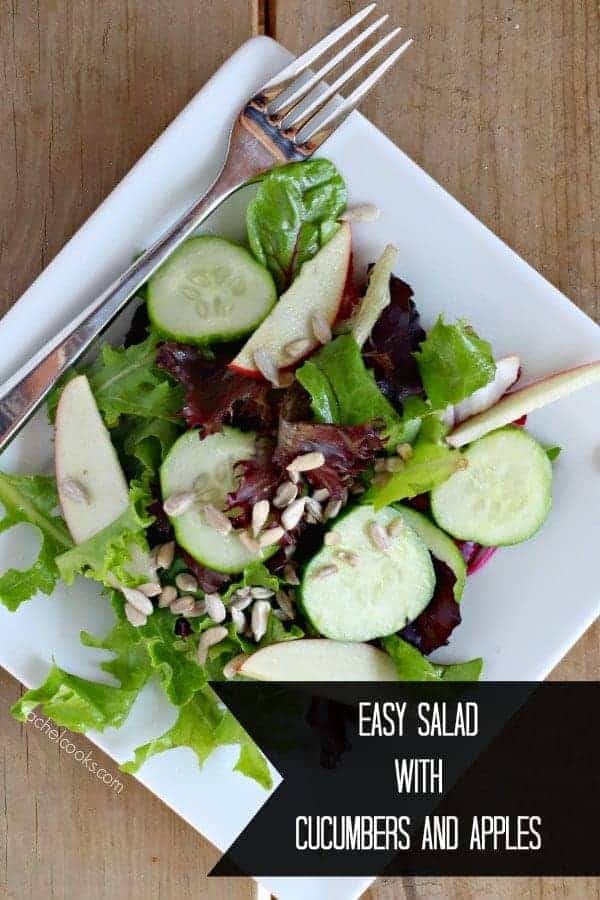 I love throwing together a salad to go with a meal. It's an easy way to get vegetables (and in this case, fruit too) incorporated into the meal in another way. And the light, crunchy texture of salad is perfect along side of a creamy soup, a hearty pasta or a heavy dish like a roast.
Are you the type of person that always eats the salad first and then moves on to the main dish? I do this some times but often I like to just pile my salad on my dinner plate with everything else and eat it as I go. That gives you that nice contrasting freshness and it also leaves less room on my plate for things like buttery pasta and more decadent items like steak. I just love salad with steak.
Usually my salads consist of greens, something crunchy, something chewy/soft, and something with a bit of protein or salt. And don't forget the dressing!
Greens? Spinach, romaine, mixed greens. Whatever I have in the house. I have yet to venture into the world of kale salads but really want to. I've been loving the mixed greens that come with herbs mixed right in. They are so flavorful.
Something crunchy? Oh the possibilities are endless. Being that we're surrounded by the bounty of fall, lately the crunchy takes on the form of apple slices. Celery is also great, cucumbers are wonderful and mild in flavor. Carrots are always a good standby. Ever tried jicama? I love it.
Something chewy/soft? Might sound weird at first but this texture makes the salad really great. I love dried cranberries or cherries. They're my go-to. But again with the fall bounty, you might want to try some roasted squash to fill this chewy/soft void. It could also be cucumbers in the right salad that already has a great crunch. Cucumbers are versatile and can fit in either the crunchy or the chewy category. Or at least they can for the purpose of this post because this salad has nothing else going for it in the chewy category. Just go with it.
Protein or salt. This is the most fun category. Nuts, meats, cheeses, even tofu! I love nuts on my salads, especially candied nuts. Or keeping with the fall theme, maybe some roasted pumpkin seeds? Cheese is always great on a salad. My favorite salad cheese is feta.
And dressings are so easy to make at home! All you really need is lemon juice, olive oil, salt and pepper but it is so fun to get creative with dressings. For this salad, I made a dressing with Dijon mustard, honey, apple cider vinegar, olive oil and of course salt and pepper. It was the perfect blend of sweet and tangy and complemented the apples in a wonderful way.
Salad with Apples and Cucumber
This salad with apples and cucumbers is quick and easy salad that is fresh and light and perfect for eating along side a bowl of soup or a heavier meal.
Ingredients:
~3 cups mixed greens with herbs
1 small cucumber (pickle size), thinly sliced
1/2 apple, thinly sliced
1 tablespoon sunflower seeds
for the dressing:
1 teaspoon apple cider vinegar
1/2 teaspoon honey
1/2 teaspoon dijon mustard
2 teaspoons extra virgin olive oil
salt and pepper to taste
Directions:
In the bottom of a medium sized bowl, whisk together dressing ingredients.
On top of dressing, add greens, cucumber, and apple. Toss together so that all ingredients are coated with dressing.
Divide on to two salad plates and top with sunflower seeds. Serve immediately.
All images and text ©
.
Verdict: Loved the combination of the fresh, crisp apples with the refreshing cucumbers and flavorful dressing. The sunflower seeds add extra flavor and great crunch.
Husband's take: He also loved this salad. I can't for the life of me remember what I served it with but I'm sure that was good too.
Changes I would make: None.
Difficulty: So easy!