These honey lemon shortbread cookies are perfect for a girly event like a baby shower but even the most manly-man will devour these cookies.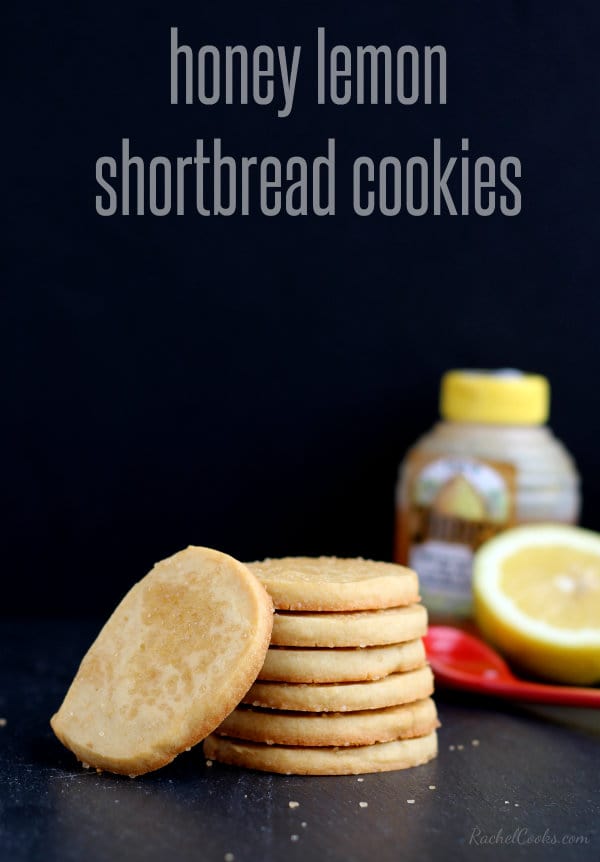 I am so excited to be teaming up with a whole bunch of food bloggers to throw a surprise virtual baby shower for Liz of The Lemon Bowl. Liz is one of my closest blogging friends (she put up with me and my spreadsheet obsession during the planning of Taste of MI so that says a lot in and of itself!).
Liz is also one of the most positive, encouraging people I know (it's almost annoying sometimes…kidding, Liz!). Who also isn't afraid to give you a reality check/wake up call when you need one. And I think that's what true friends do.
Today we're celebrating! Liz is having her second baby boy! I cannot wait to meet this little guy and see if he is as cute as his big brother is (no doubt in my mind, he will be!). Liz is a great mom and she is going to have so much fun watching her two boys play together and grow close.
Having two kids is the most amazing thing ever, Liz. It's so special to watch your kids develop such unconditional love and affection for each other. And now I'm going to cry.
Love you, Liz. Congrats!!!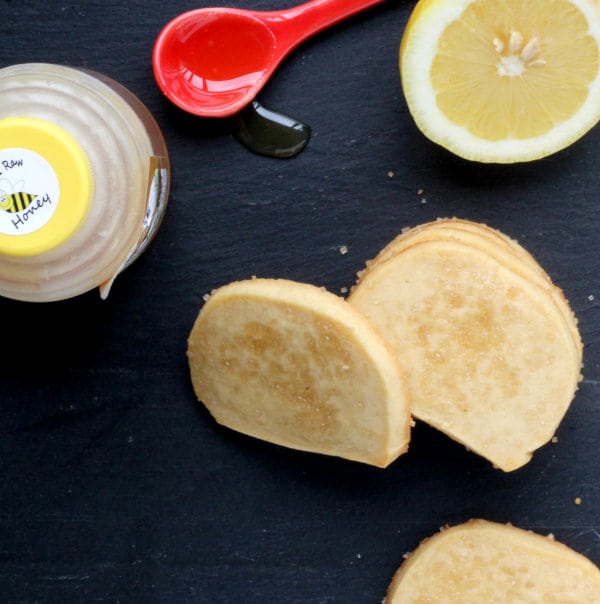 For your shower, in honor of you, we asked everyone to make a recipe that included lemon as a recipe. Duh — the theme was not hard to come up with. I made these honey lemon shortbread cookies for you. Maybe just this once you can splurge and enjoy the rich buttery goodness of these indulgent cookies. Honey and lemon are a match made in heaven. The sugar on top gives these such great texture. Hope you love them!
Honey Lemon Shortbread Cookies
These honey lemon shortbread cookies are dainty but even the manly man in your life will love the light but powerful flavors.
Ingredients:
3 and 3/4 cup all-purpose flour
1/2 teaspoon salt
1/4 teaspoon baking powder
1 and 1/2 cups (3 sticks) unsalted butter, room temperature
3/4 cup packed brown sugar
1 teaspoon lemon zest
1/4 cup honey, plus extra for brushing cookies (2-3 tablespoons)
turbinado sugar for sprinkling on cookies before baking
Directions:
In a medium sized bowl, combine flour, salt and baking powder. Set aside. In the bowl of a stand mixer, beat together butter and sugar for about 3 minutes or until light in color and fluffy. Add 1/4 cup honey and lemon zest and beat until just combined. Scrape sides of bowl as necessary. Add flour mixture gradually and continue to mix until just combined. Move dough onto a large sheet of wax or parchment paper and shape into a long, skinny log (about 2 inches in diameter). Roll up in the parchment or wax paper and freeze dough overnight.
When you're ready to bake the cookies, preheat oven to 350 degrees Fahrenheit. Take dough out of the freezer and cut slices off that are about 1/4-inch thick. Place on parchment or Silpat-lined baking sheets. Heat 2-3 tablespoons of honey in microwave for 10-15 seconds. Brush over cookies and immediately sprinkle with turbinado sugar. Bake for 10-12 minutes or until just golden brown. Let cool about 5 minutes on baking sheets before removing to a cooling rack. Store in an airtight container.
All images and text ©
.