Apple Chips & Peanut Butter Energy Bites
Two healthy and delicious snacks that are perfect for both kids and adults — Homemade Apple Chips and Peanut Butter Energy Bites.
Hey all! So now I'm going totally crazy and posting round-ups on Saturday and now it's Sunday and here's another post?! Craziness. I just wanted to share a couple recipes that you may have seen from me in other places around the web where I freelance. I'll be sharing these every so often because they are great recipes (in my own humble opinion..ha!) that I'd love for you to still see. But I don't want to always be sending you other places to get the recipes, so these type of posts will hang out on the weekends, typically grouped with a few other recipes. That way, you'll still see just as many recipes here — these are a bonus!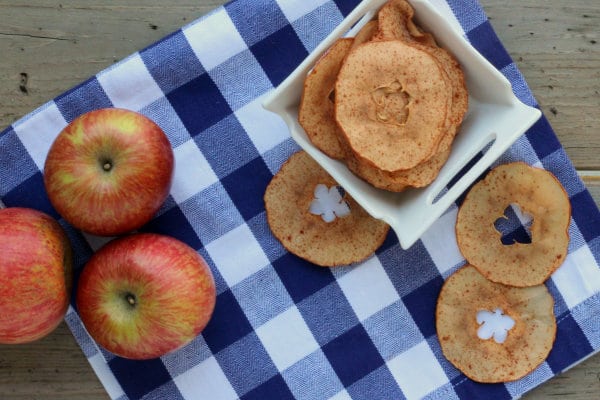 First up are Baked Apple Chips over at Food Fanatic. These are insanely easy to make and are crunchy, slightly sweet and super satisfying. Kids will love them and just keep asking for more.
Head on over to Food Fanatic for the Apple Chips recipe or get it here!
Next up are these fun No Bake Peanut Butter Energy Bites. Simple to make and packed full of protein and nutrition. These are another winner for kids but also make a great breakfast on the go for busy adults. I loved snacking on them when I got hungry around 3:00. You could easily make them with a different type of nut butter if there is a peanut allergy or if you prefer almond butter or something else. You can find the recipe for the Peanut Butter Energy Bites over at Zak! Designs' blog.