Stitch Fix Review #1
I'm so not good at this.
Fashion.
Selfies in the mirror.
Wearing makeup for said selfies. (next time, I promise!)
Doing hair for said selfies. (don't count on that happening next time either…when do you expect me to have time to do that?)
Looking at the right spot for said selfies. Camera? Face?
What do I do with the tags?!
Not drinking so much coffee that my hands shake and make the photos blurry.
I'm soooo not good at this.
I don't even own a full-length mirror. Send me to girl prison now, I'm a failure.
No really, I have bags under my eyes and no makeup on. But I chose to not cut my head off in these photos. So please be nice. Please? (And I know the coloring is all off…I'm so bad at indoor photos.) Okay enough excuses. Let's talk Stitch Fix! I posted one photo of an item from my first box and from here on out, I'll try to be better about grabbing shots of everything.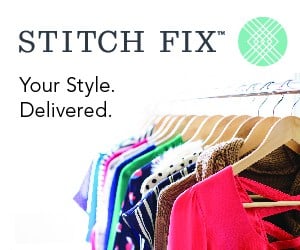 If you're not familiar, Stitch Fix is a personal stylist service. You fill out a detailed style profile on their website. Every month (or less, if you want), a personal stylist chooses and sends you five items to try. (This part costs $20 but that goes towards any items you keep.)
You try them on, decide which ones to keep, and send the rest back. They give you three days and a postage paid envelope. It's sooo fun and so easy! If you keep everything, you get 25% off! The best part is, when you decide what to keep and what not to keep, you give them feedback and then they send you even better stuff the second time around.
You choose the price ranges and you can let them know if you need stuff for work, casual stuff, or special occasion.
They also give you a style card with each item they send you showing ideas and suggestions of how to wear the item. You can try it on with not-florescent lights in your own home with other articles of your clothing. It is such a great service!
And it's SO fun! Have I mentioned that?
So here's what I got:
GIDEON REVERSIBLE POLKA DOT SWEATER $68.00
IVY SOLID TAB SLEEVE V-NECK BLOUSE $68.00
PAYGE STRIPED CROSS-BACK SWEATER $48.00
FILBERT 3/4 SLEEVE POPOVER BLOUSE $58.00
DENNA SKINNY JEAN $78.00 (pictured in all the photos)
What would you have kept if you were me?
I ended up only keeping the burgundy shirt this time — I loved it! You can't see it too much, but it has super fun details on the sleeves and the bottom hem. The green shirt was a close second and so were the jeans. I decided the green shirt was just a little too baggy and not super flattering. I would have kept the jeans but I have some that are extremely similar, so the price was a little high to justify keeping them.
The other two shirts were too short on my frame (I'm 5'10"!) and I just didn't love them.
So what do you think of Stitch Fix?
I say you should sign up if you haven't yet. It's such a blast!
Ughhhh. Thank goodness for make up is all I have to say. Next time these photos will look better.
I promise.
Okay I don't…but I'll try.
Disclosure: I'm not being paid to write this post but if you click through one of the links here I do get a referral credit. I'll love you forever and goodness knows I need all the fashion help I can get. It's kind of scary, really.