Easy, healthy and protein-packed, this ham and egg wrap with herbs makes the perfect lunch. It would be a great breakfast too!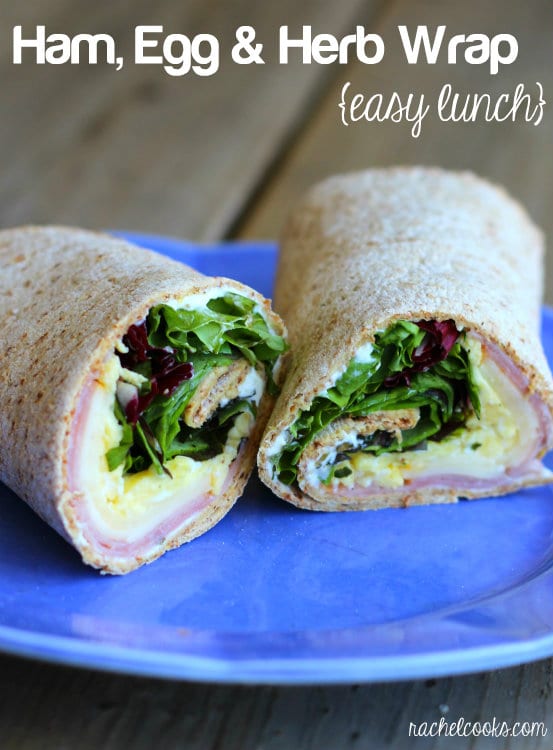 I tend to get in lunch ruts so it is really nice to mix things up a bit. This egg wrap seems to be something I just keep coming back to. Especially if I didn't have eggs for breakfast. I love eggs and could probably eat them three times a day if I didn't have to worry about things like cholesterol.
This wrap is SO good, you guys! I love the combination of the eggs with the salty ham, a little cheese (gotta have cheese!) and then crispy greens with fresh herbs. So much flavor already but then there is a thin layer of chive and onion cream cheese to make things feel so decadent. I could eat this every day!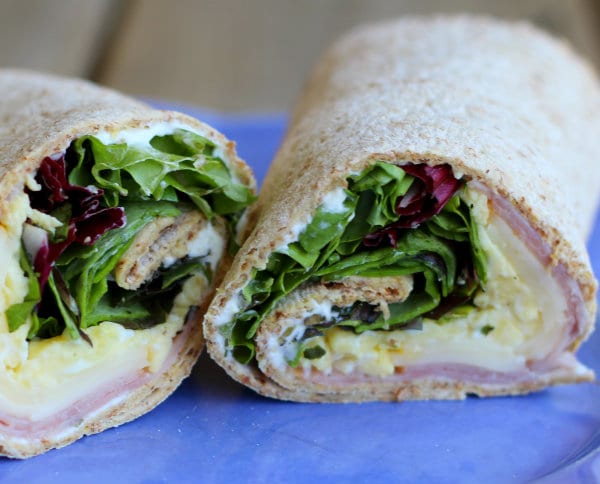 As with all my recipes, it would be so easy to switch this up and customize it based on what you have in the house or what you're in the mood for any given day. I pretty much always have a package of Flatout flatbread wraps in my house because I love them (and they are a Michigan company!). That's not sponsored, but you'll be seeing more about them in the future. I pretty much stalked them out on twitter because I love their products so much. I finally convinced them to work with me.
These wraps would be great vegetarian — just leave the ham out! Or if you don't have the greens with herbs mixed in, you can easily add whatever herbs you love or have in your fridge. I used provolone cheese but any type of cheese would be fantastic! Leave the cream cheese on though…and make it the chive and onion. It takes this egg wrap to magical places.
Ham and Egg Wrap
Easy, healthy and protein-packed, this ham and egg wrap with herbs makes the perfect lunch. It would be a great breakfast too!
Ingredients:
2 eggs
1 tablespoon milk
pepper to taste
1 wrap (I use Flatout)
about 2 tablespoons reduced-fat chive and onion cream cheese
2 thin slices of deli ham
one slice of your favorite type of cheese
1-2 big handfuls of mixed greens with herbs
Directions:
In a small bowl, whisk together eggs, milk and pepper. In a small frying pan over medium heat, scramble eggs to your liking (I like them to be soft when I'm done scrambling them).
Meanwhile, spread cream cheese all over wrap. Near one end, lay out ham slices. On top of them, layer the cheese slice. When eggs are scrambled, add eggs on top of cheese and top with mixed greens. Roll up and enjoy!
All images and text ©
.
Verdict: I absolutely love eating this for lunch.
Husband's take: He's not big into cream cheese. I usually eat this while he's at work.
Changes I would make: None are necessary!
Difficulty: Easy.
Looking for more great wraps like this ham and egg wrap with herbs?
Vegetarian Wrap with Provolone and Red Pepper Hummus
Lamb Lettuce Wraps with Red Pepper Hummus Sauce
Grilled Chicken and Strawberry Salad Wrap from The Pioneer Woman
Roasted Mushroom and Pepper Wrap from Aggie's Kitchen
Chicken Mango Lettuce Wraps from Simply Recipes
Scrambled Egg Wrap with Spinach, Tomato and Feta from Cookin' Canuck
Chicken Shawarma Pita with Tahini Garlic Sauce from The Lemon Bowl
BLT Corn Salad Wraps from Joy the Baker
Grilled Avocado and Steak Fajita Wrap from Dine and Dish
Avocado Caprese Wrap from Foodiecrush