This cabbage salad uses a store-bought rotisserie chicken to create a quick, easy, and healthy meal. Your whole family will love it.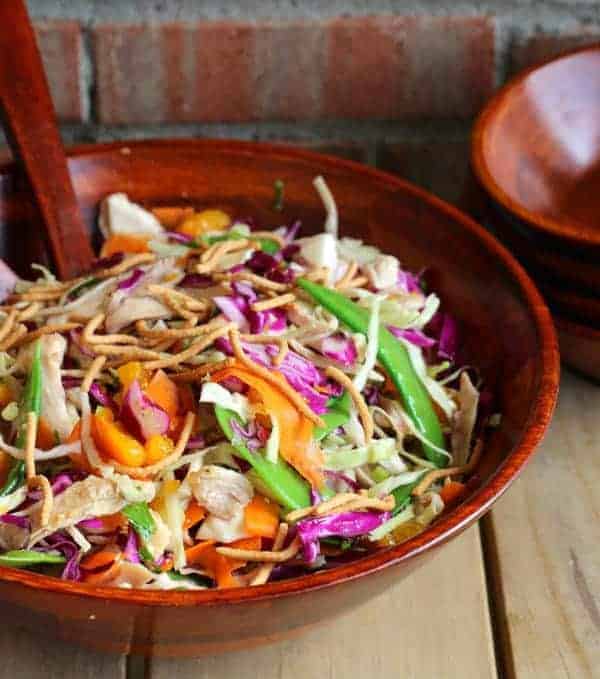 Does anyone else default to a rotisserie chicken on grocery shopping days? Ummm….I don't know about you, but I can only do so many things in the day.
3 loads of laundry + going to the park + making dinner = done for the day.
Play date + one load of laundry + shower = done.
Cleaning the house + making dinner = done.
3 freelance projects + running errands + making a friend dinner = done.
Going to the zoo = done.
Or whatever. You get the point. I do shower on days other than play date days, for the record. Usually.
Grocery shopping nearly maxes me out some days so I need a quick dinner to fall back on. I mean—all those people! And for pete's sake…STOP standing in the middle of the aisle staring off into space! Move left or right. Pick a lane. Grab something and move on. Not that difficult people. And then there is the parking lot, don't even get me started. Please try not to run my children over. And please, please, please…just put your carts away. ESPECIALLY if you don't have kids waiting in the car. What's your excuse?
Rant over….long story short, I love rotisserie chickens but we rarely ever eat them as is. I used to buy one every Sunday night for Ben and E so I could go about my usual with my popcorn + smoothie dinner, but these days I actually cook a Sunday dinner! I know! Regular ol' Susie homemaker here. So the rotisserie chicken typically ends up in a salad or pasta of some sort, or a sandwich or soup. The possibilities are so fun!
We loved this salad made of crunchy cabbage, mandarin oranges and a great honey-lime dressing. Lots of great veggies and fresh flavors. I think your whole family will love it!
If you're looking for more great recipes that you can use making a rotisserie chicken, try my enchilada flatbread or bbq chicken burrito bowls.
Cabbage Salad with Honey Lime Dressing
This cabbage salad uses a store-bought rotisserie chicken to create a quick, easy, and healthy meal. Your whole family will love it.
Ingredients:
1 cup fresh snap peas
2 cups shredded green cabbage
2 cups shredded red cabbage
1-2 green onions, thinly sliced
1 15-ounce can mandarin oranges, (reserve 2 tablespoons juice for dressing, then drain)
1 carrot, shredded
4 cups shredded or diced cooked chicken
1/4 cup loosely packed fresh cilantro, roughly chopped
3 tablespoons light olive oil
2 tablespoons fresh lime juice
2 tablespoons juice from a 15-ounce can of mandarin oranges
1 teaspoon honey
Sriracha to taste, optional
salt to taste
1/2 cup chow mein noodles for topping, optional
Directions:
Bring a small saucepan of salted water to a boil over high heat. Once boiling, add snap peas and return to a boil. Once boiling again, drain and move a bowl of ice water so that they retain their color. Drain again once cooled.
Meanwhile, to a very large bowl, add both types of cabbage, green onions, mandarin oranges, shredded carrot, chicken and cilantro. Add snap peas when they are done cooking.
In a small bowl or measuring cup, combine olive oil, lime juice, mandarin orange juice, honey, sriracha and salt. Whisk until combined and pour over salad. Toss to combine everything, top with chow mein noodles and serve immediately.
All images and text ©
.
Verdict: One of my favorite meals with rotisserie chicken.
Husband's take: He's not a huuuuuge cabbage fan so next time I make this I might sub out half of the cabbage with some romaine but other than that, he really liked the salad. E (my three-year old) kind of picked her way through it but loved the chow mien noodles and the carrots.
Changes I would make: None are necessary but like I mentioned, I might sub out some of the cabbage for romaine or leaf lettuce for my husband's sake. If you're vegetarian, this salad would be great with black beans or tofu in place of the chicken!
Difficulty: A bit of prep time to chop all the veggies and get the meat off of the chicken but totally doable!