Vanilla Cupcakes {with a surprise inside!}
Ummm…
Amanda from I Am Baker asked me to guest post for her and then I promptly freaked out. Full-on panic mode. Her site and her cakes are beyond gorgeous.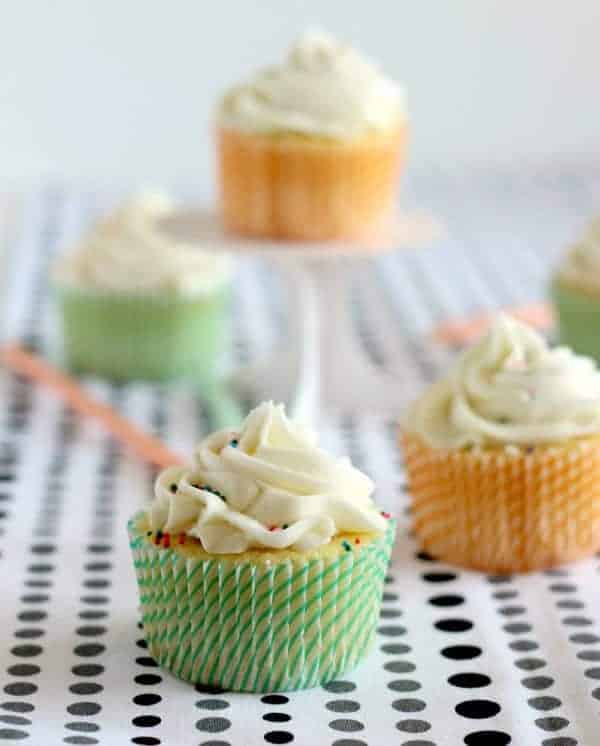 But then I pushed myself beyond the freak-out and was inspired by Amanda's "surprise inside" cakes. I created these vanilla cupcakes…and they have a fun surprise inside of them!
You can now also get the recipe here — yay! I had so much fun creating these playful cupcakes and can't wait to experiment with putting different things inside these delicious vanilla cupcakes. The possibilities are endless — red hots, nerds, sprinkles, etc. A couple people in the comments on Amanda's site mentioned that these would be perfect as gender-reveal cupcakes and they sure are right!
Vanilla Cupcakes (With a Surprise Inside!)
These fun vanilla cupcakes have a playful surprise inside! They are sure to bring a smile to your face!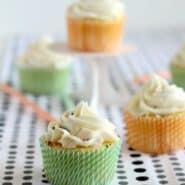 Ingredients:
For the cupcakes
6 tablespoons unsalted butter, softened
1 and 1/3 cup granulated sugar
1 and 1/4 teaspoon baking powder
1/4 teaspoon salt
1 teaspoon pure vanilla extract
2 large eggs plus one egg yolk
1 and 1/3 cups all-purpose flour
3/4 cup milk
for the filling
for the frosting
1/3 cup unsalted butter, softened
1 teaspoon pure vanilla extract
3-4 cups powdered sugar
3 tablespoons milk
sprinkles, optional
Directions:
Preheat oven to 350 degrees F.
In the bowl of a stand mixer, using the paddle attachment on medium-high speed, cream together butter, sugar, salt, baking powder and vanilla until fluffy and light colored, or about 5 minutes.
Add eggs one at a time until incorporated. Scrape down sides as needed.
With the mixer on low, add one third of the flour, then half the milk, then another third of the flour, the rest of the milk and finally the remaining flour. Scrape down sides as needed.
Pour into a cupcake tin with cupcake liners. Each liner should be about 3/4 full of batter.
Bake cupcakes for 16-18 minutes or until a toothpick inserted in the center comes out clean.
Cool cupcakes completely before moving on to next steps.
When cupcakes have cooled, hollow out a small hole in the center (using a cupcake corer or a small sharp knife). Fill hole with mini M&Ms.
Prepare frosting by using an electric mixer to cream together all frosting ingredients until smooth and fluffy. Pipe frosting onto cupcakes, decorate with sprinkles if desired and serve immediately.
Note: Serving immediately is recommended because the M&M's soak up some moisture and lose their crunch after being inside of the cupcakes. Feel free to make cupcakes a day ahead and fill and frost immediately before serving.
All images and text ©
.
You can also head on to Amanda's beautiful site and get vanilla cupcake recipe there!