JOLLY TIME Pop Corn asked me if I wanted to write a post about their popcorn.
Hmm…let me think about it for a half of a second.
It's popcorn.
So yeah…you all know how I feel about popcorn. And I made this incredibly delicious popcorn snack mix with it.
Popcorn is traditionally known as a healthy snack. But let's be real, typically we I load it up with butter and salt.
That's why it tastes so good.
Howwwwever….
…this is popcorn snack mix that you can feel pretty good about. Sure, it has a little sugar, a little salt, a little fun stuff, but it has some really good for you stuff in it too. The JOLLY TIME Pop Corn itself is made with Smart Balance unique blend of polyunsaturated, monounsaturated, and saturated fats. It comes in Butter and Butter Light flavors, both of which taste great!
Now, if you really follow Rachel Cooks closely, you probably know that I typically go for air-popped popcorn (pssst–you can also buy JOLLY TIME Pop Corn kernals to air pop). But let's be real, I don't discriminate and I love having some microwave popcorn in the pantry on hand for when the craving strikes.
Such as while I write this post. With a certain red heart-shaped bowl in front of me. Funny how that worked out.
The nice thing is, I feel good knowing that this particular bowl of microwave popcorn contains no artificial flavorings or colors. In additions to Smart Balance's blend of oils.
PS: Fun facts: JOLLY TIME Pop Corn is a family owned company that was the first branded popcorn ever produced (nearly 100 years ago!). They use GMO-free popcorn and their products are gluten-free.
Yay for that! Getting back to the popcorn snack mix, I got a little wild. I threw in dried cranberries, dried plums (ehh-hmm…prunes), almonds, dark chocolate M&M's (I can't quit them), and chia seeds! Yes, chia seeds. I'm kind of weirdly addicted to them too. I'm having fun sticking them in unusual places, like this pizza sauce. Then I coated the whole mixture in smooth white chocolate to help it all stick together. It turned into a great snack with some really good nutritional value (although, still a treat to be enjoyed in moderation).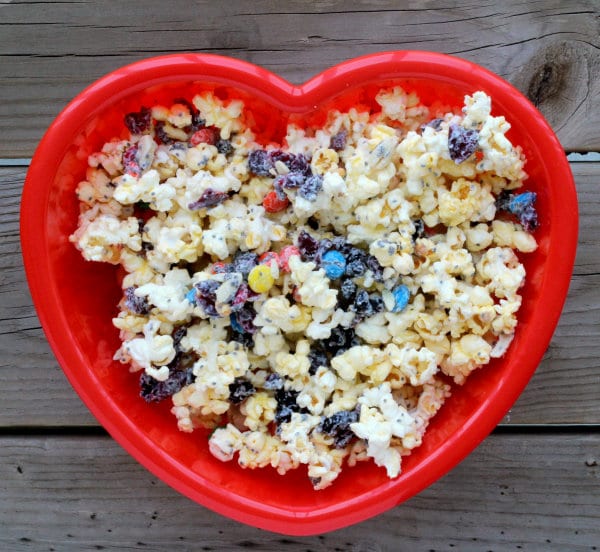 This snack mix could easily be customized too. Swap out cranberries for cherries or raisins for the dried plums. Don't have dark chocolate M&Ms? Use milk chocolate. I promise it is still going to taste awesome.
Get this — over the next month, you can enter to win great prizes on JOLLY TIME Pop Corn's Facebook page. If you enter in the next few hours, you could win a $100 Lululemon gift certificate (ends 6/24/13 at 9AM CST). But if you missed that one, there will be a new giveaway starting right after that one ends. And another, and another, and another! So keep checking their Facebook page and entering to win all these fun prizes. You can enter once per week for a chance to win one of 75 free product coupons or the big weekly prize. Every Monday the drawing starts over for the next 75 coupons and a new prize! All the giveaways have to do with nurturing a healthier lifestyle. What are you doing to nurture a healthier life style? Quitting smoking? Eating more whole grains? Doing a plank a day? Eating popcorn?
Popcorn Snack Mix
This popcorn snack mix is sweet — the kids will love it. But it has some sneaky nutritional value as well, that you will love too!
Ingredients:
1 bag of Jolly Time Butter Microwave Popcorn made with Smart Balance, popped according to package
3 tablespoons dried cranberries
3 tablespoons diced dried plums
1 tablespoon chia seeds
2 tablespoons almond slivers, toasted
3 tablespoons dark chocolate M&M candies
3/4 cup of white chocolate chips, melted
Directions:
Line a rimmed sheet pan with parchment paper or silpat mat. Set aside.
Mix all ingredients together except white chocolate. Mix melted white chocolate with other ingredients, stirring so that everything is coated. Spread onto prepared pan and let harden.
Break into pieces, Best served immediately but may be stored in an airtight container for 2-3 days.
All images and text ©
.
Verdict: Addicting and delicious.
Husband's take: He loved it!
Changes I would make: None are necessary!
Difficulty: Super easy.
More Popcorn Snack Mix Recipes:
Spiced Popcorn Snack Mix from Aggie's Kitchen
Popcorn Trail Mix from Weelicious
Popcorn Party Mix from Bake Your Day
Nutty Popcorn Snack Mix from Weekly Bite
Post contains affiliate links.