Easy Southwestern Salad
This easy Southwestern salad, with sautéed peppers and onions, nestled into fresh spinach and shredded jicama, is so colorful and nutritious!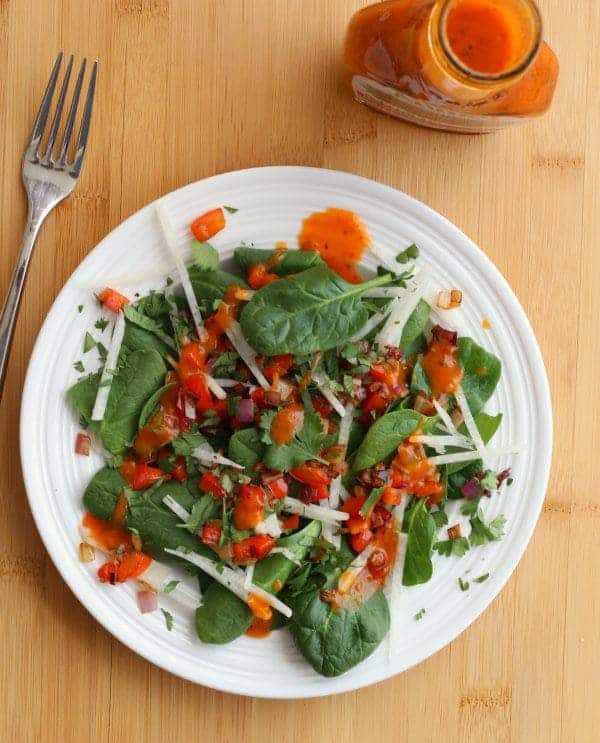 While I love to cook, there is something wonderfully comforting knowing that there is a pizza in the freezer, made with natural ingredients that I can toss in the oven on a busy night. Or maybe on a night when the two kiddos have really worn me out and I just don't feel like making a complicated dinner. Recently, Annie's approached me about trying their new pizza line. No brainer!
I should start by saying that I love Annie's and all of their products–so does E! But you probably already knew that if you read my recipe for Southwestern Macaroni & Cheese Muffins.
I was thrilled to try their new pizzas and was not disappointed by the quality or the flavor. Annie's asked me to think about the theme of Putting Good Into Your Family Dinner. This really struck a chord with me, because even on those busy nights or the nights where I just can't drag myself into the kitchen, I still like to feel confident that I am feeding my family good food.
Sitting down for dinner as a family is of the utmost importance to us, something that I think will become even more important as our children grow. I love creating a meal and feeling confident in the fact that I'm serving my family something that is good for them and that is going to keep them around for a long, long time. 'Cause, you know, I kinda like them.
We tried–and loved–the Barbecue Chicken Pizza. My daughter loved it too. Very flavorful (but not too spicy) BBQ sauce with a good amount of cheese and chicken and a tender, thick crust. The only thing that could have made it better was bacon, but bacon makes everything better, does it not?
To make it a complete meal–to put good into my family dinner, I paired it with a southwestern salad with crunchy jicama, sweet little bites of sautéed red bell pepper and red onion, and nutritious spinach. I brightened up the flavors with fresh cilantro and topped it off with Annie's flavorful Roasted Red Pepper Dressing.
I wrote the recipe for one, to make it easy to customize for your family. Family of two? Multiply by two. Family of four? Multiply by four.
Remember, it is a salad — in other words, hard to mess up. A handful of this, a handful of that, and you've got a great, nutritious side for that pizza that came hot out of your oven. You can throw this salad together easily while your pizza is cooking? Simple perfection if you ask me.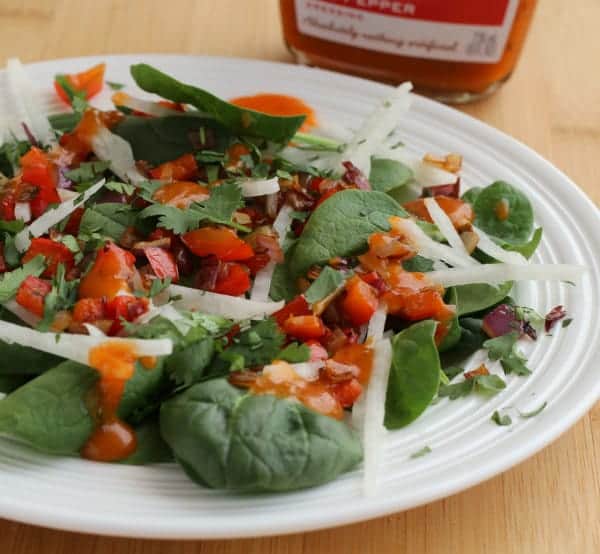 Looking for more easy salads?

Salads don't have to be complicated. I love adding a salad to a quick meal. Try making your own salad dressings! It's so easy, and they taste so good. Here's a few more salad recipes that I'm sure you'll like:
Easy Southwestern Salad
Yield: 1 serving
Prep Time: 10 minutes
Cook Time: 5 minutes
Total Time: 15 minutes
This southwestern salad is super flavorful and comes together in minutes. A great way to round out a meal.
Ingredients
2 tablespoons finely diced red pepper
2 tablespoons finely diced red onion
½ teaspoon extra virgin olive oil
approximately 1 cup of baby spinach leaves
2 tablespoons julienned (or thinly sliced) jicama
2 tablespoons fresh cilantro, roughly chopped
1 to 2 tablespoons of Annie's Roasted Red Pepper Vinaigrette
Instructions
In a small frying pan, heat olive oil over medium to medium-high heat. Saute peppers and onions until softened, about 5 minutes. Remove from burner and let cool slightly.
On a plate, layer spinach and jicama. Add peppers and onions, and then cilantro. Drizzle dressing on top. Enjoy!
Notes
Feel free to use different greens if you don't have spinach available. Leaf lettuce or romaine would be great.
Add cooked chicken to the salad for a main course salad.
Nutrition Information:
Yield: 1
Serving Size: 1 salad
Amount Per Serving:
Calories: 89
Total Fat: 3g
Saturated Fat: 0g
Trans Fat: 0g
Unsaturated Fat: 3g
Cholesterol: 0mg
Sodium: 129mg
Carbohydrates: 12g
Fiber: 5g
Sugar: 4g
Protein: 6g
RachelCooks.com sometimes provides nutritional information, but these figures should be considered estimates, as they are not calculated by a registered dietitian. Please consult a medical professional for any specific nutrition, diet, or allergy advice.
This is a sponsored post written for Annie's. All opinions, as always are my own. I love Annie's products and buy them frequently.