Quinoa Power Pancakes
Quinoa power pancakes are a great way to start your day – this filling and healthy breakfast will keep you satisfied all day.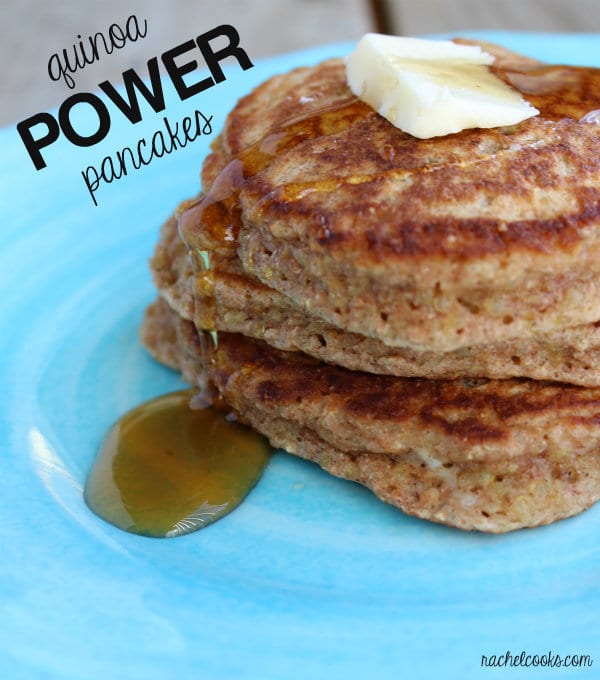 It's no secret that I'm a huge fan of quinoa. Yeah, yeah, yeah, I know it is completely a "fad" food, but I think it is one that will stick around for a while. And I have absolutely zero issues chowing down on a fad food, especially when it is good for me and tastes great.
Quinoa is so versatile. You can bake with it, you can make salads with it, you can put it in stews and soups, and I know I always mention this, but you can freeze it!
This isn't the first time I have made quinoa pancakes (or even a savory version), but for this recipe, I upped the ante a bit. I use whole wheat flour and add cinnamon, wheat bran, and ground flax. That's why I call them quinoa power pancakes. The extra nutrition and fiber will keep you full and satisfied for hours.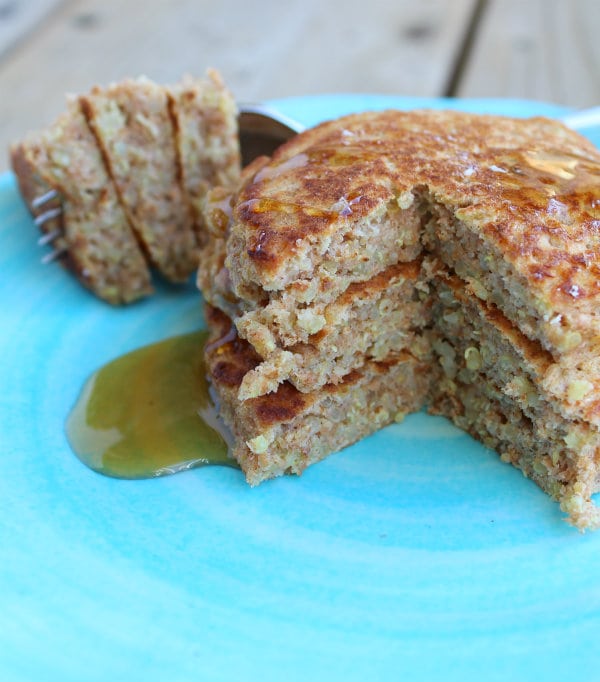 Whip up a double or triple batch of quinoa power pancakes and freeze them. They are perfect for a quick breakfast. Just pop a couple in the toaster oven or microwave when you're ready.

Needed for this recipe:
Quinoa Power Pancakes
Yield: 12 pancakes
Prep Time: 5 minutes
Cook Time: 20 minutes
Total Time: 25 minutes
Quinoa power pancakes are a great way to start your day – this filling and healthy breakfast will keep you satisfied all day.
Ingredients
1 cup cooked quinoa
1/2 cup whole wheat flour
2 tablespoons ground flax-seed (flax meal)
1/4 cup wheat bran
1 teaspoon ground cinnamon
2 teaspoons baking powder
1/2 teaspoon coarse salt
1 large egg, plus 1 large egg white
1 tablespoon canola oil
1/4 cup skim milk
2 tablespoons pure maple syrup
Instructions
In medium bowl, whisk together quinoa, flour, ground flax-seed, wheat bran, cinnamon, baking powder, and salt. In another medium bowl, whisk together egg, egg white, oil, milk, and syrup until smooth.
Add egg mixture to flour mixture and whisk to combine. Do not overmix. If mixture seems too thick, add a little more milk.
Lightly coat a large nonstick skillet or griddle with butter or non-stick spray and heat over medium-high heat. Drop batter by heaping tablespoonfuls or using a 1/4 cup measuring cup onto skillet.
Cook until bubbles appear on top, 2 minutes. Flip cakes and cook until golden brown on underside, 2 minutes.
Serve with maple syrup or your favorite pancake topping. I love topping them with applesauce and a little more cinnamon.
Notes
I usually double or triple the batch and freeze a bunch of these. They heat up really well in the toaster or toaster oven for a quick breakfast.
Serving size: 2 pancakes.
Verdict: Delicious! They are a bit more hearty than the original version. Fantastic topped with applesauce!
Husband's take: He LOVES when I make and freeze these. They are fantastic for him when he's rushing off to work in the morning. My daughter loves them as well, I think she would eat them for three meals a day if I would let her.
Changes I would make: None!
Difficulty: Easy.