I am just loving these Friday guest posts–I hope you all are too! Today we have Caroline from Chocolate & Carrots. I just love Caroline and her blog and her cutie baby boy, Liam. I seem to love every. single. recipe. that Caroline posts on her site. For a little taste of her food, check out her Acorn Squash Mac & Cheese, Whole Grain Monkey Bread, and Oreo Baked Donuts.
~~~~~~~~~~~
Hey everyone! I'm Caroline from Chocolate & Carrots, a blog where I make your favorite desserts a little healthier for you, with a side of my Liam. I'm so excited to be guest posting!
Since it's January and we're all trying to slim down after the indulgent holidays, I thought a nice healthier breakfast muffin would start our days off right! They even freeze well if you'd like to make a batch and not feel obligated to eat all 12 in one sitting! :D That wouldn't do anything to help the resolutions, eh?
The muffin batter doesn't have any added sugar and feel free to leave off the streusel if you need to. I just love that pop of sugar and crunch that you get on the muffin top. So delicious!
I hope you enjoy these muffins and come visit me some time! I'm so glad I could help Rachel out while she is loving on the new baby. :-) I bet "E" is such a great big sister already!
Whole Wheat Banana Streusel Muffins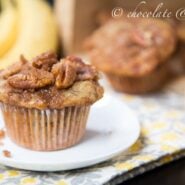 Ingredients:
1 cup light brown sugar
1/2 cup chopped pecans
2 teaspoons ground cinnamon
2 cups white whole wheat flour
1 teaspoon baking soda
1/4 cup canola oil
2 eggs
1 teaspoon vanilla extract
1/2 cup plain non-fat Chobani Greek yogurt
1 cup smashed ripe banana (2-3 small bananas)
1/2 cup skim milk
Directions:
Preheat the oven to 375°F.
Mix the brown sugar, pecans and cinnamon in a bowl and set aside for the topping.
In a larger bowl, mix the flour and baking soda together.
In yet another large bowl mix the canola oil, eggs, vanilla extract, yogurt, banana and milk.
Add the wet ingredients to the dry and mix.
(Optional) Line the muffin tin with paper liners and spray with cooking spray.
Fill the muffin tin 3/4 full per muffin spot. Then, sprinkle the entire batch of the topping evenly over the muffin batter.
Bake for 20-30 minutes or until a toothpick comes out clean.
~~~~~~~~~
Thanks again for helping me out, Caroline! Can't wait to try these muffins!