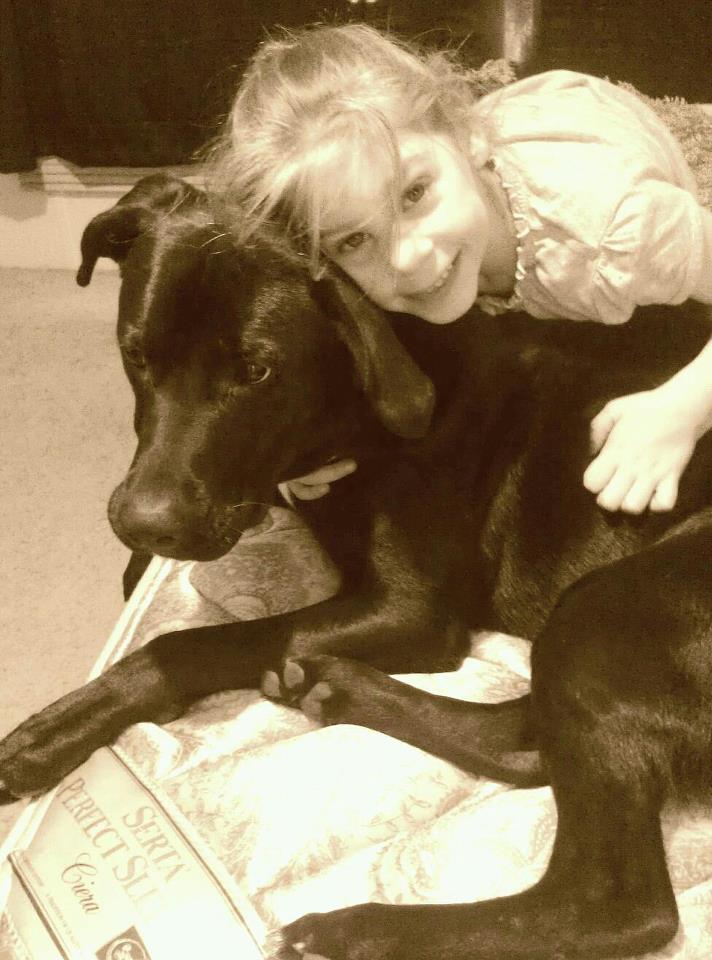 I write today's post with a heavy heart. Earlier this year, my cousin Megan experienced something a mom should never ever have to experience: the loss of her four year old daughter, Rowan Olivia.
Today would have been Rowan's 5th birthday.
I wanted to do something special to remember this beautiful, joyous little girl, so I made cupcakes. Fun pink cupcakes. With hearts. Because to me–that's Rowan. Laughter, hearts, smiles, and love.
Make these cupcakes. Or any cupcakes. Make them for your daughter. Make them for a friend's daughter. Make them for a niece. Make them for a stranger. Make them in memory of Rowan. Celebrate life–it is extremely precious and fragile.
While you're baking, say a prayer.
Say a prayer for Megan. Pray that God gives her strength and courage to look back on the memories of her daughter with a smile on her face today. Pray that she finds peace and comfort in the times when she needs to cry.
Say a prayer for all moms and dads that have experienced this unimaginable type of loss.
And eat the cupcakes with a smile on your face, remembering the wonderful times you have spent with your family and friends. Cherish every one of those moments.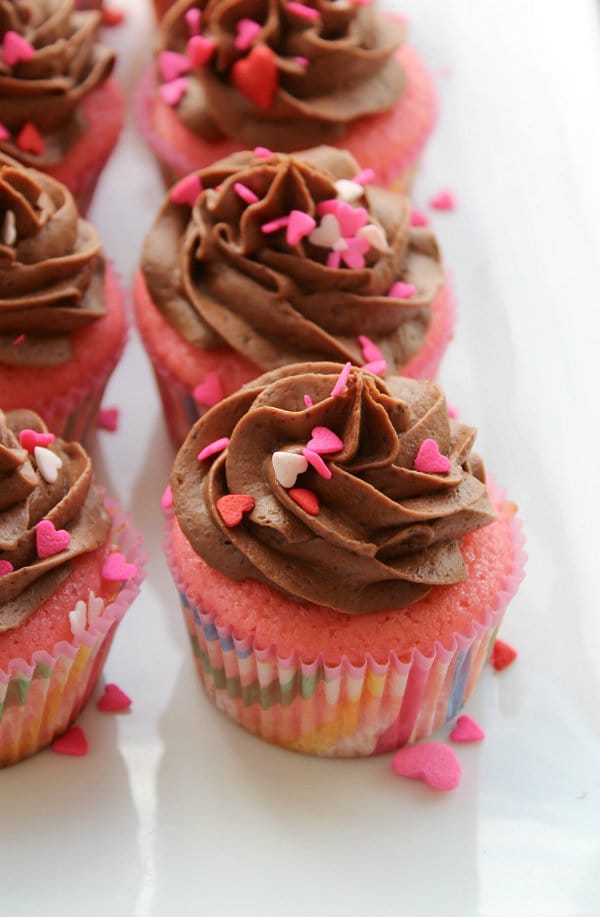 Pretty in Pink Cupcakes with Chocolate Buttercream
These pretty in pink cupcakes are perfect for a girl's birthday, Valentine's Day, or just because.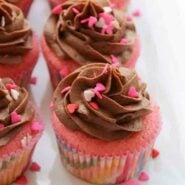 Ingredients:
for the cupcakes:
1 1/4 cups all-purpose flour
1 1/2 cups sugar
1/2 cup unsalted butter, softened
1 1/4 cups milk
3 1/2 teaspoons baking powder
1 teaspoon salt
1 teaspoon pure vanilla extract
1 teaspoon raspberry extract (optional)
~1/8 teaspoon pink gel food coloring
3 large eggs
for the buttercream:
3 cups powdered sugar
1/3 cup unsalted butter, softened
2 teaspoons pure vanilla extract
3 ounces unsweetened dark baking chocolate, melted & cooled
3-4 tablespoons milk or cream
Directions:
1. Preheat oven to 350 degrees F. Prepare cupcake tins with 24 cupcake liners. Make sure they are pink and/or very fun.
2. In a large bowl (or the bowl of your stand mixer), beat all ingredients together on low-speed for approximately 30 seconds or until combined, scraping bowl as needed. Increase speed to high for 3 minutes, scraping bowl as needed.
3. Fill cupcake tins about 2/3 full. Bake at 350 degrees F for 15 to 18 minutes or until cupcakes are set and spring back when touched lightly. Cool completely on wire rack.
For the frosting
1. In a medium bowl, beat powdered sugar, butter, vanilla and chocolate on low-speed until blended. Gradually add in milk to make frosting smooth. Pipe onto cooled cupcakes or spread on with a knife.
adapted from Betty Crocker Cookbook
All images and text © .