Banana Split Pancakes
Today's pancakes are from Sarah of Sarah's Cucina Bella. And let's just say…I wish I was one of her kids!
Okay, that might get a little weird, but I do know they are lucky little kiddos to be eating these delicious pancakes.
Sarah is a super talented blogger and you can find her stuff all over the web, including Pillsbury's and Betty Crocker's websites. Make sure to stop by her site and check out the goods, especially her Special Occasion Overnight Crème Brulee French Toast, her Chocolate Banana Marble Banana Bread, her Edamame Chicken Dinner Salad (I love all things edamame!), and her Lemon Rosemary White Bean Dip.
I'm hungry now.
~~~~~~~~~~
Hi everyone! I'm Sarah W. Caron from Sarah's Cucina Bella. When Rachel asked me to participate in her pancake month, I was psyched. Not only are pancakes one of my family's favorite foods (especially my 6-year-old son's), but I think Rachel's pretty darn cool. I was happy to join in.
My pancake recipe falls into the so-decadent-they-could-be-dessert category. Kind of like a cross between a favorite dessert and a comforting breakfast … Banana Split Pancakes are a perfect addition to breakfast for dinner. I serve these with something savory – like scrambled eggs and chicken sausage – to balance out all the sweet.
My kids go wild for these special treat pancakes. But they are totally a once in a while thing.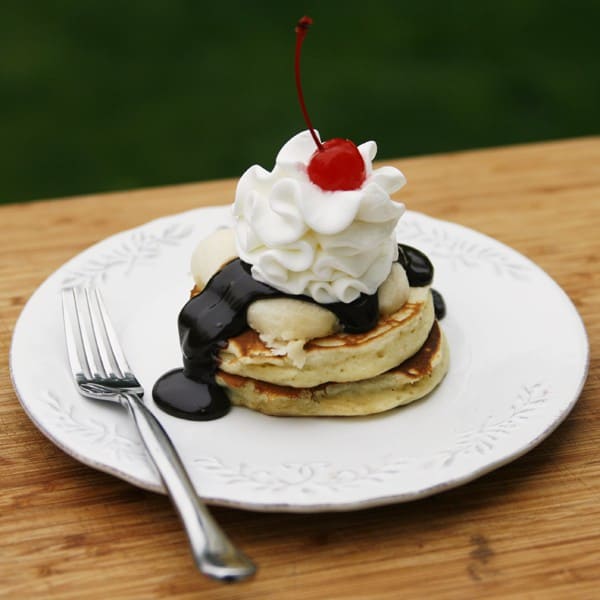 Don't be fooled by the length of this recipe though. These Banana Split Pancakes are a cinch to make. First you whip up a batch of Buttermilk Banana Pancakes (it takes about 25 minutes, start to finish). Then you top the soft, rich pancakes with fresh bananas, hot fudge, whipped cream and a cherry on top. Can't forget that cherry, right?
If you like these, drop by Sarah's Cucina Bella sometime and say hi. K?
Banana Split Pancakes
serves 6
For the Buttermilk Banana Pancakes:
1 large egg
1 cup all-purpose flour
1 tablespoon sugar
1 tablespoon baking powder
1/4 teaspoon kosher salt
1 cup buttermilk (I love Kate's Fresh Real Buttermilk)
1 large banana, mashed
2 tablespoons canola oil
butter
For the banana split:
2 bananas, peeled, split in half and cut in thirds
6 tablespoons hot fudge (or more, to taste)
whipped cream
6 maraschino cherries
Start by making the pancakes. Heat a nonstick skillet on just below medium heat. Whip the egg in a stand mixer until frothy, about 2 minutes. Add the flour, sugar, baking powder, salt, buttermilk, banana and oil. Beat until just combined.
Melt a little butter all over the skillet and drop pancake batter in about 1/4 cup rounds. Cook, flipping once, until golden on both sides. Set cooked pancakes in a pancake warmer or on a baking sheet in a 225 degree oven. Continue until all the pancakes have been cooked.
To assemble, stack two pancakes. Layer two pieces of banana on top. Drizzle with warmed hot fudge. Top with a dollop of whipped cream and a cherry each. Enjoy immediately.
~~~~~~~~~~
I'll have these pancakes for breakfast, lunch, dinner AND dessert! I would throw some sprinkles on too, just for fun.
You guys can all find more of Sarah on Facebook, Twitter, and Pinterest.
Remember to follow along with all the pancakes this month, just click on the picture below!