Biscoff Pancakes
Do you all know Julie from Table for Two? She is just the sweetest! She is a talented blogger and a fun friend and so sweet! Wait, did I already mention that?
Take a look at all the amazing stuff Julie has created:
Cheddar Bacon Green Onion Biscuits
~~~~~~~~~~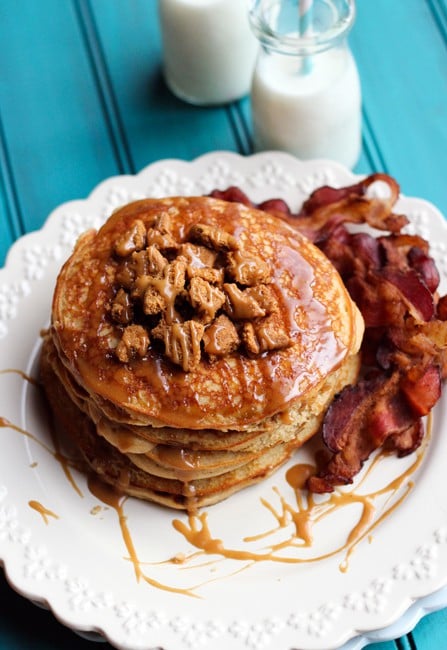 Hi readers of Rachel Cooks!! I'm so thrilled to be a part of this awesome Pancake Party. What a great idea :) totally shows how VERSATILE pancakes can be!!
I'm sure you all know by now what Biscoff is. The amazing cookie butter spread that we all die for. Well, I made them into pancake form and oh my good gosh, they are AMAZING! If you love Biscoff or cookie butter, you will love them even more for breakfast now. Who said you can't have cookies for breakfast?!
This is so super easy to put together and you can substitute the Biscoff for any cookie butter. You really do need to give these a try — you will FLIP over them ;)
Here's the recipe & instructions:
Biscoff Pancakes
adapted from Biscoff Blog
Yield: 6-8 medium pancakes
Prep time: 10 minutes, Cook time: 20 minutes
INGREDIENTS:
1/4 cup Biscoff Spread
1 egg
2 tablespoons sugar
2 tablespoons butter, melted
3/4 cup 2% milk
3/4 cup all-purpose flour
2 teaspoons baking powder
1/4 teaspoon salt
A few crushed Biscoff cookies on top
INSTRUCTIONS:
In a large bowl, whisk together Biscoff, egg, sugar, and butter. Gently whisk in the milk.
In a small bowl, combine the flour, baking powder and salt and gently pour the dry mixture into the wet mixture, whisking until all is well incorporated.
Lightly butter or grease a large skillet. Place over medium heat and drop batter by the ladle full onto the hot skillet.
Cook until bubbles form and pancakes are golden brown on the buttom.
Flip them over and continue cooking for another minute or so.
Serve with Biscoff syrup (1/4 cup Biscoff and 1/3 cup of maple syrup mixed together) or regular maple syrup.
~~~~~~~~~~
I love these Julie! Thanks for bringing them to the pancake party!
You can find Julie on Facebook, Twitter, and Pinterest.
Remember to follow along with all the pancakes this month, just click on the picture below.