S'more Pancakes
I want to swim in this marshmallow syrup. Also, I have all the ingredients for these lovely pancakes. Can't wait to try them! Steph from Steph's Bite by Bite created these lovelies. You all might remember Steph from her "a day in the life" feature here not too long ago. She's fun, energetic and a super creative cook and blogger. I honestly don't know how she does it all! Training for a marathon, working full-time, keeping up her blog?!? Girl is a superwoman. I can barely do ONE of those things!
We saw some of Steph's great content with her "a day in the life" feature, but here's more (I had a hard time choosing! So many fun recipes.):
Balsamic Cognac Slow Cooker Baked Beans
Grilled Apple Pie Breakfast Stack
~~~~~~~~~~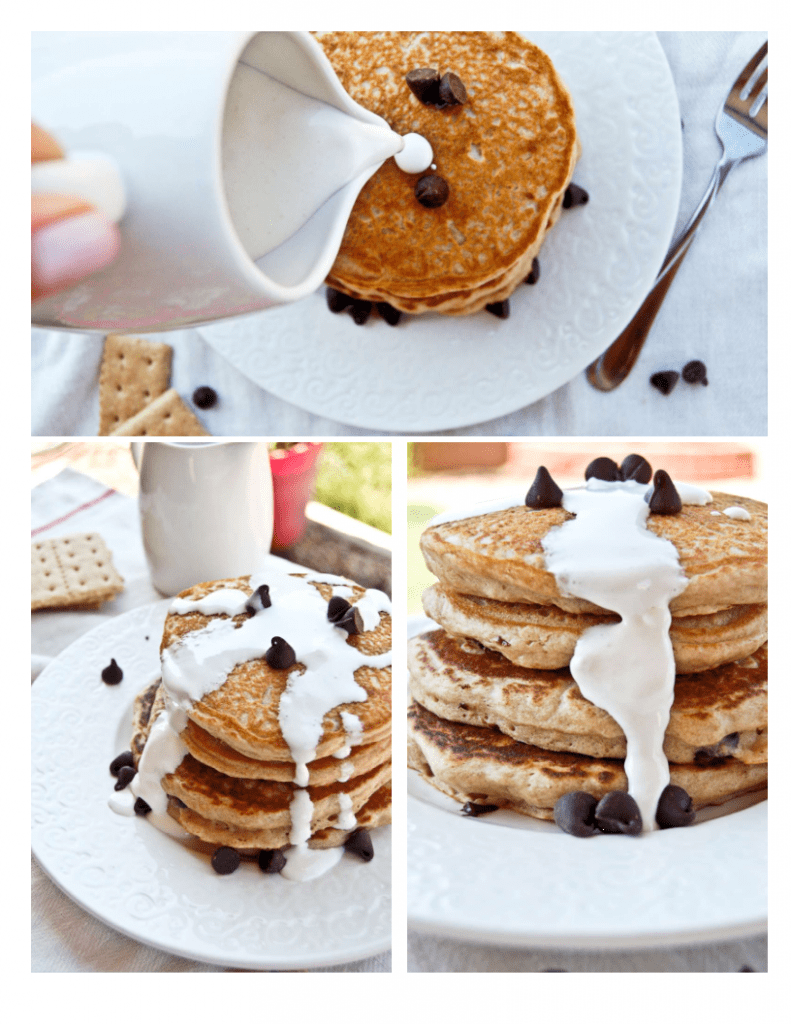 This is the best little party I've ever been a part of! I mean pancakes for a whole month?!! This is the life.
I'm not gonna lie though, it took me a while to figure out what I was gonna make for this carb loading party. And then it hit me. Like a tons of bricks. Marshmallow fluff. I wanted melty marshmallow fluff to top my pancakes!
And you know marshmallows means S'mores!
Aren't you excited?!
Ok. So. Let me explain how this works.
Crumbled graham crackers go in to pancake batter.
Pancake batter gets poured in to a h-o-t skillet…and topped with chocolate chips! (!!!!)
Then the graham cracker, chocolate chip studded, pancakes get stacked high, like HIGH! You can't eat pancakes without them being piled high!
Then da-rench the stack in marshmallow syrup.
Is this not the best way to have breakfast every day?
S'more Pancakes
makes enough for 4
¾ cups graham cracker crumbs
½ cup flour
½ cup whole wheat flour
½ teaspoon sugar
½ teaspoon brown sugar
1 tablespoon baking powder
¼ teaspoon salt
1 egg
2 tablespoons unsweetened apple sauce
1 ¼ cup fat free milk
½ cup chocolate chips
In a large bowl combine dry ingredients, then add in the egg, applesauce, and milk. Whisk to combine ingredients.
Heat a skillet over medium heat, spray with cooking spray, then pour about a ¼ cup of batter in to the skillet. Add a few chocolate chips to the top. Cook the pancake until top start to form bubbles and the bubbles break (about 3 minutes). Flip pancake and cook for another 2 minutes. Remove the pancake from the skillet and place on a cooling rack and continue with the rest of the pancake batter. (You can set your oven to the lowest temp and keep the cooked pancakes in there to stay warm while you finish the rest).
Marshmallow syrup
¾ cups marshmallow fluff
1 tablespoon boiling water
Combine the hot water and the marshmallow fluff, whisking until mixture is smooth and looks like syrup. I like my syrup a little thick, but if it's too thick you can add a little more water to it.
Stack pancakes high and pour on that syrup. Get out a fork and CHOW!
~~~~~~~~~~
I wonder if I can talk my husband into making these for me this weekend?
You can find Steph on Facebook, Twitter, and Pinterest.
Remember to follow along with all the pancakes this month, just click on the picture below.