Cake Batter Pancakes
Today's pancakes are created by Tina of My Life as a Mrs. Tina's food & blog are playful, gorgeous and will definitely make you hungry.
Don't believe me? Check out these posts from Tina to get just a tiny taste of what she has to offer:
Pecan, Brown Sugar, and Kahlua Baked Brie
Oven Baked Parmesan Truffle Fries
Blue Cheese and Balsamic Burger
And then there are these pancakes. Oh my goodness, these pancakes.
I'm making them asap.
~~~~~~~~~~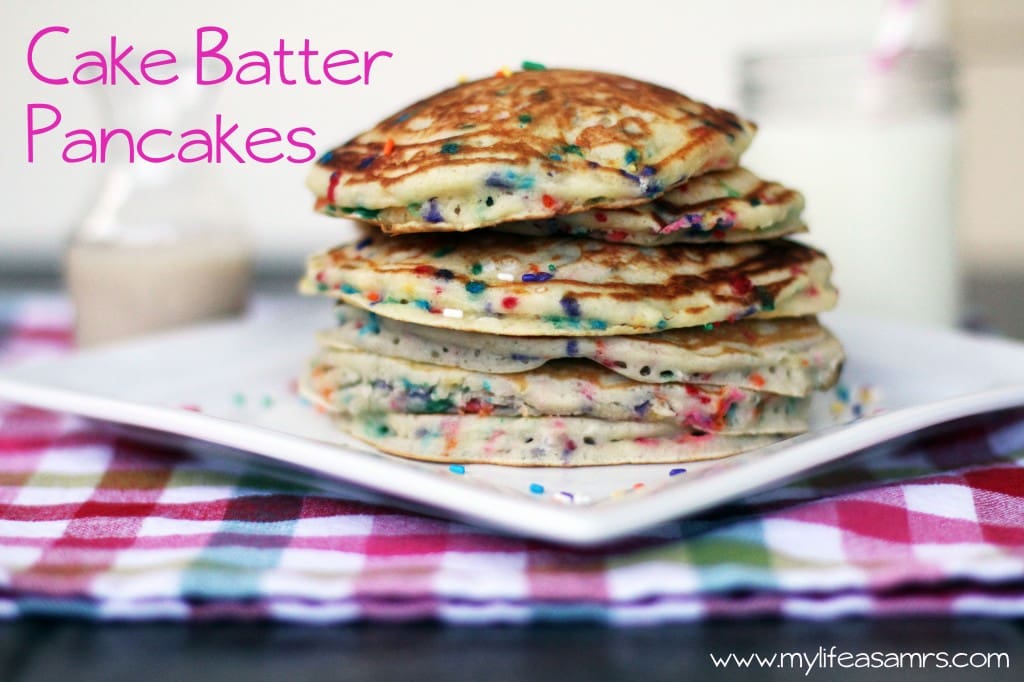 Hey there Rachel Cooks readers! Tina here from My Life as a Mrs! Thanks for letting me pop on over for the day! ;) So I'm sure you all know by now that Rachel's Pancake Party is in full motion! Well, today we continue…
Okay, so you know that stupid rule about not eating cake for breakfast? Well, I think it's a dumb rule. Pancakes are a perfectly acceptable breakfast food… so why not cake? Whatevs! I found the loophole to said "rule" while still remaining socially acceptable (hah)… Cake Batter Pancakes!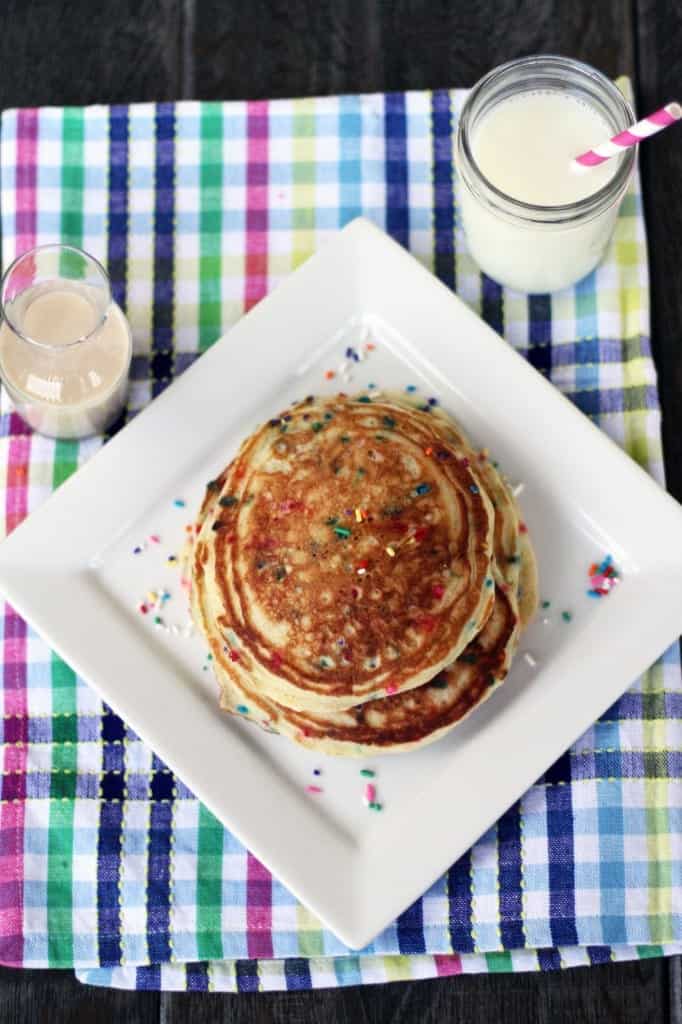 Yesterday was my birthday so I thought these babies were perfectly festive for the occasion! Of course I HAD to throw a sparkler on top to keep my childhood tradition going! A birthday 2 days after the 4th of July meant there'd ALWAYS be pretty sparklers on my of my cake! What little girl wouldn't LOVE that?! ;)
Anyhow, these pancakes are to. die. for. Rich, Decadent, Fluffy, and well… the best gosh darn solution for that dessert-for-breakfast craving! (gosh I hope I'm not the only one who gets those hankerings!). Hope ya'll enjoy these Cake Batter Pancakes as much as we do!
Have a great weekend, everyone! Don't forget to stop on by the blog and say hi! ;)
Cake Batter Pancakes
Dry Ingredients:
1 ½ cups all-purpose flour
1 cup yellow cake mix
1 tablespoon sugar
1 teaspoon baking powder
½ teaspoon baking soda
¼ teaspoon salt
Wet Ingredients:
2 eggs, beaten
1 ½ cups buttermilk
½ cup milk
2 tablespoons melted butter
1 teaspoon vanilla extract
Other Ingredients:
½ cup multi colored sprinkles
Syrup (or a Quick Glaze: 1 cup powdered sugar, 1 teaspoon vanilla, 3-4 tablespoons milk)
Non-stick cooking spray
Directions:
Whisk together dry ingredients in a large bowl. In a second bowl, whisk together the wet ingredients. Preheat griddle to 325º-350ºF and spray with non-stick cooking spray (or grease with butter).
When griddle is ready to go, add the wet ingredients into the dry ingredients and whisk to combine. Lastly, fold in the sprinkles. Scoop 1/3 – ½ cup portions of the batter onto prepared griddle, leaving space between them. Cook until bubbles start to form and bottom side is golden brown. Flip and cook until remaining side is golden brown also. Remove to a plate and cover until ready to serve. Repeat with remaining batter.
~~~~~~~~~~
Happy belated birthday, Tina!
I love that sparklers appeared twice this week. These pancakes are so fun for any occasion including Saturdays. And Sundays. And Mondays. And…well, you get the point. These might be making an appearance on my daughter's 2nd birthday.
You can find more of Tina on Facebook, Twitter, and Pinterest.
Remember to follow along with all the pancakes this month, just click on the picture below!