Morning Glory Pancakes
Today's pancakes are from Deborah of Taste and Tell. Deborah is a super talented blogger and I swear, a ball of energy! She posts so frequently, and all over the web, too! And she's pregnant. I honestly do not know how she does it. I especially love her feature called "Blogger Spotlight" where I get to learn more about my favorite bloggers. It is similar to my "a day in the life" series. She even featured me! It was so fun and I was so honored.
To get a feel for all of Deborah's great content, check out these posts: Red Velvet Cheese Ball, 24 Ways to Use Shredded Chicken, Peanut Butter, Chocolate and Cashew Popcorn and Chicken Caesar Kabobs.
~~~~~~~~~~
Since I was little, I always loved breakfast. I was spoiled with breakfast, too. I was lucky enough to have my mom as a stay at home mom for most of my childhood, and we had 3 homemade meals every day. 6 days a week, we had a hot breakfast. The only day we were able to eat cold cereal was on Saturday morning, where we were allowed to get up as early as we wanted, get ourselves cold cereal for breakfast, and watch Saturday morning cartoons. But every other morning of the week, it was cream of wheat, or eggs, or pancakes.
My mom makes the best pancakes. She never really went away from the normal pancakes, but she made this delicious lemon sauce that was always my favorite. I always looked forward to pancake mornings – I think that was always my favorite!!
Today, I still love pancakes. I tend to branch out a little more – everything from Strawberry Pancakes to Corn Cake Pancakes to S'mores Pancakes, but regardless of if they are regular Buttermilk Pancakes or something a little more creative, I love them all.
My other true breakfast love is muffins. I can't get enough of them. So it was only natural for me to combine one of my favorite muffins – Morning Glory Muffins – with pancakes.
These Morning Glory Pancakes are chock full of all kinds of goodness – apples, carrots, coconut, raisins. My husband called them "kitchen sink pancakes" because really, they are full of pretty much everything. But I think they are the perfect combination of flavors. A little bit sweet, but not over the top. And perfect for breakfast. I could happily enjoy pancakes like this for breakfast on a regular basis!!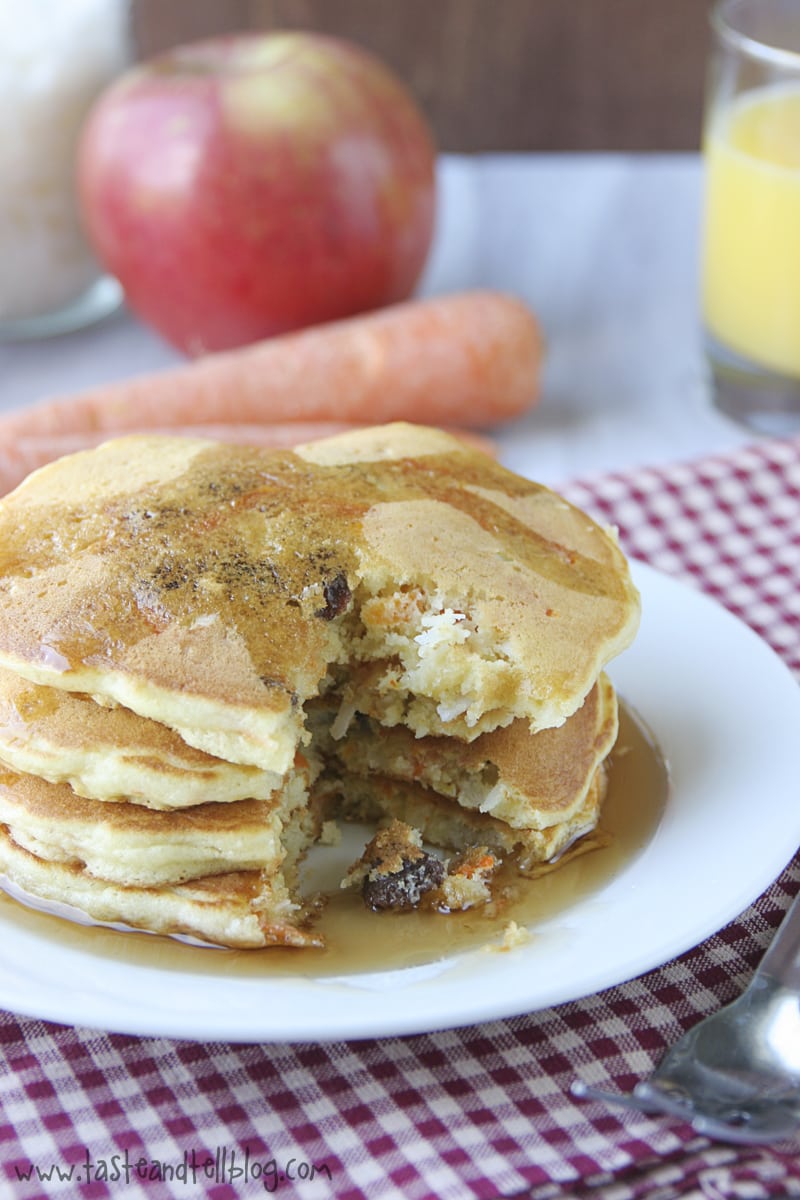 Morning Glory Pancakes
makes 14-16 pancakes
1 ½ cups all-purpose flour
1 tablespoon baking powder
¾ teaspoon salt
3 tablespoons sugar
2 eggs, whites and yolks separated
1 ½ cups milk
3 tablespoons vegetable oil
1 ½ cups grated carrot
½ cup grated apple
½ cup raisins
½ cup coconut
In a large bowl, combine the flour, baking powder, salt and sugar. In a small bowl, combine the egg yolks, milk and vegetable oil. Mix the wet ingredients into the dry ingredients, just until combined. Add in the carrot, apple, raisins and coconut. Stir just until combined.
In another bowl, whip the egg whites until they have stiff peaks. Lightly fold into the pancake batter.
Heat a griddle over medium heat. Spray with nonstick cooking spray. Add 1/4 cup of the pancake batter to the griddle and cook until the edges are browned and the batter is bubbling. Flip and cook until the second side is browned. Continue with the remaining batter.
Serve with maple syrup.
~~~~~~~~~~
These pancakes look so hearty and delicious.
You guys can all find more of Deborah on Facebook, Twitter, and Pinterest.
Remember to follow along with all the pancakes this month, just click on the picture below!