Apple Skillet Pancake
Today's pancake is from Sheila of Eat2Gather and I am seriously craving this one. Although, I might be saying that about all of them. I planned pancake month before I got pregnant, I'm glad I didn't plan a month of chicken recipes because I would be dying. Pancakes I can handle. Quite well, actually.
But enough about me. Do you guys know about Sheila and her blog? She has such a fun personality, she lives in my hometown and I can't wait to meet her some day. I can just tell this is a lady that loves life. And I love that about her. Not only that, but she also has a great blog filled with personal stories that will make you laugh and cry, and recipes that will make you drool. I'm currently eyeing her Killer Toffee Almond Brownies, her Cherry Chicken Salad, and her White Hot Chocolate.
~~~~~~~~~~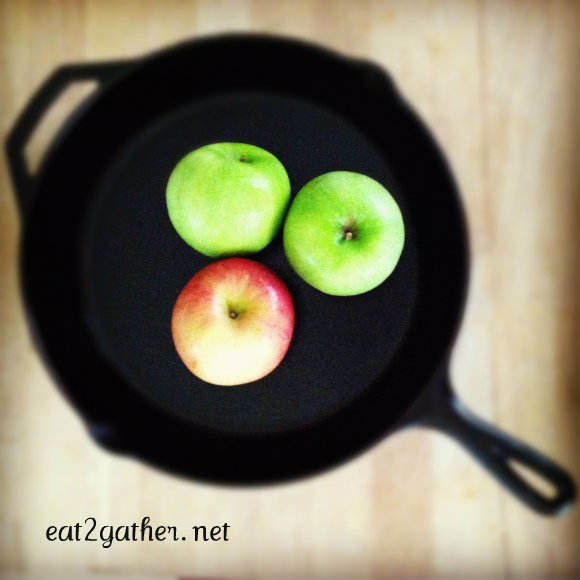 When Rachel asked me if I would like to come to her Pancake Party, I knew right away the pancake I would to share! The pancake I chose says a lot about who I am.
My Apple Skillet Pancake recipe….
1. Reflects my heritage.
2. It's easy to make.
3. Is full of flavor!
Heritage, I'm German.(maiden name, Fritzfinkledanken….JK, it was just Fritz) I spent a year in Germany as an exchange student, and have been back several times since. Easy…I love easy in the morning. I am not a morning person. I am not fully coherent until around 1:30 or so. Therefore, a one pan breakfast is where it's at baby! Flavor, I am all about excess. I. Want. More! More butter, more spice, more coffee plah-leez. I hate to skimp on flavor, and this pancake will not disappoint in the flavor department. I pinky swear.
My husband and I have four hungry kiddos, who all love breakfast. In fact we often eat breakfast for dinner . The Apple Skillet Pancake is my version of German Apfelfannkuchen. (Say that 10x fast.) This easy cake is great on its own or accompanied by bacon, eggs, and taters, for a heartier meal.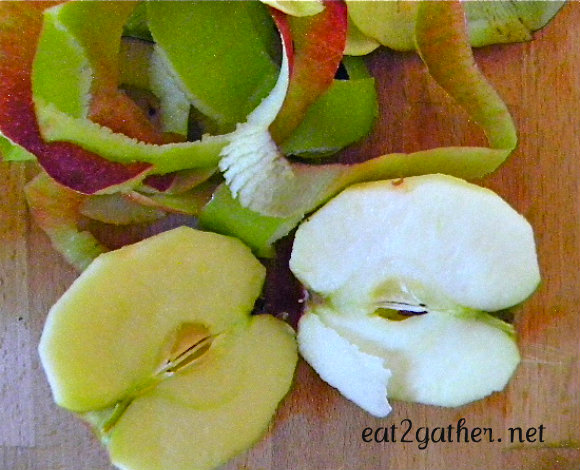 First you will need 3 tart Apples, and a Iron Skillet. (If you don't have an iron skillet, any oven safe pan will work.) Peel, core, and slice the apples. It might be a good idea to turn your oven up to 400 degrees right now too!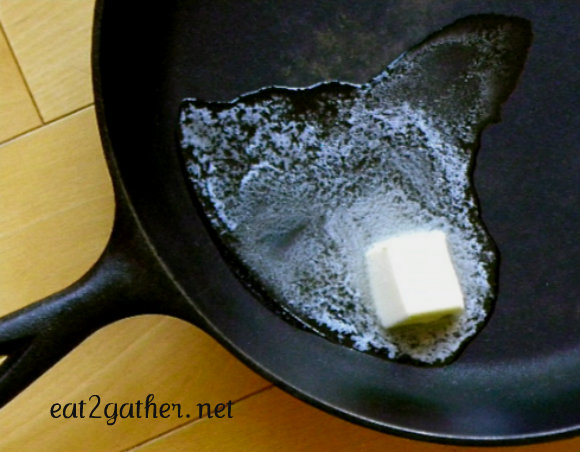 Melt 1 tablespoon of Butter in pan. (However, you should probably melt yours on your stove top, not your floor…wink.)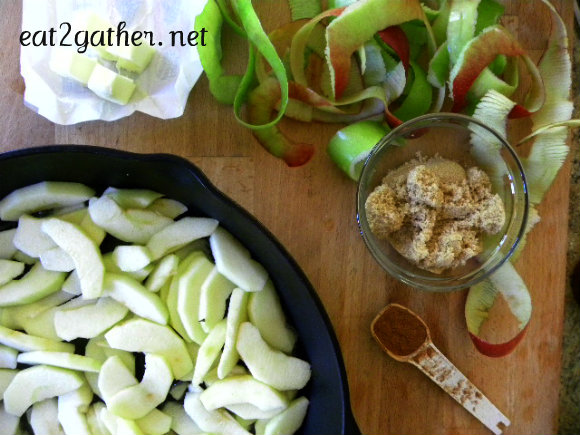 Spread apple slices over the melted butter. Place a lid over pan, return to stove top and cook apples over medium heat for 5 minutes or until just tender.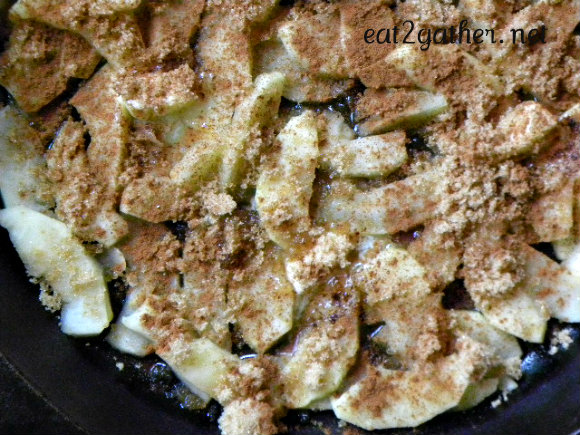 Remove pan from heat. Sprinkle with 1/4 cup Brown Sugar, and 1/2 teaspoon Cinnamon, cut remaining 2 tablespoons Butter into little cubes, and place on top of cinnamon and sugar.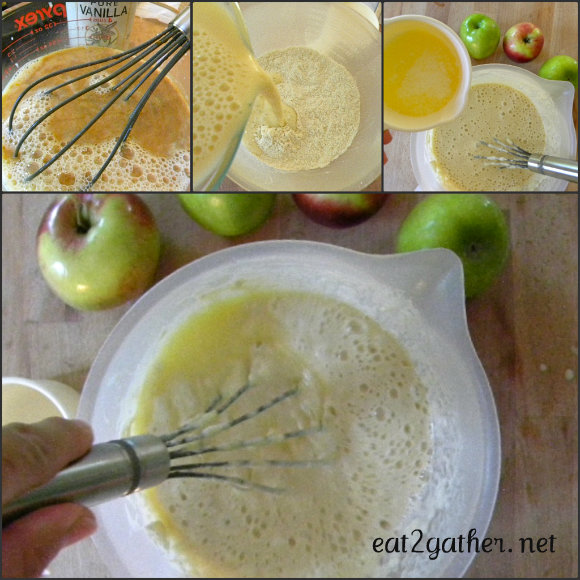 Now it's time for the cake. I like to whip up my Buttermilk Pancakes, but you can use any pancake mix or use your own homemade pancake batter. Here's mine: Mix 2 cups Flour, with 4 teaspoons Baking Powder, 1/2 teaspoon Salt, 2 tablespoons Sugar. In separate bowl whisk together 2 cups Buttermilk, 1 teaspoon Vanilla, and 2 eggs. Melt 1/4 cup Butter. Combine the dry, wet, and butter, whisk until smooth.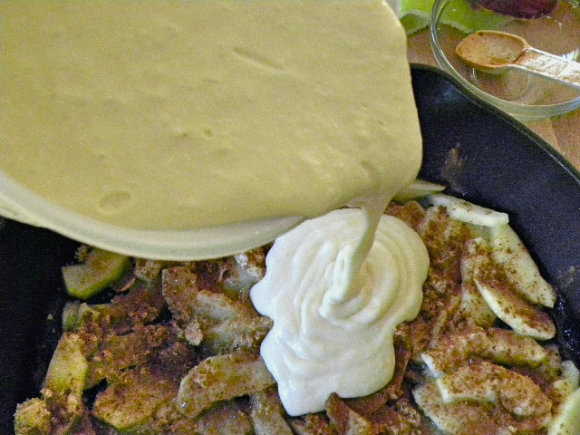 Pour pancake batter over apples in skillet. Place in preheated (400 degrees) oven for 15-20 minutes. Make sure pancakes sets up in the middle, if it appears gooey allow to bake another 5 minutes. Give the Apple Skillet Pancake 5-10 minutes to rest before cutting.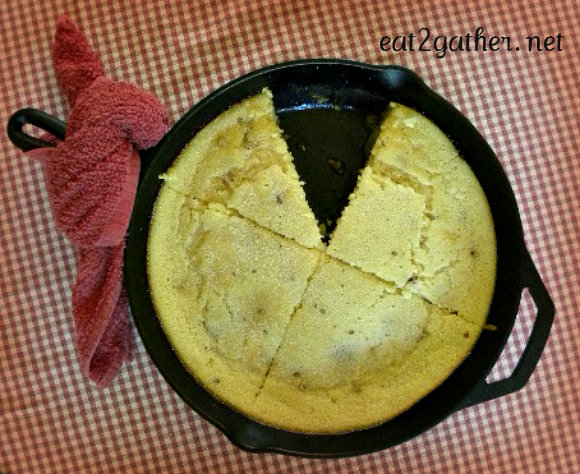 Thar she is. Good enough to eat, I'd say! Eat your Apple Skillet Pancake as is or drizzle with Maple Syrup, I chose the latter!

Flip your slice over so the apples are on top or serve it apples on the bottom….she's kinda purdy when you flip her, don'tcha think?
This Pancake Party as been a hoot! Thanks Rachel for inviting me…same time next year?
Peace, Love, and Pancakes,
Sheila
~~~~~~~~~~
Thanks Sheila! I can't wait to try this one. Sheila is also on Facebook, Twitter, and on Instagram as eat2gather.
Remember to follow along with all the pancakes this month, just click on the picture below!