Classic Blueberry Pancakes
Today Kita from Pass the Sushi is flipping pancakes for us! She made classic blueberry pancakes and they look so delicious. Kita has food for everyone on her beautiful blog. Catching my eye today are chicken marsala (one of my husband's favorites), fruity white sangria pops and her decadent grasshopper cake.
She also is not a breakfast novice by any means. I'm drooling over her banana bread pancakes, cinnabon rolls and cheesy potato frittata. Yum! I'll take some of each, please!
~~~~~~~~~~
How could I not participate in a month long pancake lovin' throwdown?
Breakfast is something that I am struggling to wrap my taste buds around over at Pass the Sushi, but I know for many, it is their favorite meal of the day. When Rachel asked us to submit our pancake recipes my mind rushed over the options, but I wanted to also be realistic in my goal. I finally settled on something that I knew would please both members of my house hold, classic blueberry pancakes. These old school traditional pancakes are light, fluffy, and come together quickly on a Saturday morning. If you have someone who is picky in your household, and doesn't like blueberries, just fold in the blueberries after portioning out their pancakes on the skillet. (Not that I have any one in my house who would ever complain of blueberries mingling in the same area as his plain boring pancakes). The best part? Don't have blueberries, use any other berry that happens to be in your fridge at the time for a boost to these old school style pancakes.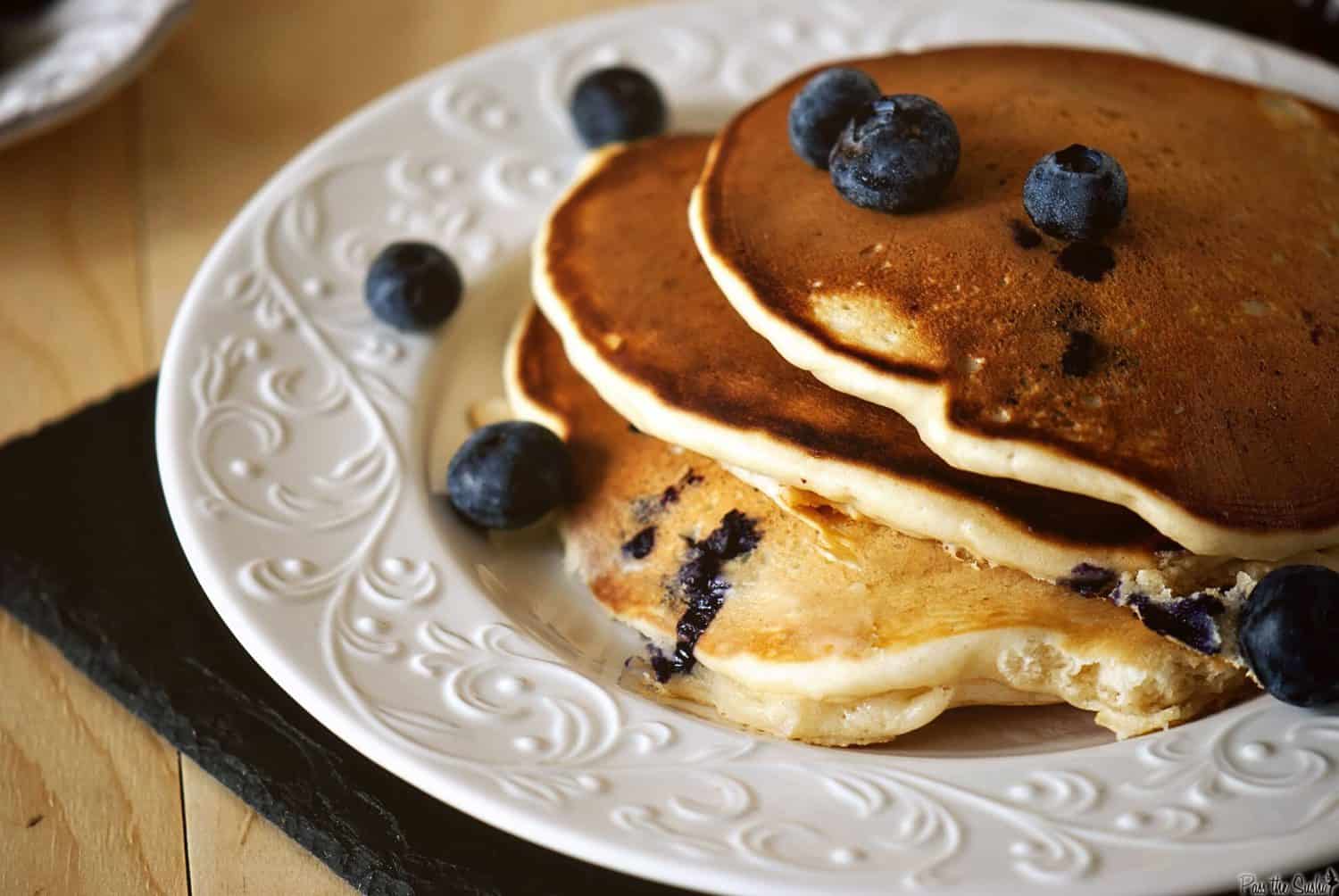 Classic Blueberry Pancakes
From CakeLove in the Morning
Ingredients:
1 ½ cups flour
2 tbs confectioners' sugar
2 tbs sugar
1 tbs cornmeal
1 tbs baking powder
½ teas salt
1 ½ cups milk
1 egg
1 teas vanilla
1 cup fresh blueberries
1 tbs butter
Preparation:
Preheat griddle or skillet to medium.
In a large bowl, whisk together flour, sugars, cornmeal, baking powder and salt.
Whisk together the milk, egg, and vanilla. Mix into the dry ingredients until everything is just wet. Clumps of flour are totally ok – don't over mix the batter. Fold in the blueberries and let the batter rest for a few minutes before starting.
Melt butter on surface of skillet and using a measuring cup to portion your pancakes, drop ¼ cup of the batter onto the skillet at a time. Cook pancakes until bubbles begin to appear, 3 to 4 minutes, flip and cook an additional 2-3 minutes.
Serve with warm butter, syrup, and more blueberries.
~~~~~~~~~~
Thanks Kita! You can't beat a good blueberry pancake. You can find more of Kita on Facebook, Twitter, and Pinterest.
Remember to follow along with all the pancakes this month, just click on the picture below!