Citrus Beef Skewers with Grapefruit and Garlic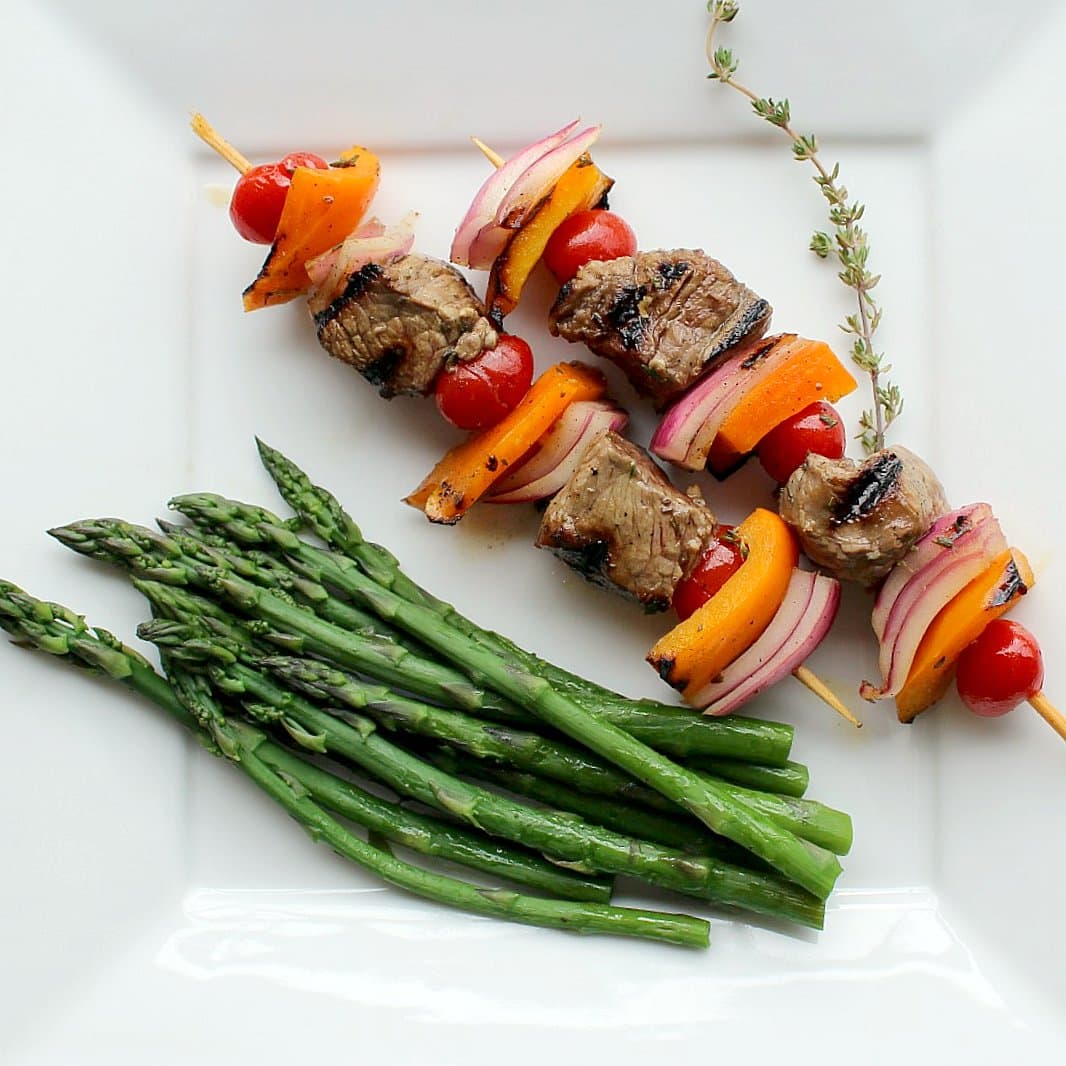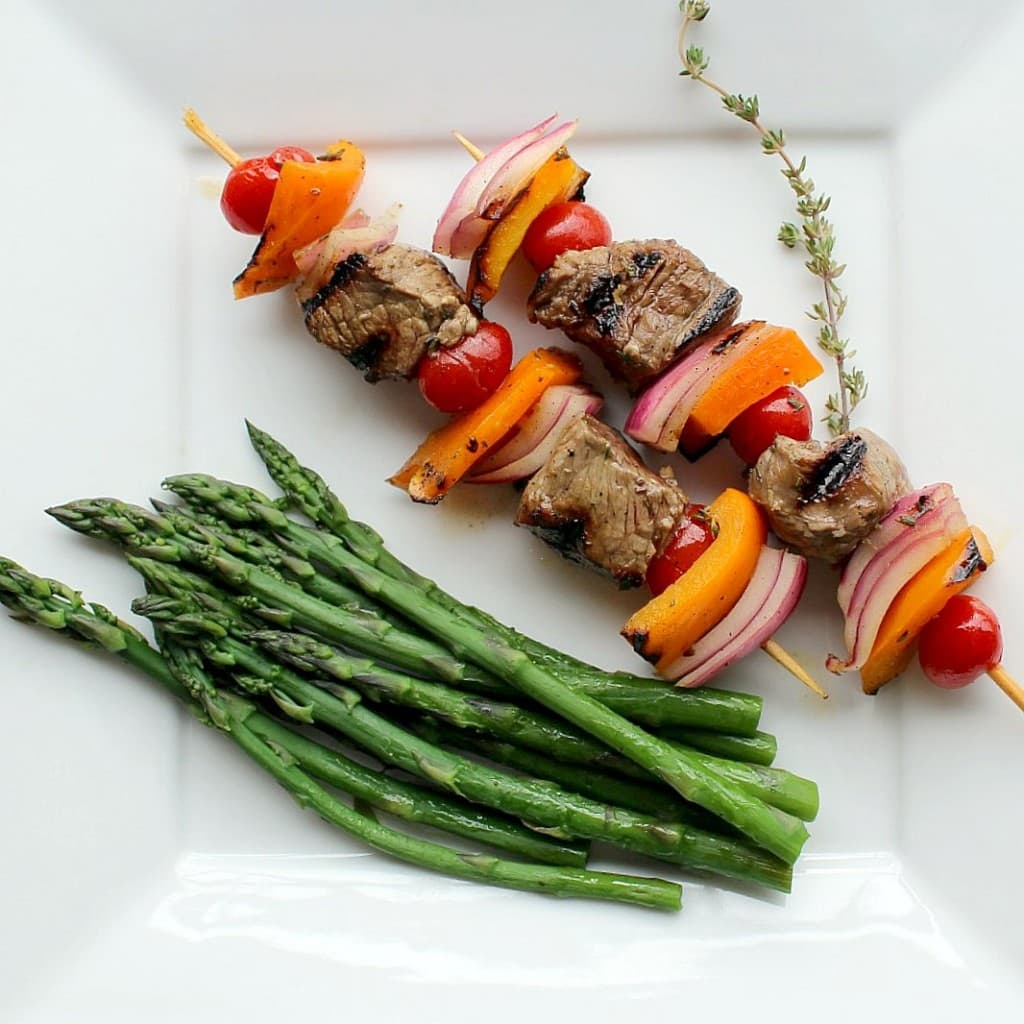 I like factoids. Remember the butter factoids from Friday? Today I'm bringing you olive oil factoids from Bertolli.
Olive trees were grown as early as 1200 BC in Italy.
There are 800 million olive trees in the world.
An olive tree lives for between 300-600 years.
An average olive tree produces about 40 pounds of olives a year. This produces 3 to 4 liters of olive oil a year. It takes 11 pounds of olives to make one liter of oil.
There are about 395 varieties of olives grown in the world.
Like wine, olive oil has attributes of color, flavor, taste and smell.
Most olive harvesting is done by hand.
Bertolli's oil goes through rigorous internal quality control standards. They meet and exceed regulations set by the International Olive Council and the European Union.
There are as many as 5mg of antioxidant polyphenols in every 10g of olive oil.
A 50g dose (4 tablespoons) of extra virgin olive oil supplies enough oleocanthal (natural anti-inflammatory properties) to produce an effect equivalent to about 10% of the recommended dose of ibuprofen for adult pain relief. (Isn't this interesting? You'd have to consume a lot of olive oil to get a full "dose" of ibuprofen, but I think it is cool nonetheless!)
Interesting right? And I have a recipe from Fabio. No…not that one. This one! You'll know him if you are a fan of the show Top Chef. He has a fun accent and definitely knows his way around the kitchen. I adapted his recipe a bit, but it is written below as he wrote it. He wrote this recipe using Bertolli olive oil.
This campaign is highly focused on grilling and who doesn't love to grill during the summer? Even if you don't have a place to grill, pick up a grill pan and take it inside. You still get all the great flavors of the grill. We have a grill but….it needs a new tank of gas. So I grilled these skewers inside! I just have a small grill pan, but it doesn't matter. I did them in batches, and let the first batch rest, tented under foil, while the second batch cooked. If you want to see more delicious grilled recipes, make sure to check out all of the other Virtual Potluck sites.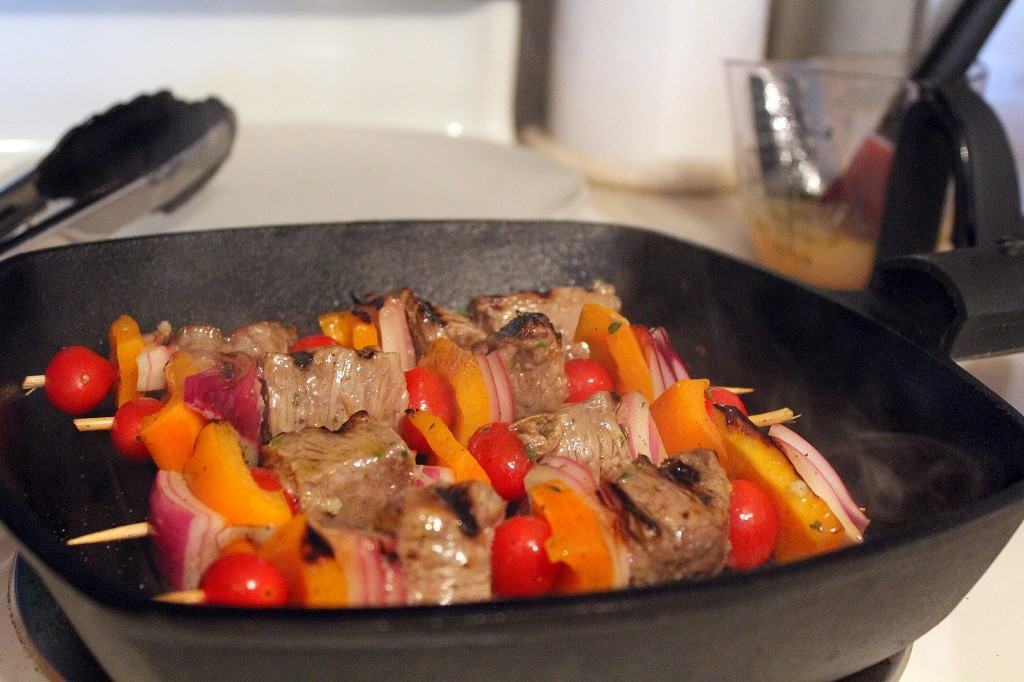 Citrus Beef Skewers with Grapefruit and Garlic
recipe courtesy of Chef Fabio Viviani and Bertolli Olive Oil
6 servings
Prep Time: 30 minutes
Marinate Time: 3 hours
Cook Time: 10 minutes
2 Tbsp. Bertolli® Classico Olive Oil
1/4 cup dry white wine
3 cloves garlic, finely chopped
Juice of 1 grapefruit (about ½ cup)
1 Tbsp. chopped fresh thyme leaves
1 lb. boneless sirloin steak, cubed
1 lb. cipollini onions
2 yellow bell peppers, cut into 1-inch pieces
12 oz. cherry tomatoes
For marinade, combine Bertolli Classico Olive Oil, wine, garlic, grapefruit juice, and chopped fresh thyme in small bowl. Pour ½ cup marinade over beef in large shallow nonaluminum baking dish or plastic bag; turn to coat. Cover, or close bag and marinate in refrigerator about 3 hours. Refrigerate remaining marinade.
Remove beef from marinade, discarding marinade. Alternately thread beef, onions, peppers and tomatoes on skewers*. Season, if desired, with salt and black pepper. Grill, turning once and brushing frequently with refrigerated marinade, 10 minutes or until desired doneness.
*If using wooden skewers, soak in water at least 30 minutes prior to use.
*Notes from Rachel:
I used ruby red grapefruit juice because my market didn't have any grapefruits (out of season)
I used red onions instead of cipollini onions because the cipollinis were very large at my market and we don't love the taste of raw onions. Although the red onions were still a bit under-cooked for our taste. If you're not going for the pretty-factor, I recommend doing each item on a different skewer (onions all on one, tomatoes all on one, etc.) so that everything will be perfectly cooked. Then toss everything together in a bowl.
I used orange bell peppers instead of yellow because that is what I had in my house.
I used grape tomatoes instead of cherry. Just because.
My market = a grocery store. Market sounds so much fancier.
The bottle of white wine, minus 1/4 cup is still in my fridge. Ben doesn't drink it, and me neither right now for obvious reasons. Who wants to come over and finish it off for me?
Verdict: Loved these skewers! I really liked the flavor of the marinated beef. I love thyme, and the olive oil and grapefruit were perfect touches.
Husband's take: Beef. Vegetables. Grill. Love. Duh.
Changes I would make: As I mentioned earlier, I might do each item on a separate skewer to ensure more even cooking. (All onions on one skewer, for example.)
Difficulty: Easy!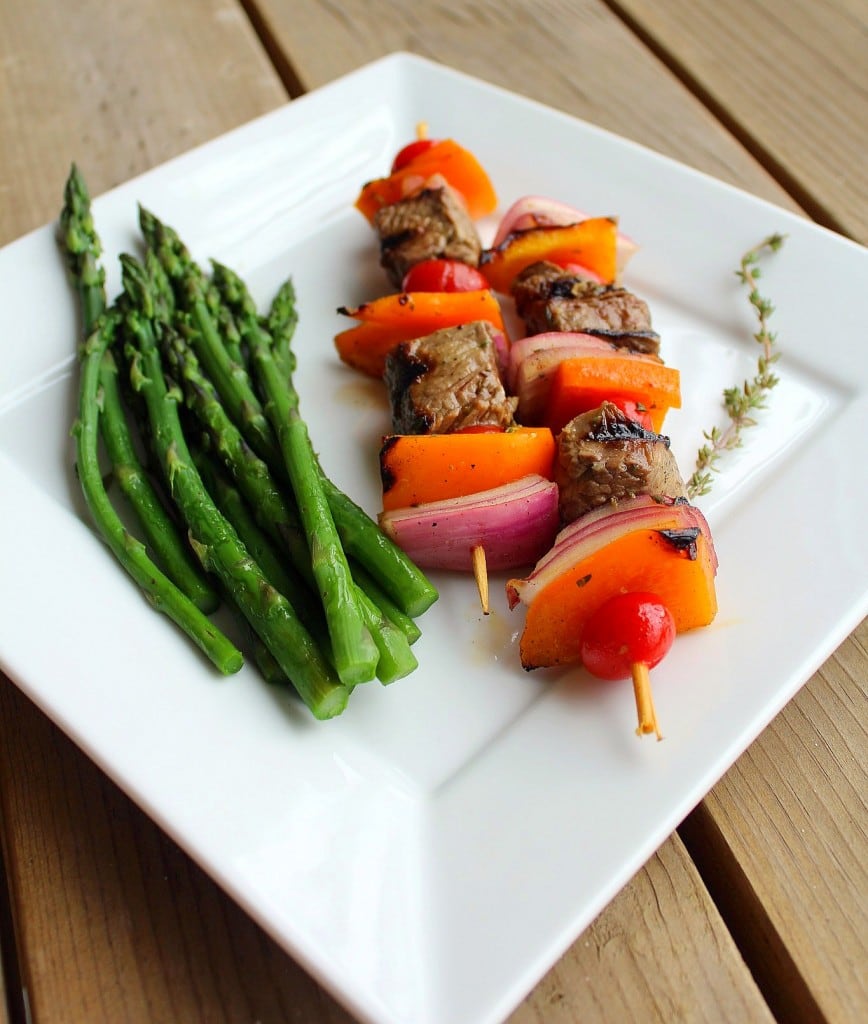 Disclosure: This post is sponsored by Bertolli. All opinions, as always, are my own.