Whole Wheat Flatbread and Roasted Garlic White Bean Dip
This post is part of the Virtual Potluck! We are teaming up with Bob's Red Mill and California Olive Ranch to bring you four weeks of healthy eating–A Healthy New Year. You can read more about the project here. We'll start with an appetizer, then move on to a side dish, main dish, and finally dessert!
Each week, we'll pair a grain with an olive oil in a recipe. And these are some good grains and olive oils. The result will be 4 48 healthy recipes. Four recipes from 12 different bloggers.
For this recipe, I teamed up Bob's Red Mill's Hard White Whole Wheat Flour with California Olive Ranch's Arbequina Olive Oil.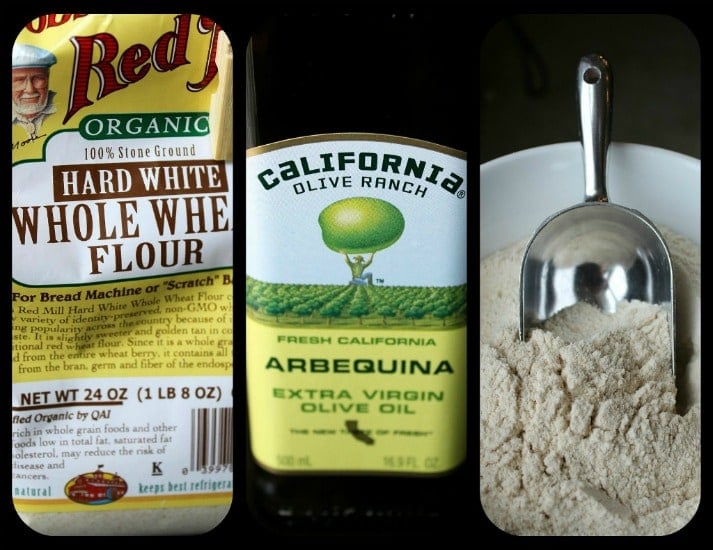 Bob's Red Mill describes this flour as "bring[ing] complete nutritional goodness to breads and other baked goods." They write that the "slightly sweet taste, light texture, and creamy color after baking make it easy to introduce this whole wheat flour into breads for people who traditionally have eaten only white bread." California Olive Ranch describe this oil as "very fresh and fruity" with "flavors of tropical fruit and fresh artichoke." Sounds great, right? These products do not disappoint. The flour worked great for this flatbread and the flavor of the olive oil still shined through. The olive oil also made the dip creamy, flavorful and delicious.
Whole Wheat Flatbread
adapted from What Megan's Making and King Arthur Flour
3 to 3 1/4 cups of Hard White Whole Wheat Flour
1 1/4 cup boiling water
1/2 cup potato buds or flakes
1 1/4 tsp salt
2 Tbsp Arbequina Olive Oil
1 tsp instant yeast
1. In a large bowl, measure out 2 cups of the flour. Pour the boiling water over the flour and stir until combined and semi-smooth. Cover the bowl and set aside for 30 minutes.
2. In a separate small bowl, whisk together the potato flakes, one cup of flour, salt, oil, and yeast. Add this mixture to the cooled flour/water, stir and then knead for several minutes. A soft dough should form a ball but will still be slightly sticky. You can add more flour if necessary, but by keeping my hands and work surface oiled (with olive oil), I avoided adding more flour.
3. Cover the bowl of dough and let rise for one hour.
4. Cut the dough into eight equal pieces, cover again and let rest for 30 minutes.
5. Heat a frying pan over medium heat. Roll each piece of dough into a 6- to 7-inch circle and fry without oil for about 1 minute on each side or until brown spots appear. Transfer cooked flatbreads to a plate or wire rack. Cut into wedges for this recipe or use whole for sandwiches or anything your heart desires!
Roasted Garlic White Bean Dip
1 can great Northern white beans, drained and rinsed
1 head of garlic
2 sprigs of fresh thyme, leaves remove and roughly chopped
1/4 cup Arbequina Olive Oil, plus extra for roasting garlic
salt and pepper to taste
1. Preheat oven to 400*F. Peel away outer coverings and chop off the top of the head of garlic. Place on a sheet of foil and drizzle about 1-2 tsp of olive oil over the garlic. Sprinkle with salt and pepper. Wrap up in the foil and roast for 30-40 minutes or until softened. Carefully open foil after roasting and let cool completely.
2. In a food processor, throw in rinsed beans, chopped thyme leaves, and squeeze out the roasted garlic. Puree until beans are starting to become smooth.
3. With the food processor running, pour in olive oil and process until smooth. Check seasonings and add salt and pepper as desired (pulse to combine).
4. Enjoy as a dip or use as spread on a sandwich.
Verdict: Loved both the flatbread and the dip. Good for you and delicious too. Would make a great appetizer.
Husband's take: He loved the bread but the dip was a little too garlicky for him.
Changes I would make: The bread was sturdy enough to hold the dip, but next time I'd love to try toasting the wedges for a little while to crisp them up and add some crunch.
Difficulty: Easy!
Disclosure: I was provided with free products to use, review, and create recipes with. No other compensation was provided. All opinions, as always, are 100% my own.