Spiked Irish Cream Latte Buttercream Frosting
I should start by saying that this recipe is not for children. Or anyone under 21. (I accidentally typed "18" the first time I wrote that…where am I living?)
It also isn't going to get you drunk.
Although getting drunk on frosting does have a certain appeal to it.
Huh? What? Who said that? Give me back my keyboard!
In case you were wondering–I am aware that there's a wonderful day next week called Thanksgiving and I haven't featured any festive recipes here.
I'm working on Thanksgiving, so maybe I'm a little bitter? Or maybe I just like frosting.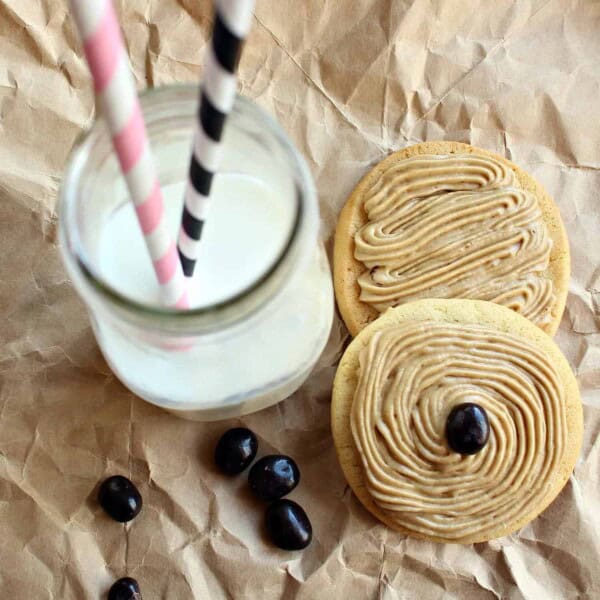 This frosting would be perfect on a cupcake, a sugar cookie (pictured), or eaten straight off a very large spoon. I made cookie sandwiches too…because adding another cookie is NEVER a bad thing. I topped these with chocolate covered espresso beans. If you did want to make these non-alcoholic, you could use an Irish cream extract (does that exist?) or Irish cream syrup made for coffee.
Spiked Irish Cream Latte Buttercream
1/3 cup unsalted butter, softened
2 tablespoons Irish cream
2 tablespoons espresso powder
3-4 cups powdered sugar
1. Using an electric mixer, cream together butter, Irish cream, and espresso powder.
2. One cup at a time, add in powdered sugar until you achieve desired consistency. You'll want it a little stiffer/thicker for piping (mine was a little soft to hold its shape after piping).
Verdict: So yummy. Sweet, delicious and addicting.
Husband's take: He liked these but preferred the other type of buttercream that I made on the same day. That recipe will surface soon enough! I had a friend over and she liked this type better than the other flavor I made.
Changes I would make: Eat more next time? I actually threw some of these out after my friend left! Because they were too delicious and tempting.
Difficulty: Easy!
Yum. I wish I had one now.