Cake Pop Tutorial, Q&A, and Giveaway
I would like to begin by saying I am not an expert on this subject matter.
FAR
from
it.
However, I've had a fair amount of practice. Also, the huge number of people finding my site by searching "cake pops falling off the stick" makes me sad because thus far I haven't really offered solutions. Only problems. And more problems.
Let's review:
I've had problems with cake balls falling off the sticks–resulting in cake balls:
I've had problems involving the most delicious poop I've ever come upon.
Say what?
And, I've had some undesirable trips to the Grand Canyon. Multiple times. As in, more than I can count.
So to summarize, I've had a lot of problems. All because I wanted it to be perfect for my daughter's first birthday.
And let me tell you, it was nearly perfect. Close enough for this girl.
Cute, right? (Humor me.)
The first thing I am going to do is take you through my process. Then I'll do a quick Q&A . Then I'll direct you to other sites that may also be helpful. Okay? Okay.
Oh, and I have a giveaway!
My Process:
I use a boxed cake mix. Prepare as directed on box and bake until toothpick or knife comes out clean.
Cool completely. Sometimes I break it up a little to let the steam escape while it is still hot to limit the moistness factor.
After cake has cooled completely, crumble up until it is all small crumbles. I use my (clean) hands for this step.
Once that is done, grab your can (that's right, can) of frosting. Or you can make your own. I was getting nuts in the kitchen (for my daughter's birthday) so I tried to keep things simple. Start with 1/3 of the can of frosting and stir into crumbled cake until incorporated.
Make a test ball. If it sticks together you're golden. If it is still kind of crumbling in your hands, add a little more frosting. Bit by bit, repeat this step until you have achieved perfect consistency. Remember that you can always add more frosting, but you cannot take it out, no matter how badly you want to.
Roll out all your balls (I use a medium size cookie scoop for uniform balls) and put them on a large baking sheet with a rim. Unless you want your cake balls rolling all over the floor. I prefer sprinkles to dust and hair. Not that there is any dust or hair on my floors! *eye roll*
Refrigerate overnight. Or for a while. At least a few hours.
Okay. Now this is what worked best for me. This is by no means and exact science. Melt your candy melts as directed on package, except add in about 1 tbsp of shortening (per one bag of melts). This helps to thin out the melts.
Dip your stick about 1/2″ into the melts and then stick into the cake ball about halfway. Return to sheet pan. Repeat with all the balls and all the sticks.
Put these in the freezer for about 5 minutes. (I did it in batches.)
Dip straight into bowl of melted (but not too hot!) candy melts. Use a spoon to cover up the top if you need too, don't swirl the pop around in the melts.
Add sprinkles immediately while candy melts are still soft.
Place in cake pop stand or Styrofoam block to harden.
Store at room temperature.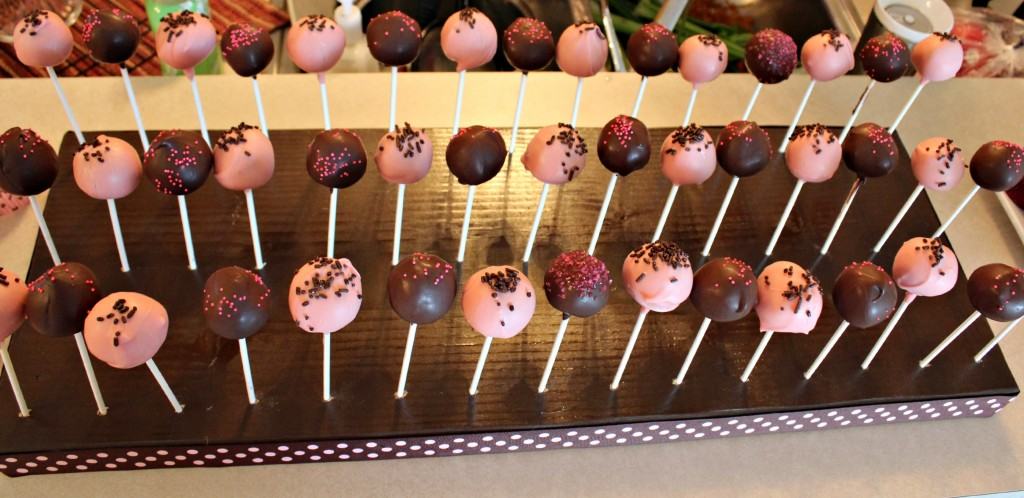 Supplies:
Cake
Frosting
Sticks

Styrofoam
or an pre-made stand or you can make your own like I did
Candy melts

Sprinkles
–lots of 'em*
Time & Patience*
*Items marked with an asterisk are especially important.
Q&A:
Q: Why are my cake pops falling off the stick?
A: There are a number of explanations/reasons for cake pops falling off the sticks. These were my most common reasons:
Cake/frosting ratio is off, likely too much frosting. Remember to add only a little at a time until the right consistency is achieved.
Cake balls are too cold. You want them cold, but not frozen. 5-15 minutes in the freezer seems to do the trick.
You forgot to dip the stick in the candy melts first, before sticking it in the cake ball. Remember to let it harden before dipping the cake pop in the candy melts.
You swirled the cake pop in the candy melts. Dip straight in, then straight back out. If your bowl of melts is too shallow, use a spoon to cover the rest of the pop.
You have bad luck. So do I. Turn it upside down and make the best of the situation. Or just eat your losers.
Q: Why is the cake oozing out from under the candy coating (aka "cake poop")?
A: The most likely answer to this is that there is a hole in the coating somewhere. Based on feedback I got on Twitter, the most common cause of this is a bubble in your candy coating. So make sure you don't get too crazy when you're stirring. Be gentle. This will help ensure there are no (or less) bubbles. I also found that once I had a better consistency of both the cake and the candy coating, I didn't run into the poop problem.
Q: Why is my candy coating cracking (aka "Grand Canyon")?
A: The most likely reason for this happening is that your pops are too cold and your melts are too hot…and the difference in temperatures is causing the melts to crack.
Q: Why is my candy coating dull and funny looking?
A: You overheated it. Start over with a new bag or just add extra sprinkles to cover it up.
Helpful Links:
Bakerella: Make Your Cupcakes Pop! (Cupcake Pop Tutorial–also has a link to video.)
Pioneer Woman: "Cake Pop Lesson #1: The Cake Ball"
Pint-Sized Baker: Video Tutorials (Good one about dipping.)
Fat Girl Trapped in a Skinny Body: "10 Tips in Cake Popping"
Bakerella: Cake Pops
(Link to order book–but also a helpful video.)
KC Bakes: Cake Pop Queries (Similar to my Q&A only more eloquent.)
UPDATE: WINNER HAS BEEN CHOSEN: Grubarazzi is the winner and has been notified via email.
GIVEAWAY DETAILS: Kim from KC Bakes has graciously donated one of her beautiful cake pop stands to giveaway. I purchased one from her, not only to thank her, but also so I could attest to the quality of the stand. I have it here in my possession, and let me tell you–it is great! Very high quality and extremely nice looking. She is good at what she does! She is donating a white mini-stand (holds 12 pops). She will ship anywhere in the world! Here is some more information from Kim:
"Cake Pop Stands by KC Bakes are the best thing to hit the cake pop world since the lollipop stick! Each stand is hand-crafted from solid wood, providing a sturdy and durable base. The stands then receive two coats of protective finish, so they can get messy while decorating cake pops, then be wiped off and used as a beautiful display to showcase your culinary creations. Important to note, they are eco-friendly, freeing bakers from the expense and mess of Styrofoam.

KC Bakes' stands are a great addition to any kitchen. Originally crafted to hold cake pops, we've found a plethora of ways that our stands can be used for home entertainment; check out our website for both Sweet and Savory recipe ideas: http://www.kcbakes.com/recipes-with-sticks.html."
To Enter:
Comment on this post. You can tell me what your experience has been with cake pops. Have you made them? Eaten them? Tried to make them and run into problems?
For Extra Entries (MAKE SURE to leave an extra comment for each or they won't count!):
1. Follow @not_rachaelray on Twitter
2. "Like" Not Rachael Ray on Facebook
3. Subscribe to my RSS feed or add your name to my email list (please confirm when you get the email asking you to do so).
4. Tweet about this giveaway! You can use this if you want: "Enter to win a cake pop stand from @KCbakes and @not_rachaelray! http://wp.me/p1AwA6-qu"
5. Share this giveaway on your Facebook page.
6. "Like" KC Bakes on Facebook.
That's up to seven chances to win! This is a quickie–enter by Thursday night (11/3) and I'll choose a winner using random.org on Friday morning (11/4). Winner will have 48 hours to respond to my email before I choose another winner. Prize will be shipped by the generous Kim of KC Bakes. Good luck!