Homemade Taco Seasoning
Homemade Taco Seasoning with no MSG or additives. 100% natural and delicious. Make extra to keep on hand!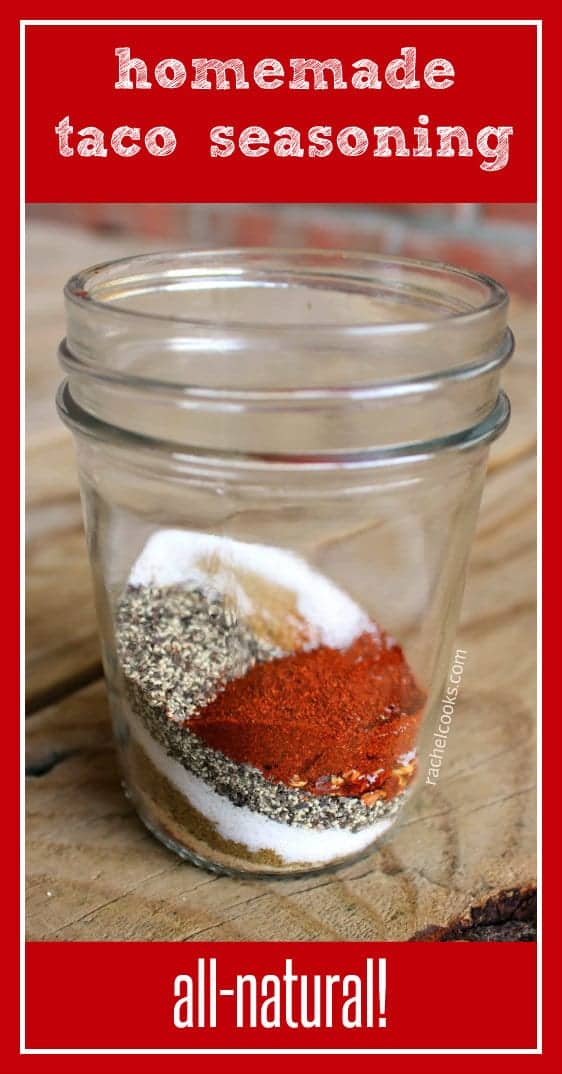 I've written about this before, but it was buried in the middle of another post with ugly photos. My photography skills have a long way to go…but man oh man…they've come a long way since then! I do love the picture of my bald-headed baby at the end of that post–she has grown so fast (wish I could say the same for her hair!).
This seasoning deserves a post of its own. I've made about a bazillion batches of this stuff. It includes great stuff like chili powder, cumin, garlic, red pepper flakes, and paprika.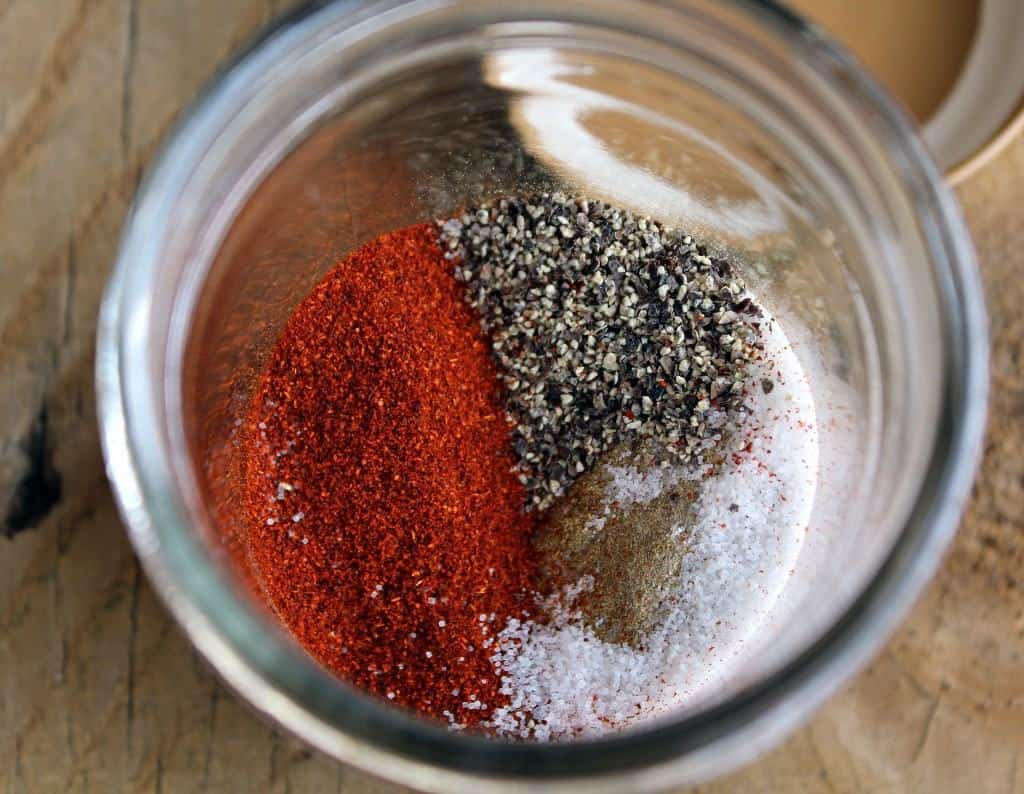 It is 10,000 times better than the seasoning that comes in a packet labeled "taco seasoning." And if you're watching your sodium intake, this is the only way to go.
I quickly searched for a popular brand of taco seasoning and found that it contains these ingredients: Yellow Corn Flour, Salt, Maltodextrin, Paprika, Spices, Modified Corn Starch, Sugar, Garlic Powder, Citric Acid, Autolyzed Yeast Extract, Natural Flavor, Caramel Color (sulfites).
Spices? Is it some big secret or something?
Natural flavor? Yeah, I'm sure.
Caramel color?
I think I'll pass.
Also–I'm passing on 430 mg of sodium per serving (1/6 of the package).
Whether you make your tacos with ground beef, ground turkey, pulled chicken, ground chicken, or tofu–this spice mixture is a winner. I also use it for fajitas and other dishes that need a quick pinch of Mexican flavor (see the end of this post for a lot of really great uses of this homemade taco seasoning!).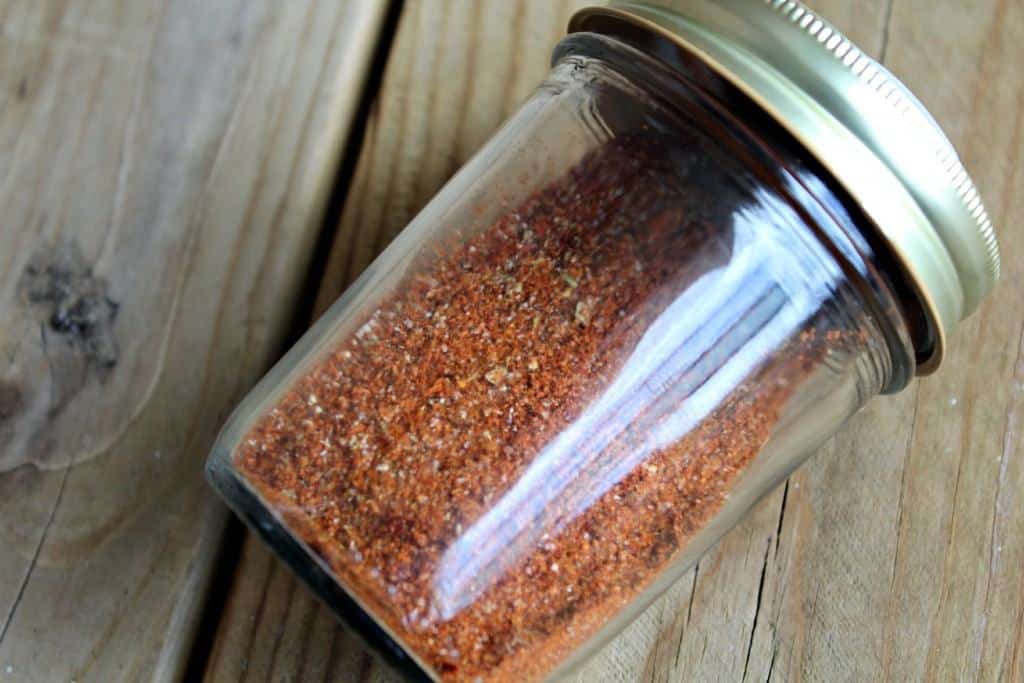 I'm kind of on a make-my-own-spice-mix kick.
What will be next? What do you think should be next? I've made a large batch of this seasoning, fajita seasoning, beef stew seasoning, herbes de provence, and mild curry powder.
Needed for this recipe:
Homemade Taco Seasoning
Homemade Taco Seasoning with no MSG or additives. 100% natural and delicious. Make extra to keep on hand!
Ingredients:
1 tablespoon chili powder
1/4 teaspoon garlic powder
1/4 teaspoon onion powder
1/4 teaspoon crushed red pepper flakes
1/4 teaspoon dried oregano
1/2 teaspoon paprika
1 and 1/2 teaspoon ground cumin
1/2 to 1 teaspoon sea salt (more or less to taste)
1 teaspoon black pepper
Directions:
1. In small bowl, mix all ingredients and store in airtight container. (Or you can mix it together in the container you are going to store it in–just give it a shake!)
2. Add 2 to 3 tablespoons of this mixture plus 1/2 to 3/4 cup of water to one pound of cooked meat (of your choice). Simmer over medium heat, stirring frequently until there is very little liquid left in the pan.
3. Serve with your favorite taco toppings! I recommend lots of sour cream, fresh salsa, guacamole, lettuce, cheese and tomato.
Note: Add a tablespoon of all-purpose flour to the pound of cooked meat to thicken up the mixture a bit.
Note: I recently posted a new version of this recipe that yields two cups:  Large Batch Homemade Taco Seasoning.
Note: I've had some comments that this is quite spicy. If you're not a huge spicy food fan, I'd cut down on the amount used per pound of meat — start with one tablespoon and add more to taste. Or you could leave the red pepper flakes out of the mixture for a more toned-down version of this taco seasoning.
Verdict: I'm never going back to the store-bought package!
Husband's take: Hubs loves tacos. I think he could eat them every day. I'm not sure he could tell the difference between this and store-bought, but I can. And I told him it is better.
Changes I would make: None.
Difficulty: So very easy!
I think this would make a great gift. Actually, it would be kind of fun to give it layered like sand art and the recipient could mix it up themselves. Isn't it pretty?
UPDATE: Per reader request, I have created a recipe for a large batch of taco seasoning. I did the math for you.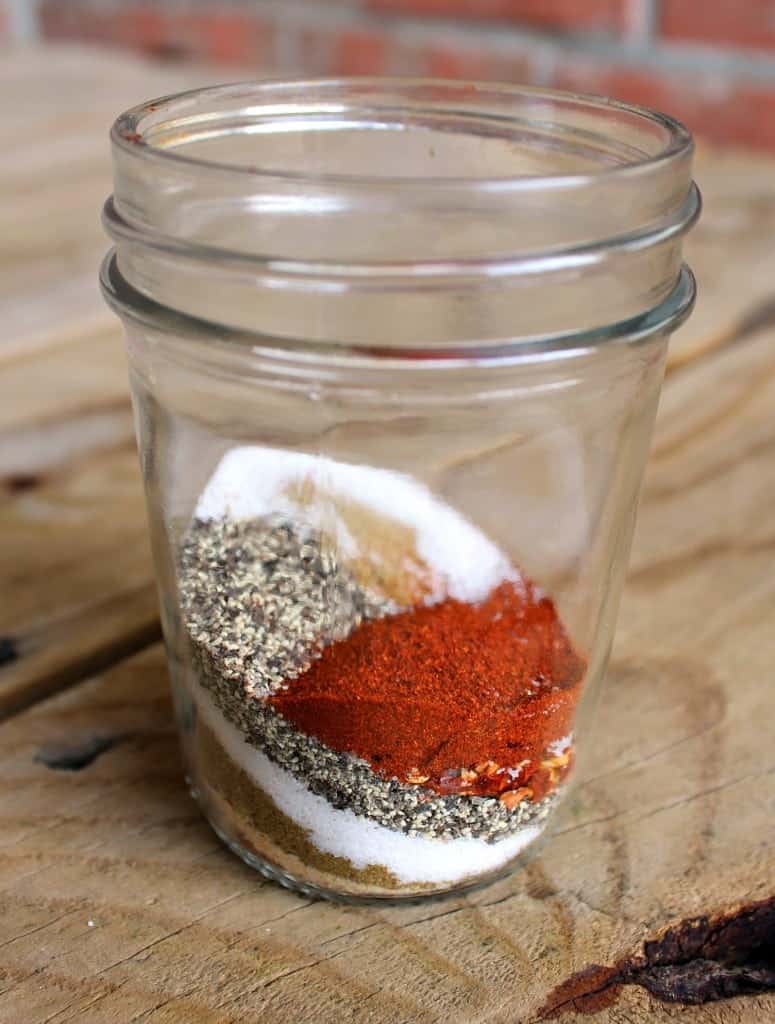 I'd make the label on the computer because cute labels are obviously not my forte. Oh well. Gets the job done around here…but I'll spice it up for gifts.
Get it? Spice it up?
Sorry. Couldn't resist. I get it from my dad.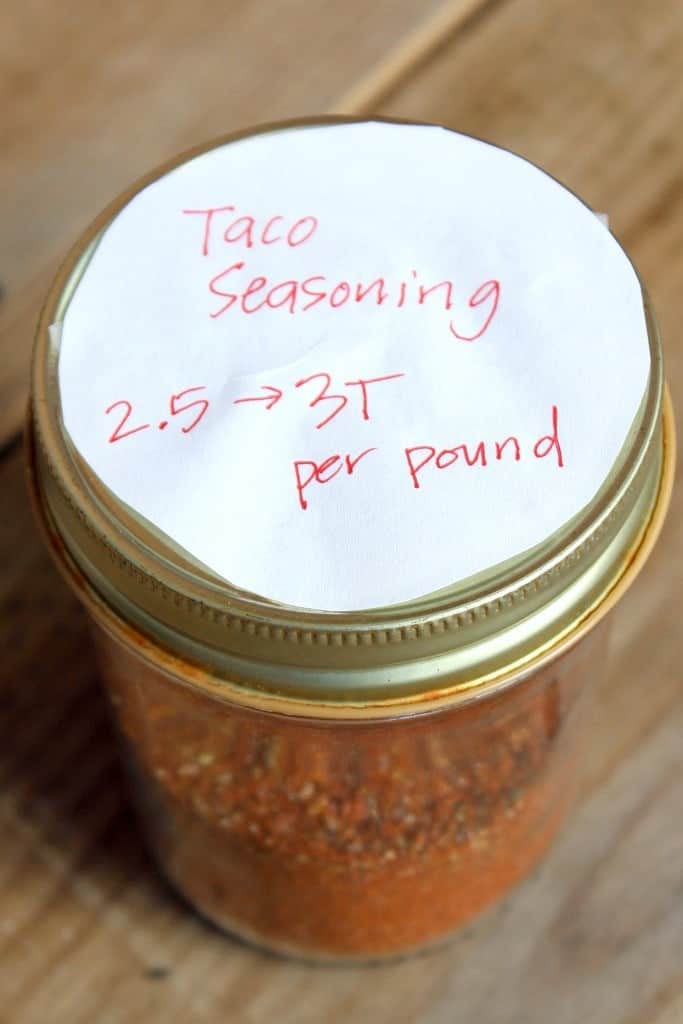 UPDATE: I've developed a slight addiction to adding this taco seasoning to everything but the kitchen sink. If you're looking for some outside the box try these recipes: