Emeril's One Pot Cooking Party: Chuck Wagon Chili in the Slow Cooker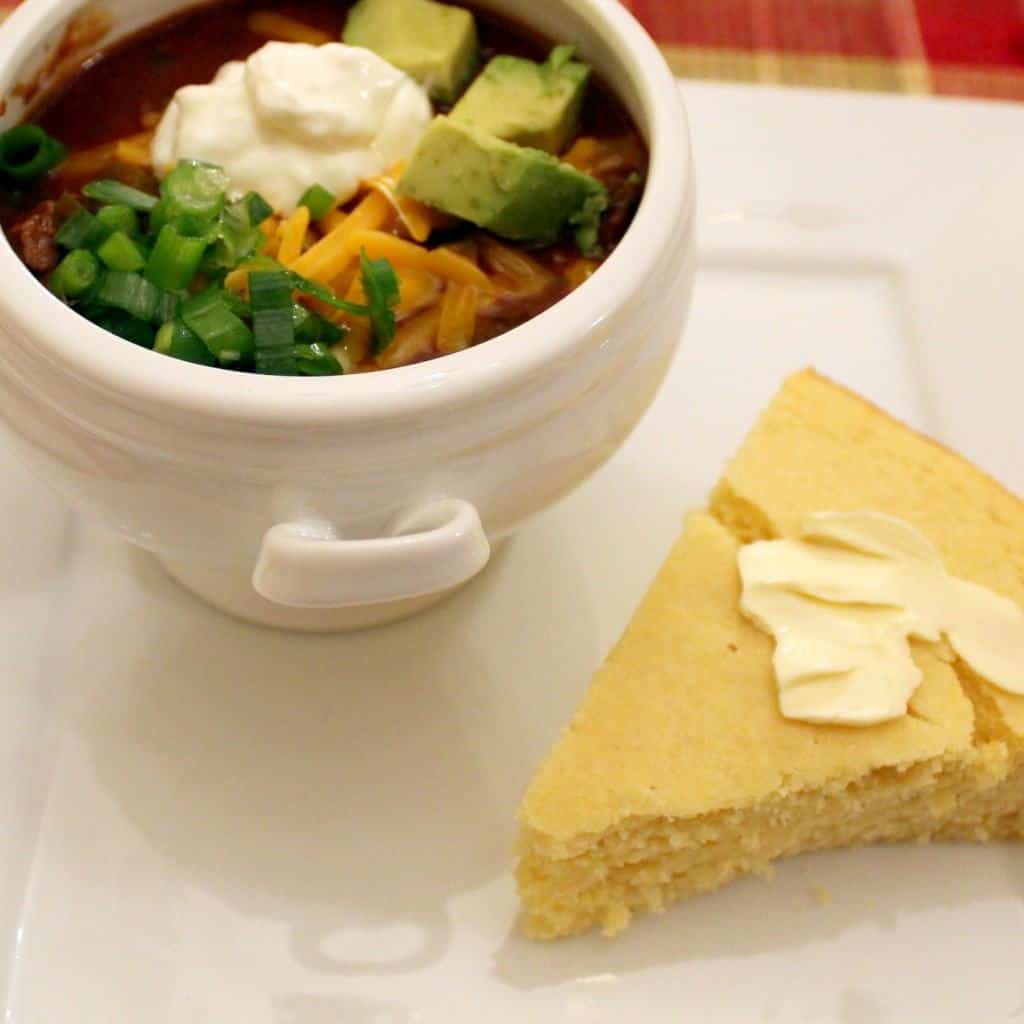 This is my last recipe from Chef Emeril Lagasse's cooking party! It also happens to be the last recipe in the book–but be sure you make it back there, it is worth all the page turning that is required! All in all, this blogging "party" has been so much fun and a huge learning experience. I've tried so many new things.
Here are some things I have learned in the last three weeks:
The dude (can I call him that?) loves his Parmigiano-Reggiano, and I am more than okay with that.
He also likes heavy cream and half & half. Again, something that I wholeheartedly approve of.
All the meals can be (mostly) prepared in one cooking vessel, but they aren't all easy. At least not for me. This experience stretched my cooking skills–something which I am always grateful for. Also, there are plenty of easy, approachable recipes. He offers a great variety in this book.
If you think the pot or pan that you have chosen is probably big enough, just go ahead and use a larger one. You'll be thankful you did.
A commitment of 3 recipes & 3 posts every week for three week not only sounds like a lot, but it actually is a lot. However, if it has to be done, it will be done. At least in this house.
Kroger does not meet all my shopping needs (even before Emeril so kindly sent me his book). Sorry Kroger. I still love that I live so close to you and that I can go for a walk and come home with a gallon of milk. Or a bag of M&Ms. I used to find everything I needed at Kroger. This must mean my cooking skills are improving? They didn't even have fresh basil for my deep dish pizza. C'mon Kroger, really?
I'm incapable of following a recipe exactly as it is written. Don't take it personally, Emeril–this problem of mine didn't start with you.
Deep dish pizza does not photograph well. (Yes, I am still upset about that.)
Barley makes a great risotto, and in the slow cooker! Fabulous!
I don't really like broccoli rabe. Something I might not have known for a long time if I had not made this soup.
I love dumplings. At least I love the dumplings in this cookbook. So much so that I probably could have picked them all out and eaten them all before the meal even got to the table.
I'm sure there is more–it has been a wonderful experience.
Make sure you check out his new book which was released Tuesday, Sizzling Skillets and Other One-Pot Wonders
. I've made the following recipes from his cookbook and I would recommend trying all of them:
And now, Chuck Wagon Chili! Again, I apologize that I am not allowed to share this recipe with you, but I do highly recommend
getting the book
. I wouldn't lie to you!
I've never made chili with chunks of beef. Usually it is ground turkey, or my "famous" (I use that term
very
loosely)
chicken chili
. Typically there are beans included in my chili, but not in this recipe. I really do love chili of any kind, especially for these five reasons:
Green onions. Love the freshness that they bring. Don't bring me diced raw yellow onion though–I'm not tainting my chili with those. Personal preference!
Sour cream. Yum. This happens to be reduced-fat, but go ahead and grab the full-fat version. I won't judge. However, if you go for the fat-free version, I might judge a little.
Sharp cheddar cheese. Cheese. Cheese. Cheese. Is there anything more to say? If you're eating your chili without cheese…take your cute little butt to the fridge and remedy that situation immediately.
Avocado. Makes everything better. There were a few pieces left after my daughter chowed a bunch down.
Cornbread. Hot, fresh, delicious cornbread. Does anything go better with chili than cornbread? I like my doused in honey.
As I'm sure you've already learned (have you been listening?), I'm sort of a wimp when it comes to spicy foods. This recipe includes 1/4 cup of chili powder and well as two whole jalapeño. I cut back a lot on the chili powder, as well as some of the other spices. I only used the flesh of one jalapeño, and discarded the seeds and ribs.
Other changes I made:
I used ground cumin instead of whole seeds.
I cut back on the garlic for hubs.
I crushing my own tomatoes (all I had were whole) quickly and easily with my immersion blender.
I didn't have masa harina (corn flour), so I threw some corn meal in my coffee/spice grinder and pulsed until it was a fine powder. I figured this was the same thing. Am I right?
I used Killian's instead of a Mexican beer (I know! I can't help it–I'm an Irish girl) because we still have a ton of beer from the birthday party festivities a couple of weeks ago. Seriously, c'mon over and join me for a cold one. I have plenty of wine too if beer isn't your thing. I've got some hard stuff too but you have to promise not to get crazy.
I should probably disclose that my cooking process is never this neat and tidy. And I have never once put my spices into cute little bowls before. Usually I am a hot mess in the kitchen. Trust me, it isn't pretty. However, I had a photographer and a reporter joining me yesterday while I was preparing this dish. They are doing a piece of me and the Emeril party for a local newspaper. Crazy, right?
Getting back to the chili, this is some good stuff. I was glad I toned down the spices because it was perfect for my taste. Slight after-burn, but I didn't have to pile on the sour cream just to eat it. (As if that would've been so bad.) The flavor of this chili is deepened by cinnamon and chocolate. So tasty! This recipe is definitely a keeper. I'll be making it again, and it will likely happen soon.
Verdict: Delicious comfort food, perfect for a cold fall night, or even better, a football game. Make sure you pair it with hot cornbread and a cold beer.
Husband's take: He loved it. He said he felt like he was on the Oregon Trail in the early 19th century.
Changes I would make: None. Feel free to adjust the spices to your taste. Just remember it is easier to add spice than to tone it down.
Difficulty: Easy! I love slow cooker recipes. I can't even tell you how amazing this smelled all day.
PS: I chose a giveaway winner, make sure you check to see if it is you!
Full disclosure (the last time you'll hear this one–hooray!): For my commitment to this blogger cooking party, I received a copy of this cookbook, as well as a set of Emeril – by zak! Table Art 7-piece Flame-Shaped Serving Bowls, and Emeril Seasoning; a $50 grocery reimbursement and Emeril cookbooks upon completion of the party. The top performing blogger, as selected by T-Fal, will be awarded an Emeril by T-Fal Slow Cooker. You will be eligible to win a copy of the cookbook, as well as the 7-piece zak! set (stick around to hear more about those two things). All opinions about the book and recipes, as always, are my own.