Emeril's One Pot Blogging Party: Deep Dish Pizza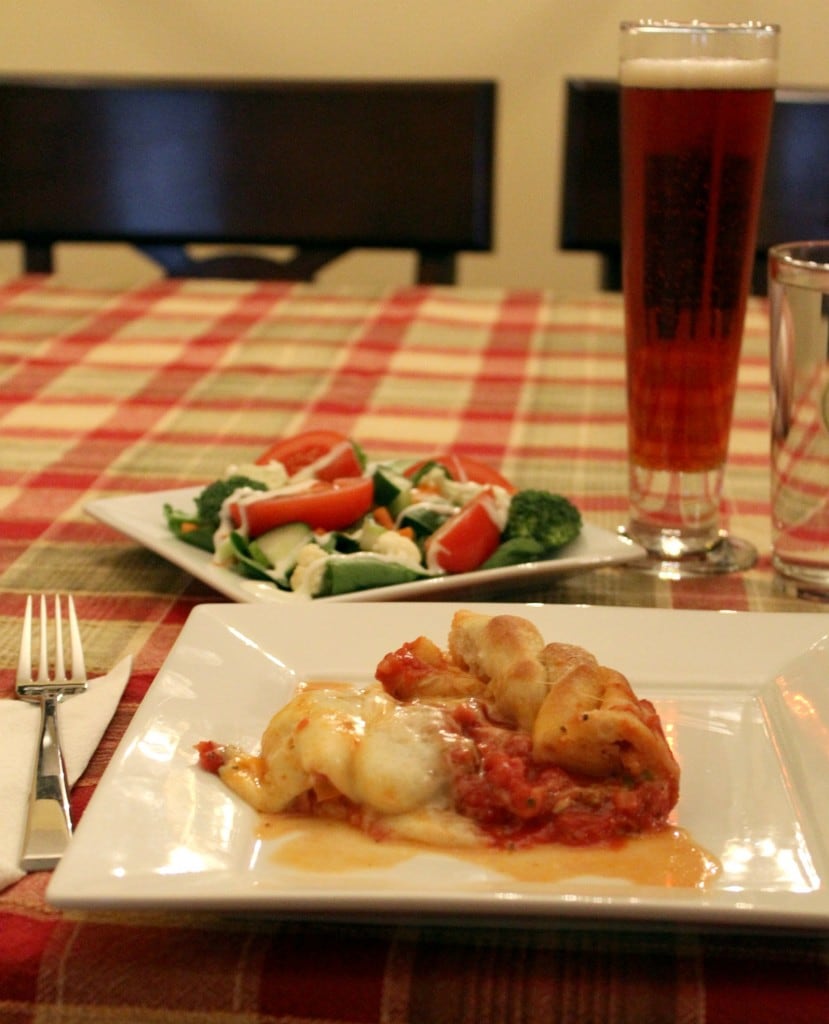 Emeril's book, Sizzling Skillets and Other One-Pot Wonders was released yesterday.
Here's what I want you to do:
Go buy the book.
Turn to page 61.
Cook this pizza.
Stuff your face like I did so we can be fat together.
I'm eating leftovers for breakfast right now. I wish I was kidding.
Last night, my husband said, "It's healthy though, right?"
I tried not to laugh in his face as I replied with, "Well, it has a lot of vegetables in it, but that's about all it has going for it."
Some other disclaimers:
My photos DO NOT do this pizza justice. I was starving and it was raining which together results in a "I don't give a you-know-what" attitude. I also probably removed it from the pan too early (did I mention I was starving?). And the pictures of the pizzas still in the pans were taken straight out of the oven, all the extra moisture on top kind of incorporates after it sits for 10-15 minutes. Alright. I'm through making excuses for my cruddy pictures.
This "One Pot Wonder" requires FIVE pots and pans. Worth every one of them, even if they aren't dishwasher safe.
This recipe makes a lot. If there are only two of you and you don't want TONS of leftovers, I'd suggest halving the recipe. You could make the whole batch of sauce and freeze half of it.
The great part of this recipe is that you can customize it by adding the toppings you like. You could even make it vegetarian if you're into that sort of thing! His recipe included hot Italian sausage, mushrooms, pepperoni, green bell pepper, and olives. I used pepperoni (although, far less than he recommended), diced ham, mushrooms, and red and orange bell peppers.
The other great part of this recipe is the sauce! Oh my yum. So tasty. I left out his fennel seeds because I'm not wild about them, but this sauce really made this pizza what it is. It is well worth the time it takes (which is very little actual hands-on time).
Verdict: I think I've covered this. 1) I'm eating it for breakfast. 2) Worth FIVE pots and pans, plus other dishes and I hate doing dishes. 3) Did I mention I'm eating this for breakfast?And probably dinner tonight too.
Husband's take: He said, "This might be the best pizza I've ever had." He said it reminded him of a pizza sub he used to eat at a small Italian restaurant growing up. I love when food brings back great memories. That's how you know you've hit a home run.
Changes I would make: Next time I'm halving the recipe or inviting you over for dinner.
Difficulty: Well….I bought my pizza dough. So that makes it easier. I was going to make my own, but Emeril's calls for semolina flour and I couldn't for the life of me find it. I looked in a few different stores. I realize I probably could have used a different recipe, but give me a break, I've been busy!
PS: These pictures make me want to cry. Please don't let them stop you from making this pizza.
Full disclosure: For my commitment to this blogger cooking party, I received a copy of this cookbook, as well as a set of Emeril – by zak! Table Art 7-piece Flame-Shaped Serving Bowls, and Emeril Seasoning; a $50 grocery reimbursement and Emeril cookbooks upon completion of the party. The top performing blogger, as selected by T-Fal, will be awarded an Emeril by T-Fal Slow Cooker. You will be eligible to win a copy of the cookbook, as well as the 7-piece zak! set (stick around to hear more about those two things). All opinions about the book and recipes, as always, are my own.