Emeril's One Pot Cooking Party: Southern-Style Chicken and Dumplings
This is my 7th post of Emeril's One Pot Cooking Party! This marks the beginning of the last week of this experience. It has been so fun, but more on that later. The recipe I chose this time was Southern-Style Chicken and Dumplings. I went out of town to my hometown this weekend. The occasion was my daughter's first birthday party (round 2!), this time combined with her cousin who is 24 hours and 35 minutes older than her. Crazy right? Neither my sister or I knew the other one was trying to get pregnant–until I called her to tell her I was pregnant, and she said "I think I might be too!" It was so fun to be pregnant together, and now to have our babies so close in age.
It was another weekend full of cake, family and fun. Definitely something I am more than okay with! It was also ArtPrize time in Grand Rapids, and luckily my mom and I had a chance to get downtown with my daughter and walk around for a couple of hours. I have the blisters to prove it (darn you, cute boots). There was no way we could see all of the art, but it was the first year that I was able to be there for any of it, so it was fun to finally experience it. There were thousands of people and huge crowds to fight through, but it was worth it to see gorgeous pieces of art like this mosaic:
My mom and I had picked out this recipe the previous weekend. We chose it because we knew everyone would like it, and we also knew that she would have most of the ingredients on hand already so I wouldn't have to travel with any of the ingredients. She put the chicken in the slow cooker in the morning, so by the time I arrived in town, it was cooked and I could get started on the recipe. Being a ding-dong, I forgot to save the stock that was in the slow cooker, so we used some bouillon and added some thyme and garlic to enhance the flavors. The dumplings are hands-down the star of this dish. They include lots of fresh herbs; Emeril suggests herbs such as parsley, thyme, oregano, and chives. We used parsley, thyme and oregano. They were so delicious! I really can't say that enough. So. Delicious. I wish I had a bowl of this right now to eat for lunch. Once again, I apologize that I cannot provide you with this recipe, but don't forget to enter the giveaway for your own copy of this book.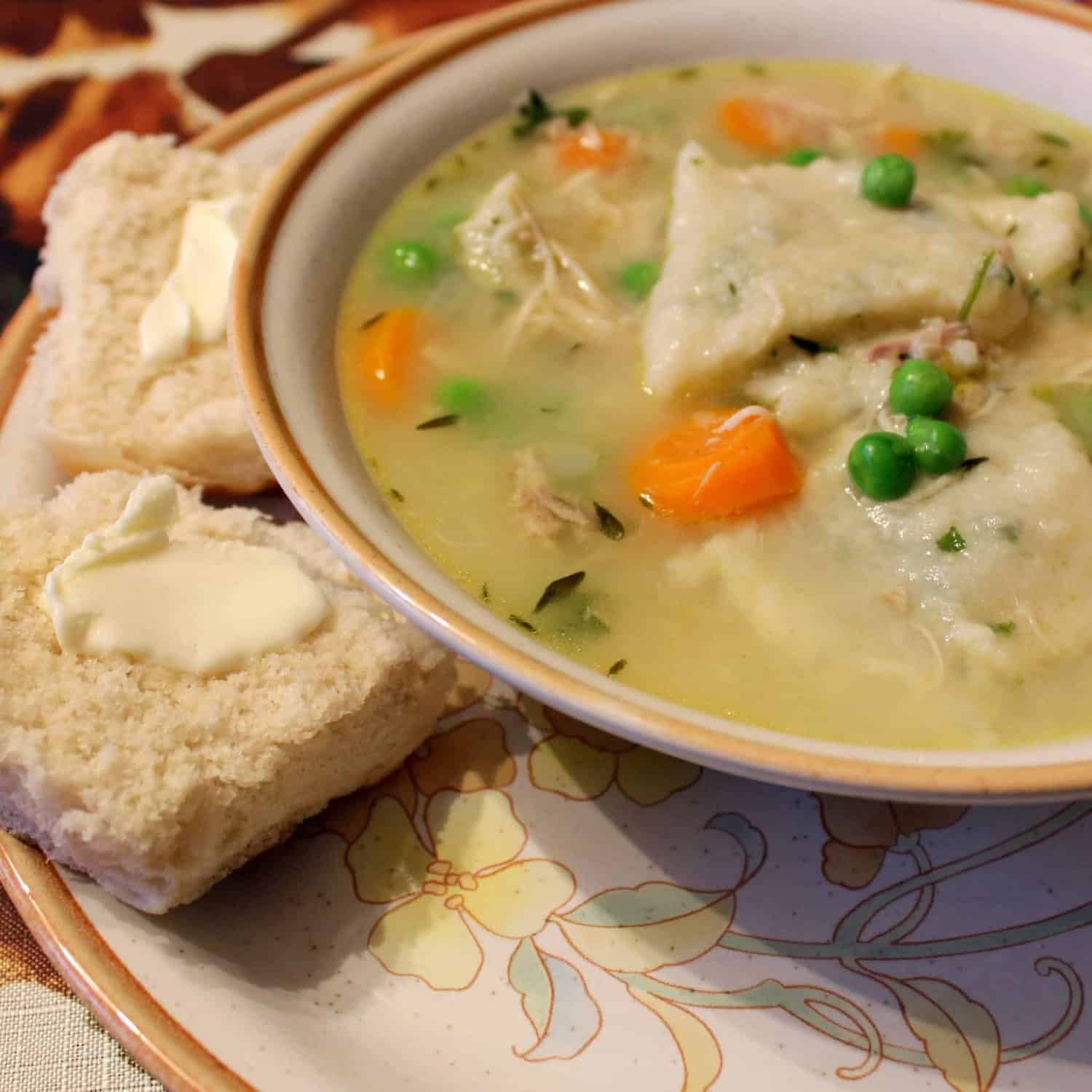 Verdict: So tasty! Especially the dumplings, I could eat a bowl of just those. Total comfort food. I loved the dark meat in this, but if you're not a fan you could easily substitute white meat.
Husband's take: Before tasting? "I don't really like dumplings." After tasting? "That was really good!" These are your canned-soup dumplings. Far from it!
1-year-old daughter's take: Chowed. It. Down. The girl loves to eat. Wonder where she gets it?
Changes I would make: None! This was really delicious. I would remember to save the stock next time, as I'm sure that would have deepened the flavors.
Difficulty: Ask my mom. She did the dumplings as well as most of the work. I was chasing after a certain one-year-old. Overall, not a difficult recipe. As always (and I need to follow my own advice), remember to read the recipe all the way through before starting so you aren't eating super late like we did!
Full disclosure (sick of this yet?): For my commitment to this blogger cooking party, I received a copy of this cookbook, as well as a set of Emeril – by zak! Table Art 7-piece Flame-Shaped Serving Bowls, and Emeril Seasoning; a $50 grocery reimbursement and Emeril cookbooks upon completion of the party. The top performing blogger, as selected by T-Fal, will be awarded an Emeril by T-Fal Slow Cooker. You will be eligible to win a copy of the cookbook, as well as the 7-piece zak! set (stick around to hear more about those two things). All opinions about the book and recipes, as always, are my own.
And just for fun…my nephew wasn't as crazy about the cake as my daughter was. I've looked at these pictures on my sister's Facebook a thousand times and they still make me laugh until I cry. Love this little guy!