Emeril's One Pot Cooking Party: Pasta e Fagiole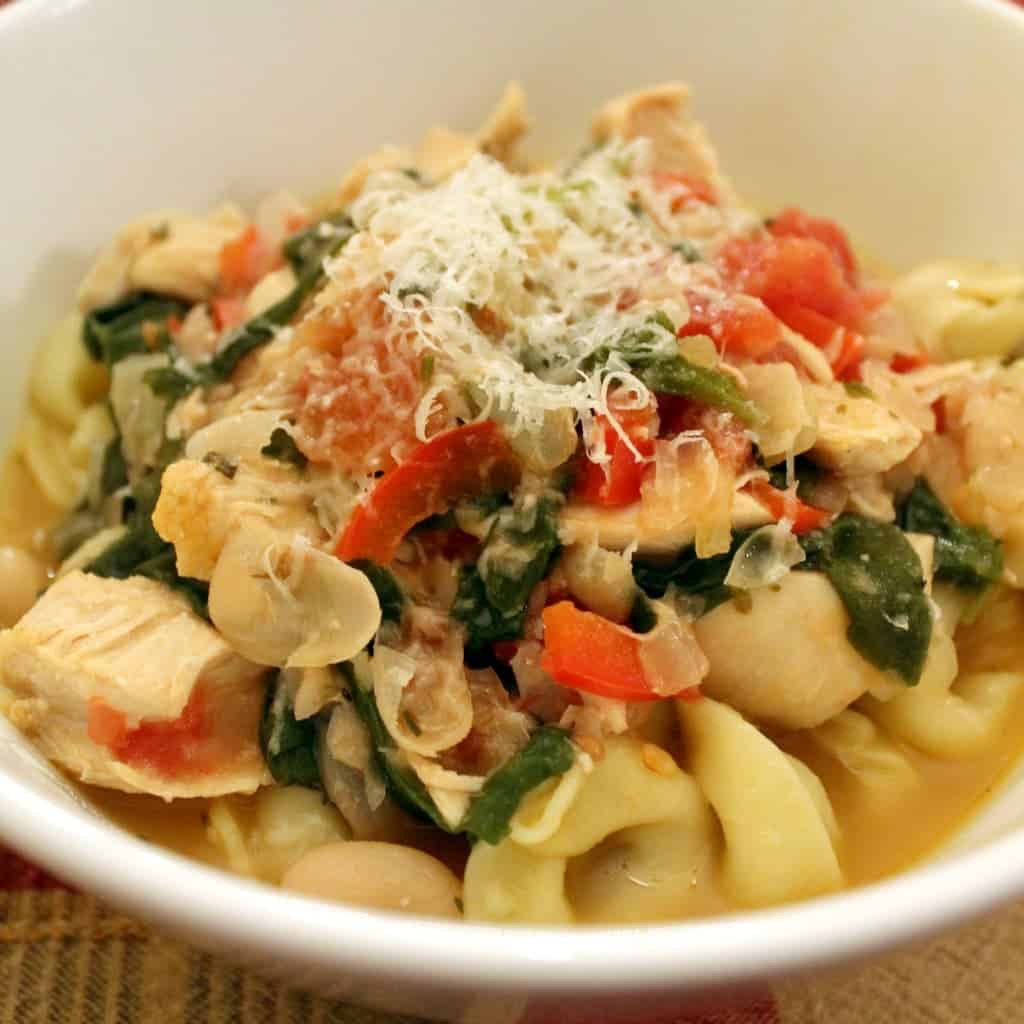 This is the fourth recipe of Emeril's Cooking Party! Here are parts one, two and three if you missed them.
I'm kind of sick of being in the kitchen after the birthday party extravaganza, so I was browsing Emeril's book for something that looked relatively easy and also something that didn't require going to the store. (Our fridge is FULL of leftover beer–anyone want to come over for a cold one?) I also wanted something semi-healthy since I've eaten more pulled pork, coleslaw, potato chips, and cake pops than I care to admit. I came upon this recipe and knew it would be the one I could whip up fairly quickly. Granted, I had to make a few a lot of changes in order to avoid the grocery store but the results were delicious! Changes I made included:
1. I subbed out kale for spinach. I always have spinach in my fridge, kale, not so much.
2. I halved the recipe, sort of. Halved some things….cut other things in thirds…doubled other things…left some ingredients the same. It's how I roll in my kitchen. No rules.
3. I added chicken. Have you heard about my husband? He's the opposite of a vegetarian. Plus I had some poached chicken diced up and waiting in my freezer for a moment like this.
4. I used pesto-filled tortellini instead of regular pasta. Because it sounded good! (And it was.)
5. I added diced red peppers. I have this thing about adding vegetables to everything. I can't help myself. I'm the opposite of this girl in that regard.
6. I left out some spices (garlic, basil) and used Italian style diced tomatoes. (I still included red pepper flakes and fresh thyme). I've had the tomatoes in my pantry forever because I bought them by accident. Do people use the Italian style tomatoes? I never do. I used the whole can instead of just a little, as Emeril recommended. I didn't want leftovers. Also, please refer to #5.
7. Emeril's recipe called for some mashed beans and some whole beans. I did all mashed beans. Because I forgot to reserve some whole beans. Whoops. I could have stolen the 5 or 6 I reserved for my daughter, but I didn't think that would be enough to make a difference.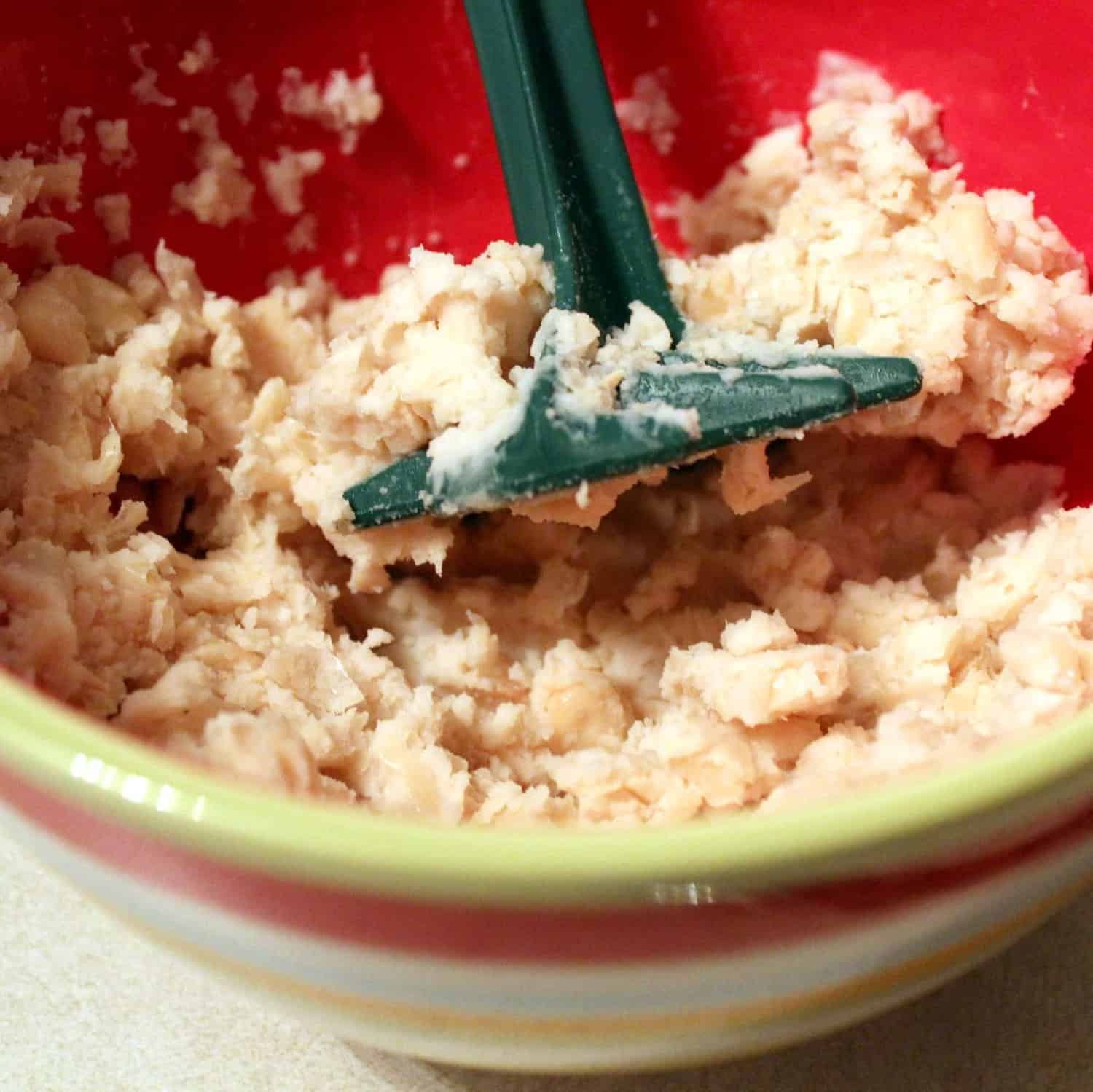 So basically I killed Emeril's original recipe. Please don't hate me, Emeril. I'm sure yours is delicious too, and I'm also absolutely sure my version would have never come about if not for you. And once again, I apologize that I cannot provide you with the recipe. Keep your eyes open for the book giveaway–it will be happening at the end of this week or the beginning of next week. Or you can pre-order your copy by clicking here.
Verdict: Turned out great! Came together so quickly (can't beat that!), and it was healthy and delicious. It was sort of half soup, half pasta dish. All yummy.
Husband's take: He loved it! Went back for seconds. He didn't have anything bad to say about it. He said it would be good with mushrooms (what wouldn't be good with mushrooms?) but I didn't have any in the fridge.
Changes I would make: None!
Difficulty: Easy!
Full disclosure: For my commitment to this blogger cooking party, I received a copy of this cookbook, as well as a set of Emeril – by zak! Table Art 7-piece Flame-Shaped Serving Bowls, and Emeril Seasoning; a $50 grocery reimbursement and Emeril cookbooks upon completion of the party. The top performing blogger, as selected by T-Fal, will be awarded an Emeril by T-Fal Slow Cooker. You will be eligible to win a copy of the cookbook, as well as the 7-piece zak! set (stick around to hear more about those two things). All opinions about the book and recipes, as always, are my own.