Emeril's One Pot Cooking Party: True Bolognese
This is my second post for Emeril's blogging party. I'm reviewing Sizzling Skillets and Other One-Pot Wonders by Chef Emeril Lagasse. The first day, I made a delicious white bean soup. Now I actually have the cookbook in my hands. It's gorgeous! Everything looks delicious, and I am still really loving that everything can be prepared in one dish!
I jumped in with this bolognese sauce. I've never made bolognese! Have you? Wikipedia describes it like this: "A meat-based sauce for pasta originating in Bologna, Italy. Bolognese sauce is sometimes taken to be a tomato sauce, but many recipes have only a small amount of tomato concentrate."
Can you pronounce it? I sure can't, at least not in an attractive way. Tried a thousand times. Thank goodness this is a blog, and not a video. Trust me, hearing me say "Bolognese" is not something you would want to experience.
True to the Wikipedia definition, Emeril's version includes only a small amount of tomato paste, but still includes lots of veggies: carrots, celery, and onions. I also added red peppers. Am I capable of making a recipe without adding extra veggies? Sometimes. Not today though.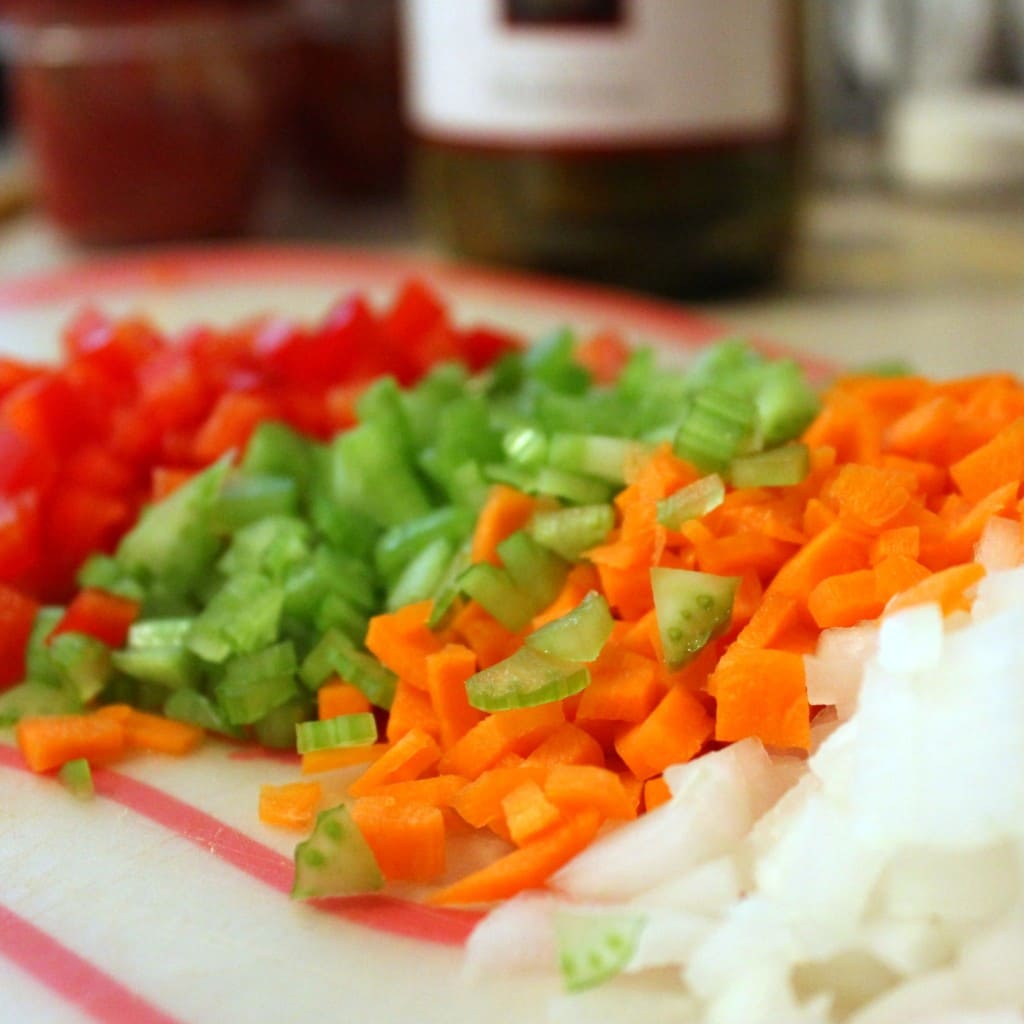 This sauce is made rich and decadent with the addition of pancetta, wine, and half and half. It also has beef broth to enhance the flavor. It really is delicious. The recipe calls a mixture of beef and veal, but my local Kroger wasn't helping me out in the veal department, so I went with all ground sirloin. I added a little a lot of extra pancetta to make up for the lack of veal. That's my story and I'm sticking to it.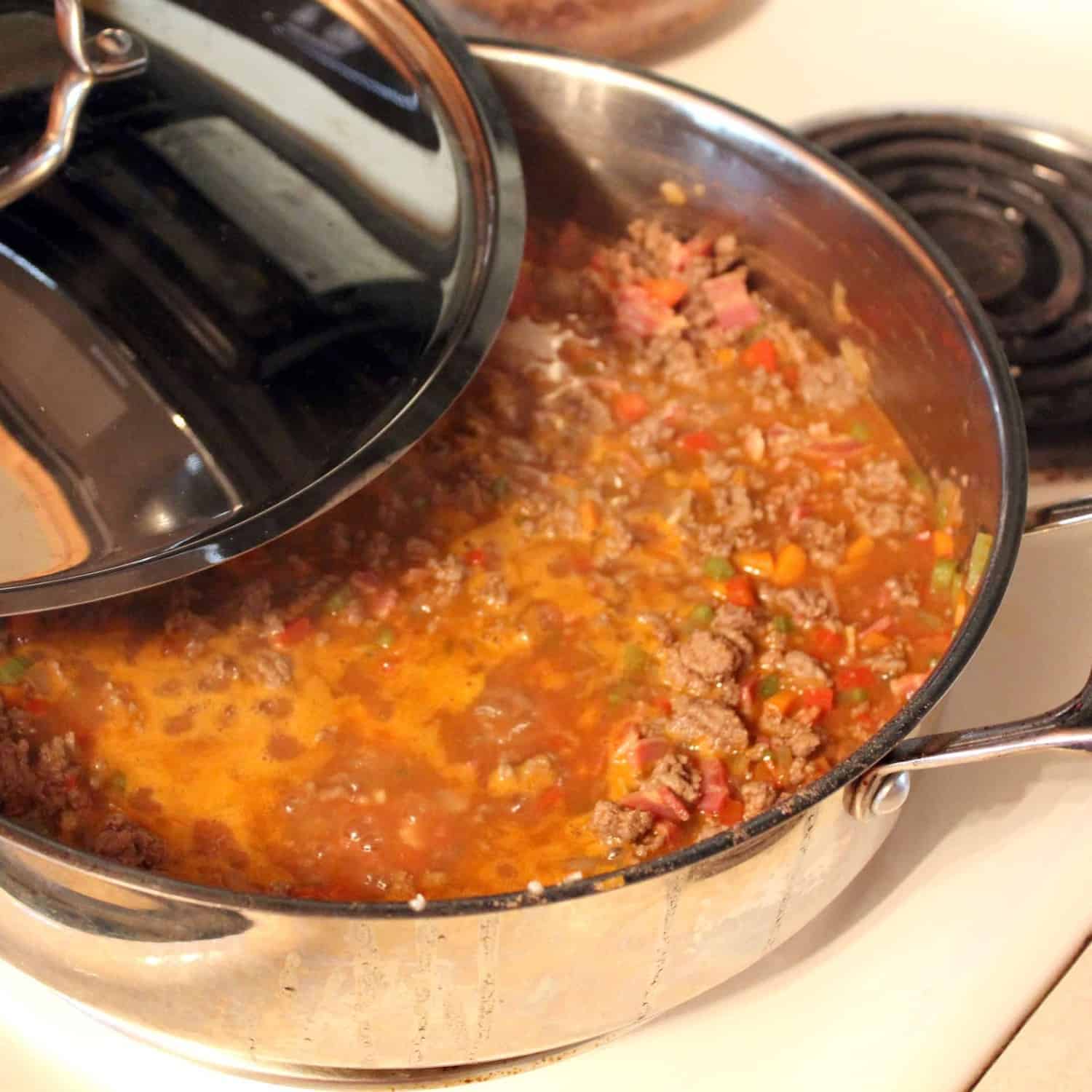 Verdict: This is so decadent and yummy. Buy the book just for this recipe. I really wish I could share it with you, so sorry.
Husband's take: "It's like Hamburger Helper, only better." Yep, he really said that. Let me assure you, it is much, much, much better than Hamburger Helper.
Changes I would make: None.
Difficulty: Easy! One pot!
I served my delicious sauce over whole wheat rotini…because it is what I had. I had some lovely rigatoni in my cart at the grocery store, but while I was in the check-out line, I noticed a tear in the package, so I left it with the cashier. (She was sweet and asked if I wanted the bagger to run and get me another package but I said no, because I knew I had pasta at home.)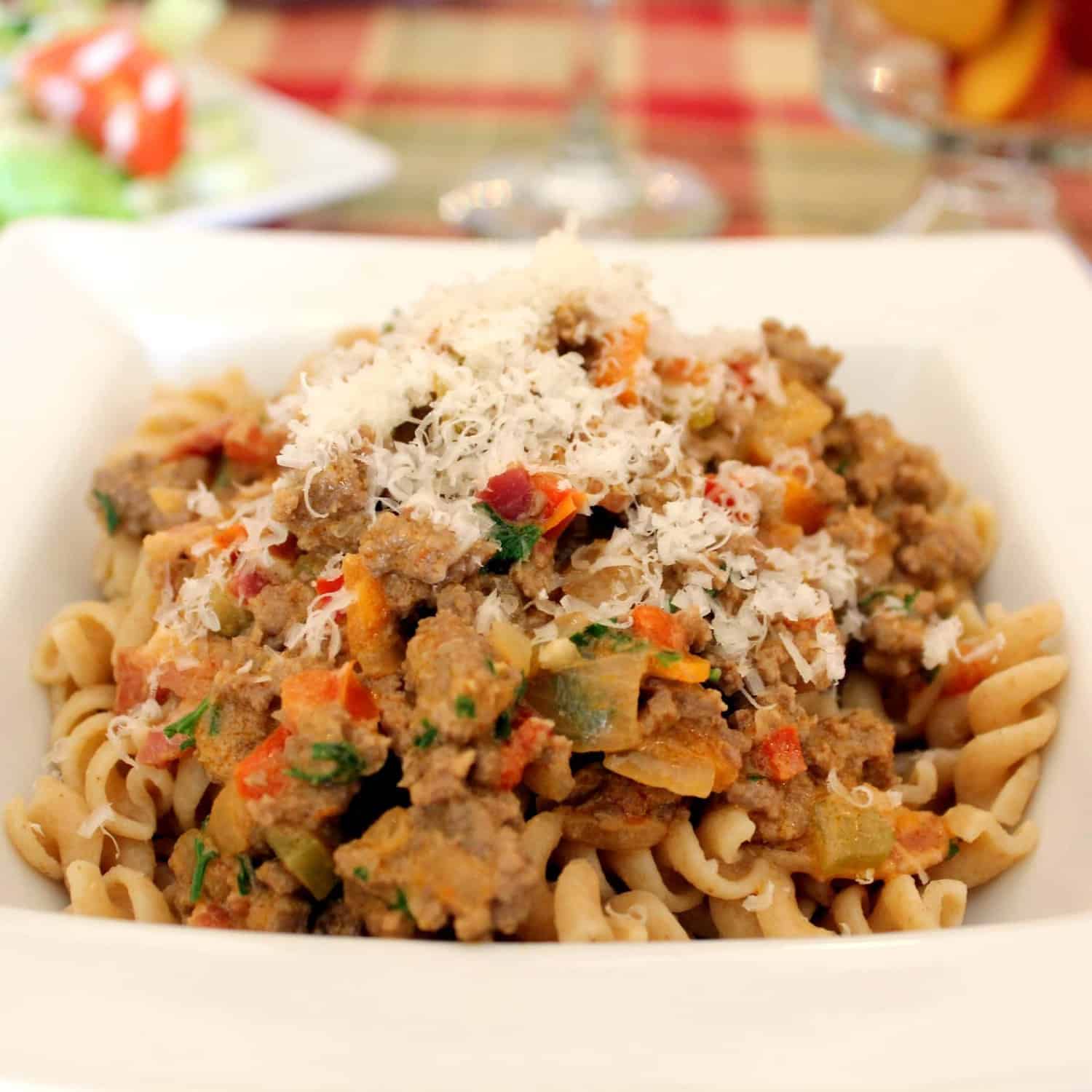 Everything is better with a heavy portion of grated Parmigiano-Reggiano!
Full disclosure: For my commitment to this blogger cooking party, I received a copy of this cookbook, as well as a set of Emeril – by zak! Table Art 7-piece Flame-Shaped Serving Bowls, and Emeril Seasoning; a $50 grocery reimbursement and Emeril cookbooks upon completion of the party. The top performing blogger, as selected by T-Fal, will be awarded an Emeril by T-Fal Slow Cooker. opinions about the book and recipes, as always, are my own.