Root beer Float Popsicle
This root beer float popsicle has all the great flavor of a root beer float but in a portable form – perfect for summer snacking!
Are root beer floats still popular? They should be. I feel like they had their big moment in the spotlight and now have faded out a little. I'm here to bring them back though. They shall be revived. In popsicle form. I'm not a big pop (or soda if you don't live in Michigan) drinker, but a good root beer float certainly hits the spot on a hot summer day. The combination of the sweet root beer causing the ice cream to foam into pillows of creamy sweetness – it's irresistible!
And of course, I turned it into a popsicle because popsicles are pretty much all I'm making this summer. Okay, not quite, but they're so fun! And the kids are OBSESSED. OBSESSED.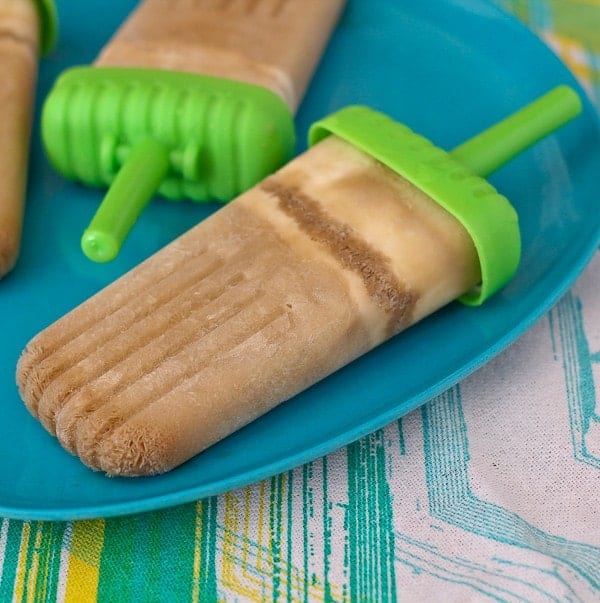 [Tweet "Summertime snacking at its best – Root Beer Float Popsicles on #RachelCooks"]
I wanted to keep these popsicles true to their inspiration, the root beer float, so I only used two ingredients: root beer and good vanilla ice cream. I let the ingredients swirl together a little (rather than freezing the root beer layer first) because I wanted both flavors in every bite. Because taste is more important than looks! At least that's my philosophy.
Enjoy every bite!
Root Beer Float Popsicle
Yield: 3 popsicles depending on size of mold
Prep Time: 5 minutes
Total Time: 4 hours 5 minutes
This root beer float popsicle has all the great flavor of a root beer float but in a portable form - perfect for summer snacking!
Ingredients:
about 3/4 cup Vanilla Ice Cream, softened
1 cup root beer
Directions:
Soften ice cream by setting it on countertop for at least 30 minutes but not more than 1 hour.
Put ice cream into the bottom of popsicle molds. I used a piping bag to do this to ensure it got to the bottom and also to make nice layer.
Pour root beer in. Let fizz go away and pour more in so that the molds are completely full. You can spoon some of the foam out to expedite this.
Insert sticks and freeze for 4 hours or until completely solid.
Verdict: Sweet, refreshing and satisfying. Two thumbs up.
Husband's take: He loved these – in fact, he ate most of them.
Changes I would make: None are necessary.
Difficulty: Easy.
Craving more popsicles? Try these: Funfetti Pudding Pops, Tart Blueberry Lemon Popsicles, Andes Mint Pudding Pops, Blood Orange and Chocolate Yogurt Pops, Healthy Orange Creamsicle Popsicles, or Creamy Mixed Berry Popsicles. Still can't get enough? Check out my Ice Cream and Popsicles Pinterest Board for more warm-weather inspiration. Follow Rachel Cooks | Rachel Gurk's board Ice Cream and Popsicle Recipes on Pinterest.
**Disclosure: I am thrilled to be a dairy ambassador for Milk Means More.  I have been compensated by Milk Means More for the time it took to develop and share this recipe. All opinions are as always, my own. Find out more about why Milk Means More on Twitter, Facebook, YouTube, Instagram and Pinterest.