Salad with Broiled Apples and Pecans
Soft and sweet broiled apples make this salad perfect for fall. Easy to prepare and a very impressive presentation. Perfect for dinner guests or Monday night dinner with your family.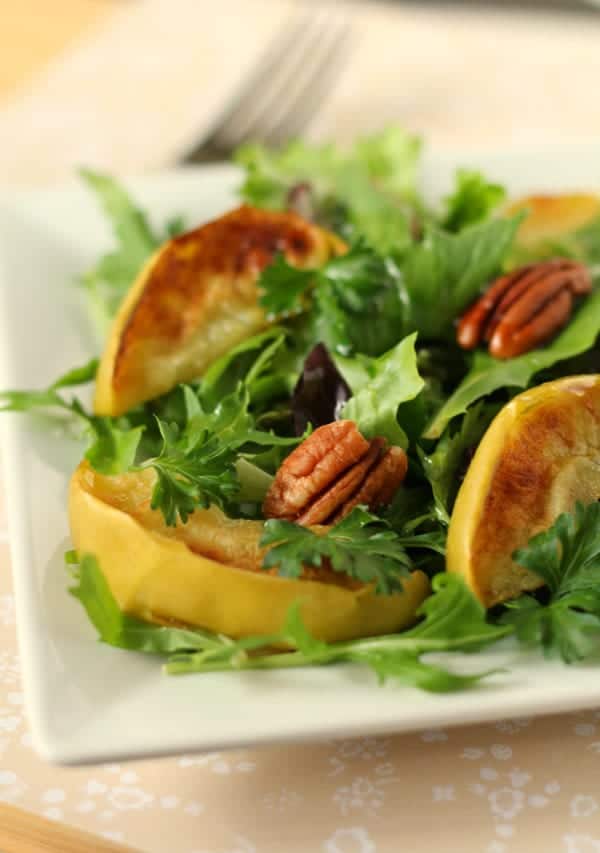 Okay, I know.
Another salad.
More apples.
But you guys. This one is totally different than the salad with apples from Wednesday. I swear!
Let's talk about the broiled apples for a minute. Broiling has a similar effect as roasting. And you all know I'm obsessed with roasting things. You get all sorts of marvelous stuff. Chewy and soft center, slightly crispy outside, and such great flavor. The flavor that comes out from cooking something at a high heat is just amazing. And apples? Turns out they are no exception. Added bonus? The golden brown color makes for a beautiful presentation.
I livened this salad up with some curly leaf parsley.
Now I know…some scoff at curly leaf parsley as being outdated and not as sexy as it's sister flat leaf parsley but I love the stuff. First of all, it keeps fresh far longer in the fridge than flat leaf. I have a black thumb and live in Michigan so I can't go out and pick some fresh herbs any time I want. One point for curly leaf parsley. Second of all…
Okay that's all I can come up with. But things keeping longer in the fridge means less waste which means more money in my pocket! Yay money! Truthfully, I typically just buy which ever one looks fresher at the store. I'm updating this post two years later and I definitely use flat leaf more often than curly leaf.
Oh c'mon, you know you feel the same way.
Also cozying up in this salad are pecans (are you sensing a fall theme here?), mixed greens and a simple dressing made of cider vinegar and Dijon mustard. The apples are roasted right in the dressing and then the whole shebang is mixed in with the greens. So simple yet so gorgeous and sooooo tasty.
Salad with Broiled Apples and Pecans
Yield: 4 side salads
Prep Time: 5 minutes
Cook Time: 8 minutes
Total Time: 13 minutes
Soft and sweet broiled apples make this salad perfect for fall. Easy to prepare and a very impressive presentation. Perfect for dinner guests or everyday.
Ingredients:
5 tablespoons extra virgin olive oil
2 tablespoons apple cider vinegar
1 teaspoon dijon mustard
2 Granny Smith apples
5 ounces mixed greens
1/4 cup torn fresh parsley leaves
1/4 cup toasted walnuts or pecans
Directions:
Preheat broiler with the rack 8-10 inches from the heat.
Core apples and cut into 1/2-inch slices. Whisk together olive oil, vinegar, mustard. Toss apples in this mixture and spread in an single layer on a large baking sheet. Broil until browned and soft or about 8 minutes. Toss apples and any juices with mixed greens. Plate and serve immediately, topped with fresh parsley and toasted nuts.
Adapted from Everyday Food Magazine
Verdict: Loved it! I think I'll be making this one again next time we have guests over.
Husband's take: I love my husband. He eats everything.
Changes I would make: None are necessary.
Difficulty: Easy!