Spinach Orzo Salad with Chicken Meatballs and Chickpeas
A Spinach Orzo Salad perfect for bridging summer into fall, this will have even the meat-eating man in your family smiling.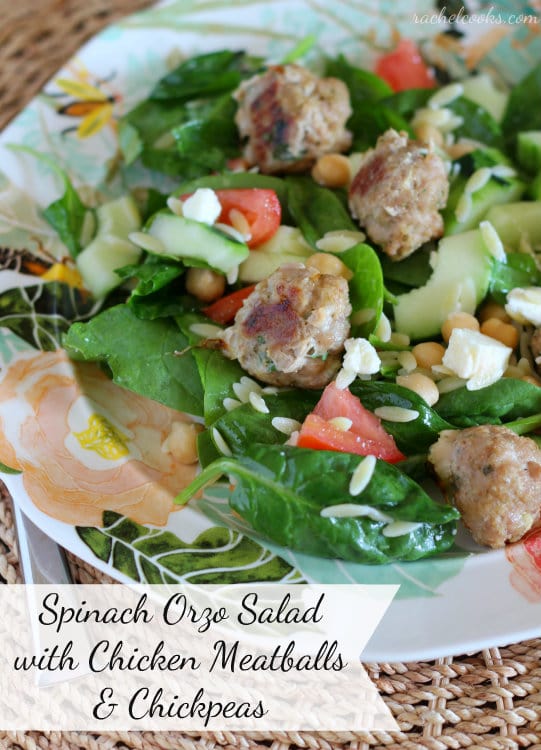 Apparently I'm on an orzo salad kick. I think it is such a fun summer pasta and the perfect size for salads. Plus, just like any other pasta, it is incredibly versatile and you can use whole wheat or traditional, whatever your heart desires.
This salad combines orzo with spinach, chicken meatballs, chickpeas (garbanzo beans), cucumbers, tomato and feta. It's incredibly filling and refreshing at the same time. The spinach wilts slightly from the heat of the pasta and it creates this wonderful salad – pasta hybrid dish.
I used regular cucumbers in this recipe even though I almost exclusively buy English cucumbers or the cute little salad cucumbers (typically used for pickles — they have fantastic flavor). Somehow this regular cucumber ended up in my groceries. I don't know if it was left on the checkout belt from a previous customer or if my ever-so-helpful toddler added it my cart, but it is what I came home with and what I ended up using in this salad. I scraped out the seeds because I find them to be a bit bitter sometimes. You can use whatever type of cucumber you prefer.
Enjoy!
Spinach Orzo Salad with Chicken Meatballs and Chickpeas
Yield: 4 servings
Prep Time: 20 minutes
Cook Time: 15 minutes
Total Time: 35 minutes
A Spinach Orzo Salad perfect for bridging summer into fall, this will have even the meat-eating man in your family smiling.
Ingredients:
1 pound ground chicken
1 egg, beaten
1/4 cup fresh parsley, chopped
1/4 cup bread crumbs
1 clove garlic, finely minced
1 teaspoon dried oregano
4 tablespoons extra virgin olive oil
salt and pepper
1 cup orzo
one 15 ounce can of chickpeas, drained and rinsed
one 5-6 ounce container of baby spinach
1/3 cup crumbled reduced-fat feta cheese
1 lemon, juiced (about 3 tablespoons juice)
1 cucumber, chopped
1 tomato, chopped
Directions:
Preheat oven to 450 degrees Fahrenheit. In a large covered saucepan, bring water to a boil over high heat for orzo.
Meanwhile, in a large bowl, combine chicken, egg, parsley, bread crumbs, garlic, oregano, salt and pepper. With this mixture, make 24-28 meatballs (about 1-inch in size). Place on a large rimmed baking sheet and brush with 1 tablespoon olive oil. Bake for 7-10 minutes or until cooked through (165 degrees).
While they are in the oven, prepare the orzo according to package directions. Drain well and dump into a large bowl. Toss orzo with beans, spinach, and feta.
Prepare dressing in a small bowl by whisking together lemon juice and remaining 3 tablespoons olive oil. Pour over orzo and toss to combine.
Divide salad between four plates. Top with meatballs, sprinkle with cucumber and tomato and serve immediately.
adapted generously from Good Housekeeping Magazine (4/2013)
Verdict: I loved the combination of salad, pasta and meatballs. Will definitely make this one again.
Husband's take: He loved this salad!
Changes I would make: None are necessary.
Difficulty: Easy!
Want more Orzo Salad recipes like this spinach orzo salad? Try: Orzo Salad with Chicken, Watermelon and Feta, Orzo Salad with Chicken and Vegetables, Greek Orzo Salad with Roasted Shrimp, Cherry Tomato Orzo Salad from Simply Recipes, Mediterranean Orzo Salad from Iowa Girl Eats, Lemon Orzo Salad with Asparagus and Tomato from A Big Mouthful, or Whole Wheat Orzo Salad with Kale, Chickpeas, Lemon and Feta from Kalyn's Kitchen.