Strawberries Stuffed with Basil Whipped Cream
I know Thursdays are usually book review days, but let's be honest, you all aren't that crazy about those. I'll still do them occasionally because I think they are a good resource to some people…but this is far more important.
Something I am crazy about is these strawberries. It isn't the first time that I have paired strawberries and basil, and it certainly won't be the last time! I'm already brainstorming ways to hook these two up again. It is a match made in heaven! These strawberries are fancy enough for a dinner party but easy enough to pop one in your mouth on a hot day when you're craving something refreshing.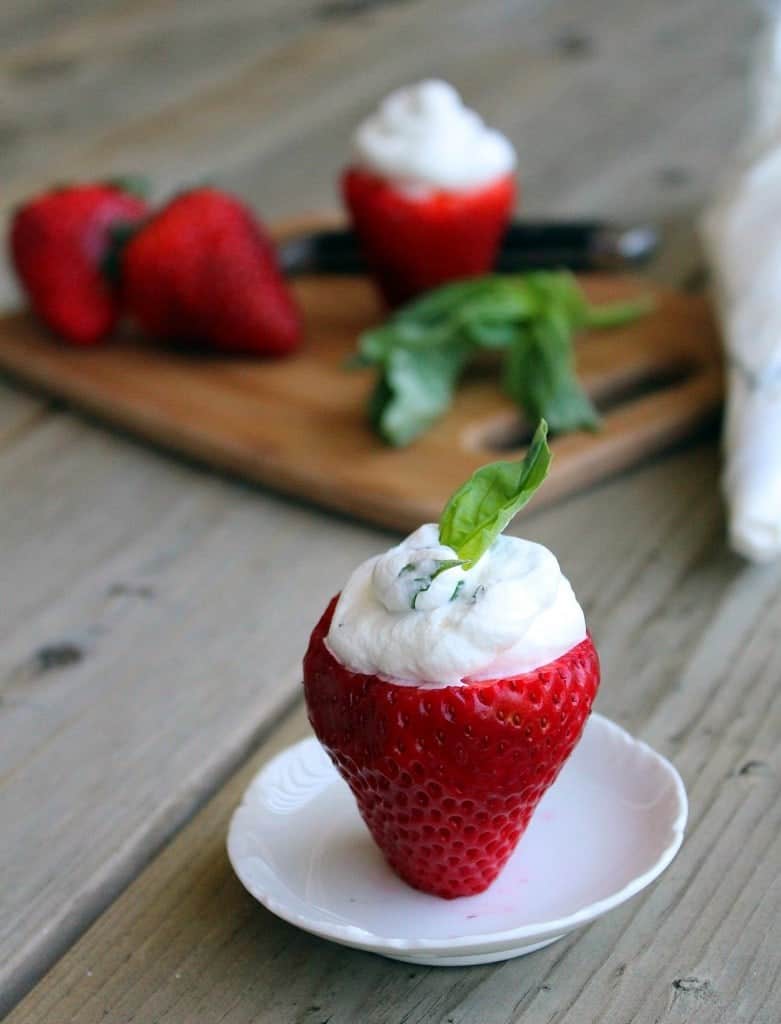 On the same/different note–I am so happy that strawberries are starting to be in season! What fruits are you most excited to get your hands on?
Strawberries Stuffed with Basil Whipped Cream
Ingredients
1 cup heavy whipping cream, chilled
1.5 tablespoons sugar
2 tablespoons finely chopped basil
20-25 medium to large strawberries (depending on size and how full you fill them)
Instructions
Put large mixing bowl and whisk/wire beaters of electric or stand mixer in fridge or freezer to chill.
Wash and dry strawberries. Cut off the tops of the strawberries and carefully hollow out a little of the inside using a paring knife. Also cut a tiny bit of the bottom off to create a flat surface.
Whip cream using electric mixer (and chilled bowl/whisk) until it starts to stiffen. Add sugar and continue to beat on high-speed until stiff peaks form. Fold in basil very gently just until combined.
Best enjoyed the same day they are made.
http://www.rachelcooks.com/2012/05/03/strawberries-stuffed-with-basil-whipped-cream/
Copyright: Rachel Gurk, Rachel Cooks: http://www.rachelcooks.com
Verdict: Loved these! I could eat way, way too many.
Husband's take: He liked them, although I am sure he would prefer them without the basil. He's a total traditionalist.
E's take: Devoured them. She had whipped cream all over her face, it was adorable.
Changes I would make: None!
Difficulty: Easy!
58 Responses to "Strawberries Stuffed with Basil Whipped Cream"
Trackbacks/Pingbacks

Leave a Comment